Official 2023/24 Matchday Mascot Bundles
Fancy making your child's dream come true by walking onto the pitch at Cardiff City Stadium?
Our new Mascot Bundles are the perfect way for your young Bluebird to achieve this dream!
City fans aged 5 to 11 have the unmissable chance to experience the thrilling atmosphere in the stadium before a game alongside their heroes. Children will also receive lifelong souvenirs from the experience.
All packages contain a 25% discount off the mascots kit in the Club Superstore.*
Due to popular demand, our Captain's Mascot Bundles are sold out for the first half of the season. There will be an opportunity to purchase a Captain's Mascot Bundle later in the year when the rest of the fixtures are available.
Our Classic Mascot Bundles are still available to purchase!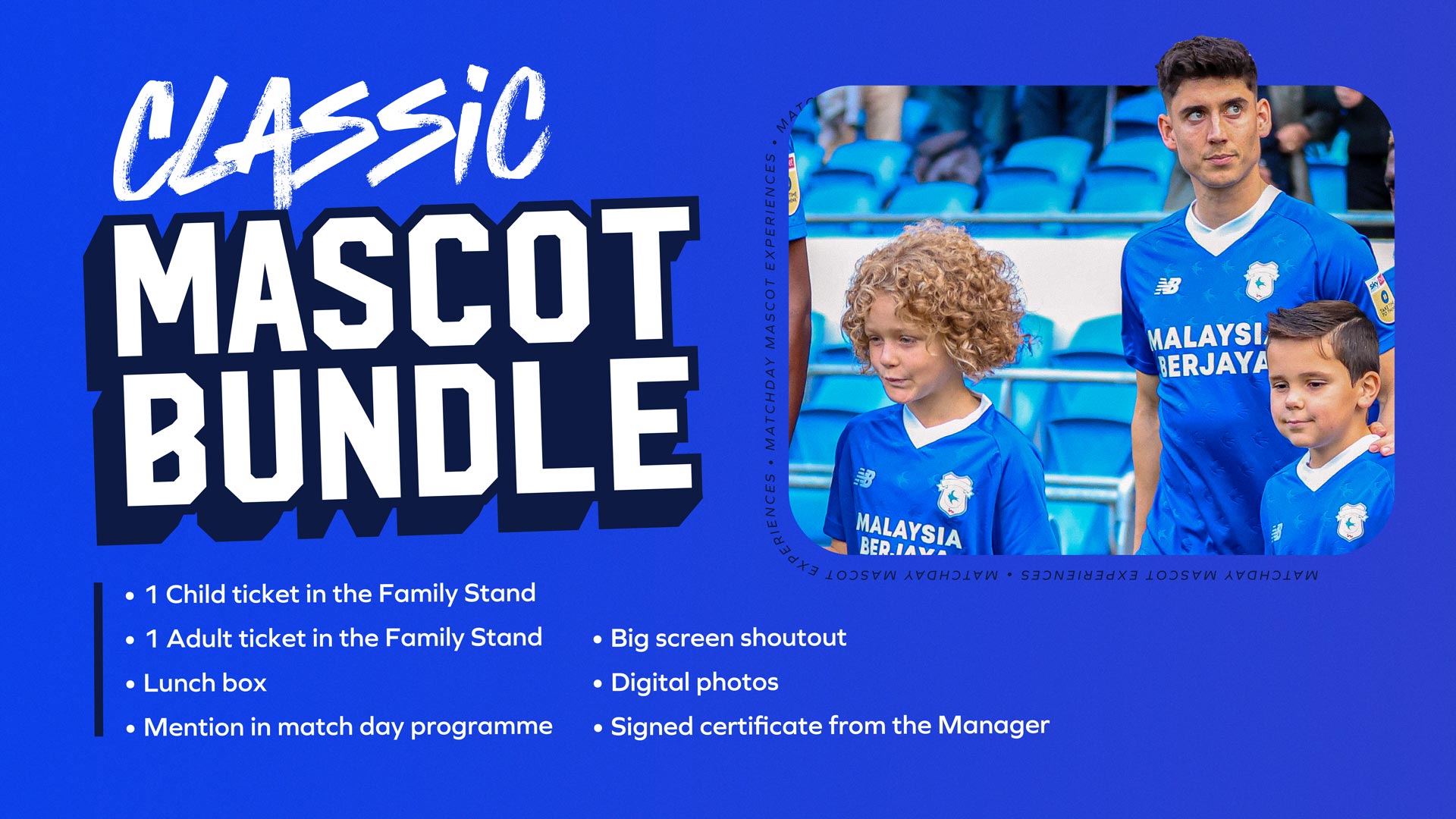 2023/24 Matchday Mascot Bundles are available to buy now! The Classic Mascot Bundle is £199. Click here to Purchase!
Participating mascots must wear the full 23/24 season kit for the Matchday Experience, bundles will be sold on a first come, first serve basis via Ticketing. For further queries around mascot bundles, please email Club@cardiffcityfc.co.uk.
*This discount is valid once and mascot booking confirmation will need to be shown at the store. Kits will not be part of the mascot package in the 2023/24 season, however Cardiff City do have a limited number of kits available which we can lend out on a first come first serve basis, to mascots who do not wish to purchase the kit. Kits must be returned once the mascot experience is complete.
The Captain's Mascot Bundle placements will be limited to one space per game, if the Captain's Bundle isn't sold for any specific game, a name from the participating mascots from the Classic Mascot Bundle will be drawn at random to walk out with the captain. The Classic Mascot Bundle will be limited to seven spaces per game.
Any packages purchased within one week of the fixture do not guarantee inclusion in the matchday programme.
Consent form and information forms must be returned within one week of the fixture to ensure all benefits can be delivered.
Mascot Bundle purchases cannot be refunded or transferred to another match, unless the match is postponed or rescheduled. Participating members will therefore be offered the opportunity to choose alternative matches if participants are unable to make the rescheduled match fixture. Contact the Club to notify the change request.