The Bluebird | City At War
History
23rd October
The first in a series of articles celebrating the lives of Bluebirds who fought for their country as we approach Remembrance Sunday. As featured in the most recent issue of Cardiff City FC's official matchday programme, The Bluebird, City supporter and former History Teacher Matt Ferris observes the story of George Latham MC & Bar...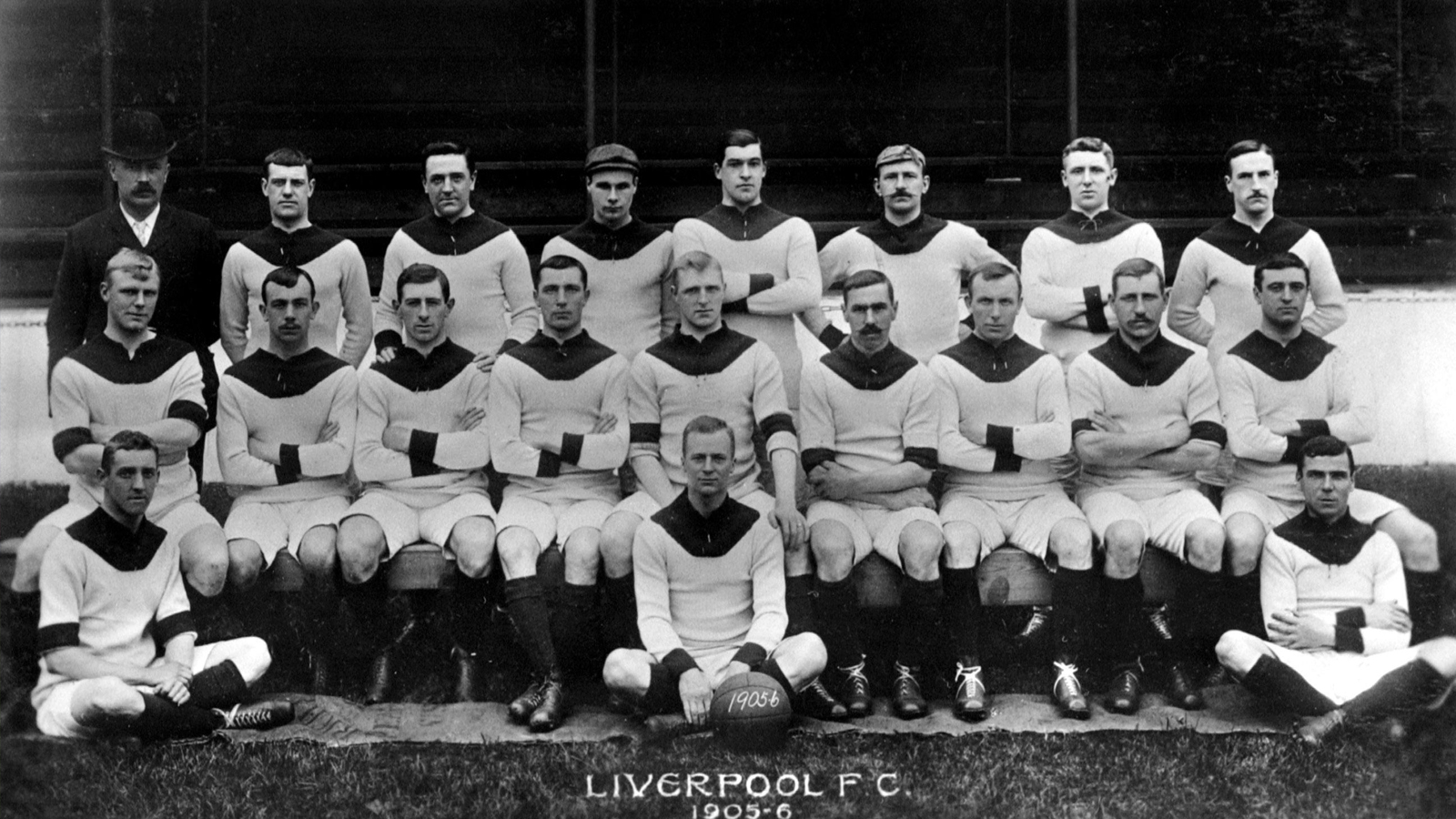 George Latham, front and centre. Liverpool team photo, August 1905.
Prior to the Reading game on October 1st, I had the pleasure of seeing and holding in my hands not one but two Cardiff City players' winner's medals from the 1927 FA Cup Final. I kid you not. Ernie Curtis and Fred Keenor's medals were in my hands.
As a former History teacher and collector of military medals from both world wars in Europe, I was asked by a friend not so long ago whose military medals I would most like to own. Without much thought, I stated that it would be George Latham's.  Many of you will be familiar with George's name and indeed it is indelibly written on the back of the Fred Keenor Statue as the name of the Cardiff City Trainer for that 1927 FA Cup Final. But did you know that not only was George a fine player for City and Wales, but he also had an illustrious military career, won the military cross twice and was mentioned in dispatches?
On April 1st, 1897, a new volunteer unit appeared in Montgomery and Merioneth when the 5th Volunteer Battalion of the South Wales Borderers was formed in Newtown. It is clear from the award of George's Territorial Force Efficiency Medal in 1910 that he would have had to have had 12 years of service as a volunteer, making him one of the earliest recruits. Twenty of the sharpest shooters and best recruits were selected and then volunteered to serve in South Africa for one year's active service. George attested into the South Wales Borderers on January 24th, 1900, at Newtown Montgomeryshire as a Private soldier, being given the number 7601; within days he would be South African bound to fight in what has become known as the Boer War, arriving in Cape Colony in South Africa on February 14th, 1900, some 11 days after the main contingent of the 2nd South Wales Borderers had landed. On his attestation form he gave his age as 20 years and 1 month, his trade or calling being a tailor. Interestingly, all military attestation papers at the time gave the recruit's physical attributes. George is listed as 5ft 6 1/8 inches tall, weighing 139 lbs (just under 10 stone). His eyes were listed as blue, with brown hair and a 34 inch chest.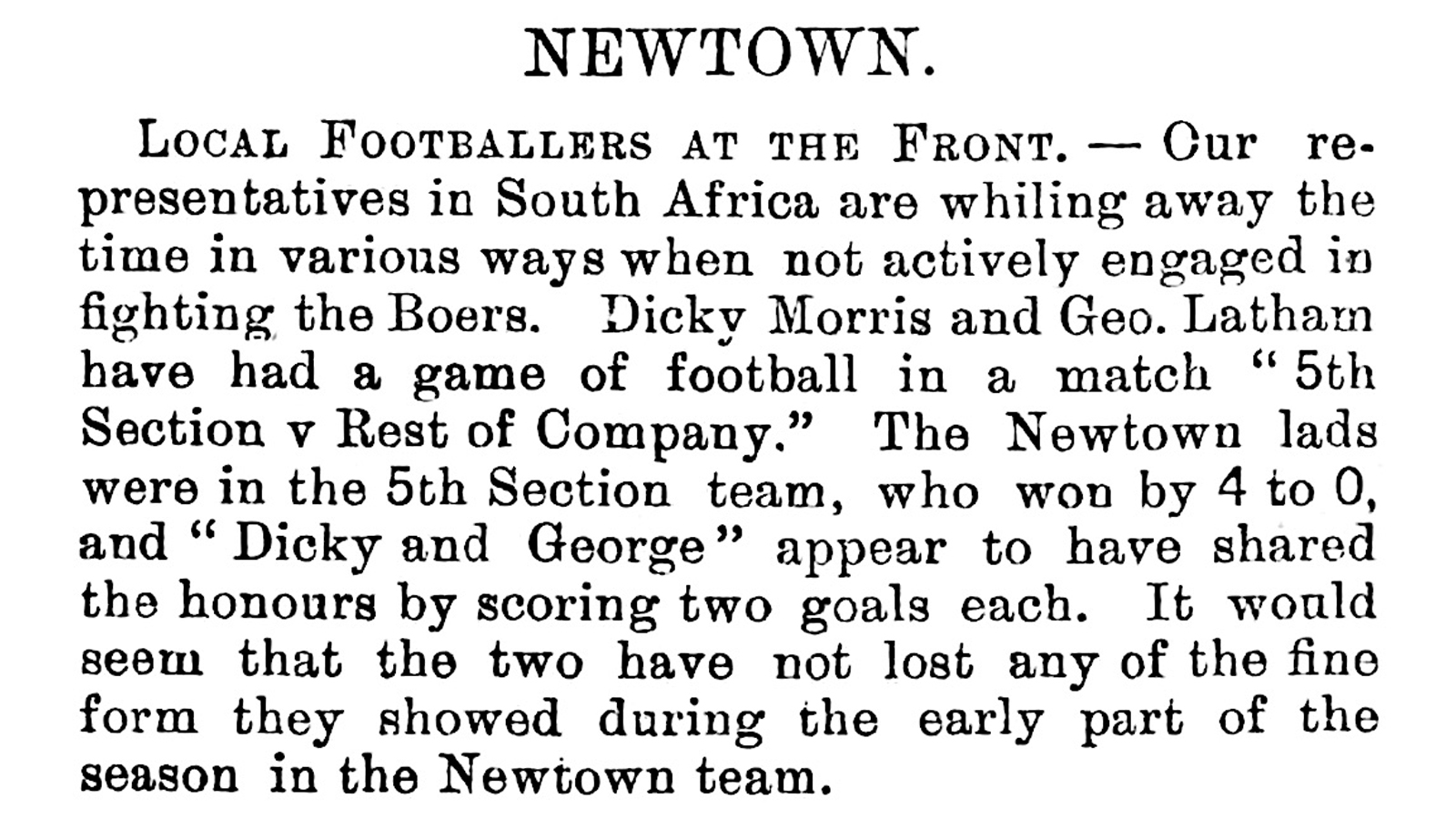 A report from the local Newtown paper, the Montgomery County Times, from 5th May 1900.
The Radnor Express on April 26th, 1900, printed an article from a Lance Corporal in the 2nd Battalion that gives a flavour of the conditions George would have had to endure during his time in the army in South Africa. It reads:  
Hardship of the 2nd Battalion South Wales Borderers 
'Lance Corporal S. J Hill 2493 writing to his mother from Orange Free State dated 15th [of] March 1900 describes a forced march which, "started in the heat of the day at 12 noon on the 6th [of] March and finished at 9.30am the following day (21 ½ hours on the road)." He spoke of nothing but aches and pains all over from marching and insufficient food.'
A look at the medal roll for George shows that he was entitled to wear the Queen's South African Medal with four clasps: the clasps representing South Africa in 1901, with state bars (denoting the particular states or region the recipient operated in to receive the award) for Johannesburg, Cape Colony and Orange Free State. In total, George spent a year and 68 days in South Africa before returning to the UK. It seems upon his return he started playing football with his local team at Newtown (in Powys) before joining Liverpool for the 1901/02 season. It was while he was at Liverpool that he won the first of his ten Welsh caps, playing at right-half against Scotland in a 3-1 win at Wrexham. After his stay at Liverpool ended, George moved onto Southport for the 1909/10 season before joining Stoke City the following term: he joined Cardiff City in 1911, where he helped us win the Welsh Cup in 1912 at centre-half by beating Pontypridd 3-0 in a replay.   
The 1911 Census, a valuable piece of information for most family historians has him living at 10 Atlas Place, Canton. Interestingly enough he is not listed as Professional Footballer but as a Tailor who was boarding with the Hayward family. Coincidently, my Great Grandmother and Great Grandfather lived just across the road from him on Ninian Park Road: I wonder if they ever met George?
The last of George's Wales caps came not as a player (technically speaking) but as trainer when, on January 18th, 1913, he was called into action in a 1-0 win against Ireland. In those days there were no substitutes and when one of the players fell ill then auxiliary staff would be called into action. Indeed, George would become Cardiff City's oldest ever Football League debutant in 1922 (City only joined the League in 1920/21) when, in a similar scenario (he was a Club coach), he stepped out for us at Blackburn Rovers aged 41 in a 3-1 win, eight years after his playing career officially ended with the outbreak of the Great War. His final City appearance had seemingly come in 1914, and with the storm clouds gathering over Europe and beyond, war rather than football would be the topic of the day.   
George being the patriotic soul that he was joined his local Territorial Battalion, the 7th Royal Welsh Fusiliers who were raised in his hometown of Newtown in Montgomeryshire. He was commissioned as a 2nd Lieutenant on August 4th, 1915, before being promoted to a full Lieutenant on March 2nd, 1916, and his Medal Index Card shows that he was entitled to The British War and Victory Medals. It also shows that he was mentioned in dispatches (MID), an honour he was to achieve on three separate occasions. This would enable him to wear the bronze oak leaf on the ribbon of his Victory Medal as well as being a recipient of the Military Cross: an award for gallantry that he would win on two separate occasions, allowing him to add a prestigious bar to the medal.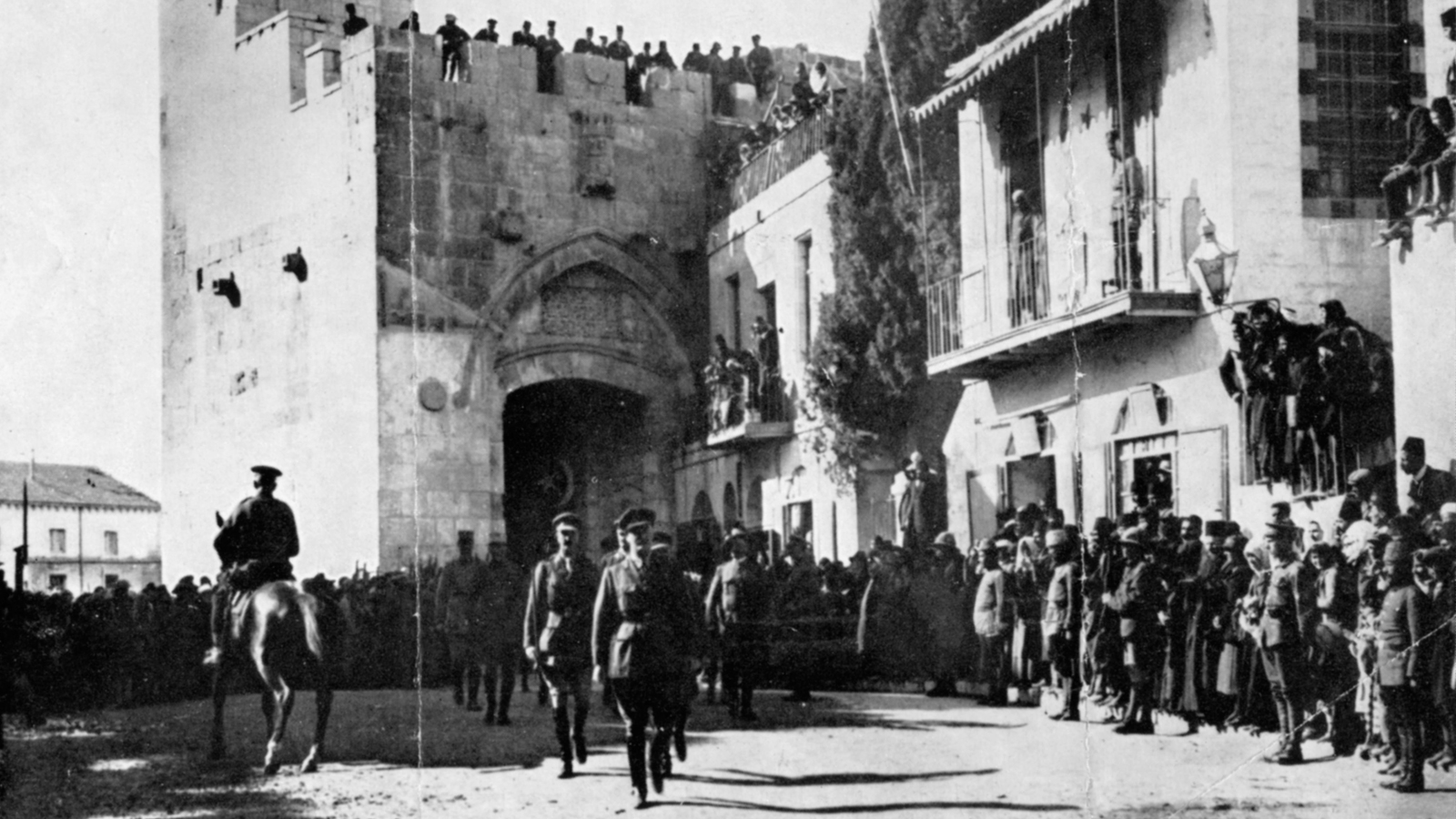 Second Lieutenant George Latham joined his unit, the 7th Battalion of the Royal Welsh Fusiliers on July 24th, 1916, when they were part of the Egyptian Expeditionary Force in Palestine where the British forces were fighting the Turks. The Western Mail of April 24th, 1917, reports George's part in the First Battle of Gaza. The headline and passage read: 
General and Staff, captured by Cardiff City Footballer 
'A letter received by an Aberavon gentleman states the Lieutenant George Latham, the former Cardiff City footballer and trainer has been recommended for a high decoration for capturing a German General and his Staff. Lieutenant Latham, who was a champion centre half-back for Wales, has been seeing active service in Mesopotamia. Mr Fred Stewart, the manager of Cardiff City Football Club, received a letter on Saturday from the Lieutenant in which he graphically described the battle near Gaza. On March 26-27th, Lieutenant Latham and the men he led were under machine gun fire all day, and the casualties were heavy. But he writes: "I seemed to bear a charmed life and came through it all right."'  
The Royal Welsh Fusiliers Official History refers to George's part in the battle when it states: 
'Second Lieutenant Latham, after charging through the cactus, continued clearing cactus gardens, and rounding up all prisoners under heavy sniper fire… (T)his effort of our 7th Battalion started a general advance along the whole line… (A)ll the high ground over Gaza was in our hands. The 7th Battalion returned 9 officers killed and 36 other ranks. 7 Officers were wounded… 220 other ranks and 15 other ranks missing.' 
The London Gazette recoded his official citation. It reads: 
'For conspicuous gallantry and devotion to duty. After taking part in the final assault of the enemy's position, he pushed forward with the remainder of his platoon and men of other units, under heavy machine gun and rifle fire, and cleared and consolidated a position of great tactical value. With the help of another officer, he captured a number of the enemy staff and prisoners, showing exceptional capabilities and great gallantry throughout.' 
George would win the MC again and add a bar to his existing medal for his actions fighting in Beersheba in Israel in 1918 under the command of Edmund Allenby. He was also mentioned in dispatches by General Archibald Murray, Commander of the Egyptian Expeditionary Force at the time.  His citation for the bar to his Military Cross reads as follows: 
'For conspicuous gallantry and devotion to duty. When our line had been penetrated on the right flank, he at once went to the spot and helped rally the men of various units. Shortly afterwards, during a fog, the enemy appeared within a few yards, and he personally led forward a portion of these troops against them, and succeeding in driving them back, accounting for several of the enemy himself.'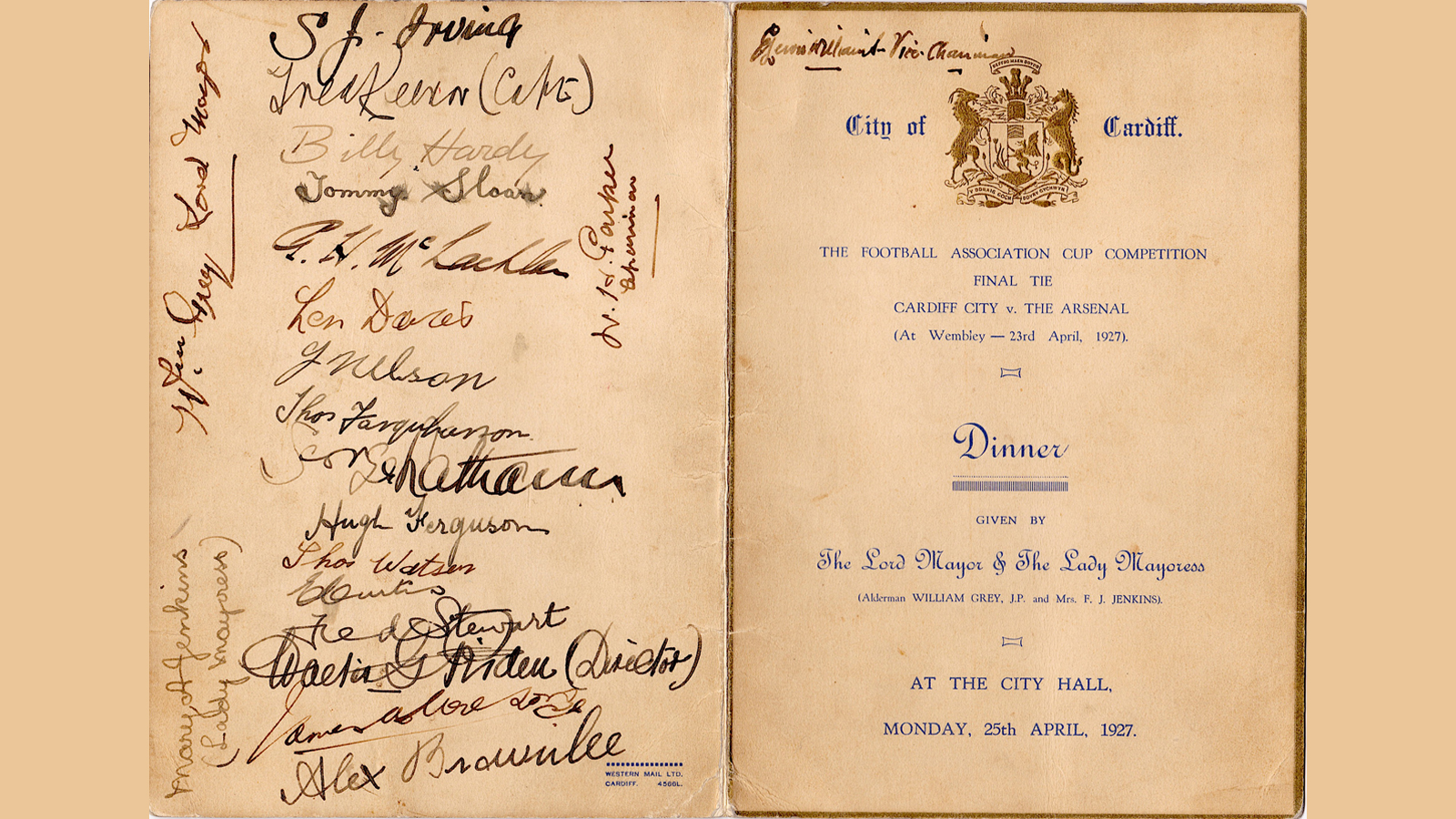 A signed menu from the FA Cup celebration dinner in 1927, with George's signature half way down.
George would later be promoted to the rank of Captain and before the troops returned home to the UK, he would help the 7th Royal Welsh Fusiliers win the British forces in Egypt Football League Cup Final in 1919.  There can be little doubt in my mind that George was not only an inspirational and brave soldier but a real sporting hero.
But don't take my word for it alone. The Western Mail in April 1925 prior to the 1925 FA Cup Final (in which City lost 1-0 to Sheffield United) writes: 'If a census were taken as to who was the most popular man in football, it would be odds on George Latham coming out on top. His genial presence, his encouragement of the team, and his tact in dealing with men have done much towards bringing Cardiff to their present high position. Himself he is the most jovial fellow that one could wish to meet. Always he has a cheery word and a smile, and nothing was ever too much trouble for him. Latham is a trainer in a thousand.'  
As a former History Teacher and medal collector, I would love to own his medals one day. We can all dream.  
To tell us your stories of City war heroes past and present, email forever@cardiffcityfc.co.uk