Bluebirds & Swansea join forces against racism & discrimination
Community
17th March
Cardiff City and Swansea City will unite in an anti-racism campaign when the two clubs meet at the Liberty Stadium on Saturday, March 20th.
The South Wales derby (which will kick-off at 5.30pm, live on Sky Sports) falls on the same day as United Nations Anti-Racism Day. The campaign, backed by Kick It Out, has also seen supporter groups from both clubs come together and sign a joint pledge against racism and discrimination. That pledge can be read HERE.
Cardiff City Supporters' Club, Cardiff City Disabled Supporters Association and Cardiff City Supporters' Trust have been central to the initiative, in conjunction with Swansea City Supporters' Trust, Swansea City Disabled Supporters' Association and the Jacks Against Racism and Fascism.
Both sets of players and officials will warm up in Kick It Out t-shirts on Saturday, whilst the slogan 'Rivals on the pitch, united against racism' will be used on and ahead of the game.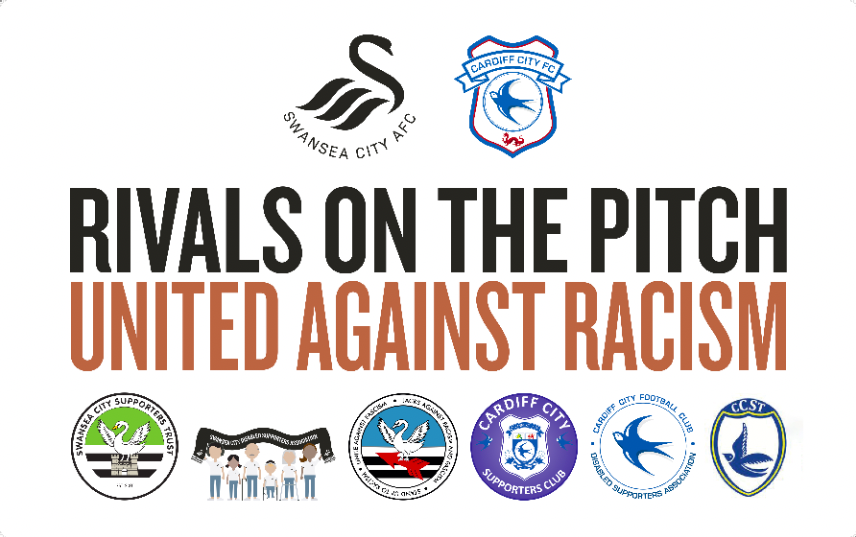 Cardiff City FC Executive Director & CEO, Ken Choo, said: "Cardiff City and Swansea City stand together in the fight against racism and discrimination in society. I'd like to thank the supporters groups of both clubs for their commitment to this campaign.
"Whilst our rivalry on the field with Swansea City will continue this weekend, our unity with them in this battle against prejudice is firm and absolute."
Swansea City Chief Executive Julian Winter said: "The issue of racism and discrimination is one that sadly isn't going away, and we feel it is important as a football club that we continue to battle against theses prejudices that put a stain on society and the game we all love.
"I'm delighted that both clubs have come together to unite around such an important issue, and I'd like to thank all the supporter groups from both Swansea City and Cardiff City who have played such a key role in this campaign.
"It will also be fitting to pay tribute to all those supporters who are sadly no longer with us in what has been a challenging year for everyone, both within the community of Swansea and across the world."
Both clubs will be supporting Kick It Out's campaign, Take A Stand, this week. For more information on the initiative, click HERE.