Change Starts With Us: Bluebirds Back Anti-Bullying Week
Club News
13th November
Cardiff City Football Club is pleased to support this year's Anti-Bullying Week which will be happening across the UK from Monday 11th November until Friday 15th November 2019.
This year's theme is Change Starts with Us. Its message is that a small change can make a big difference and it iterates that:
Whether verbal, physical, online or in person, bullying has a significant impact on a child's life well into adulthood. By making small, simple changes, we can break this cycle and create a safe environment for everyone. Together, we can challenge bullying. Change starts with a conversation. It starts with checking in. It starts with working together.
It starts here, now and with us.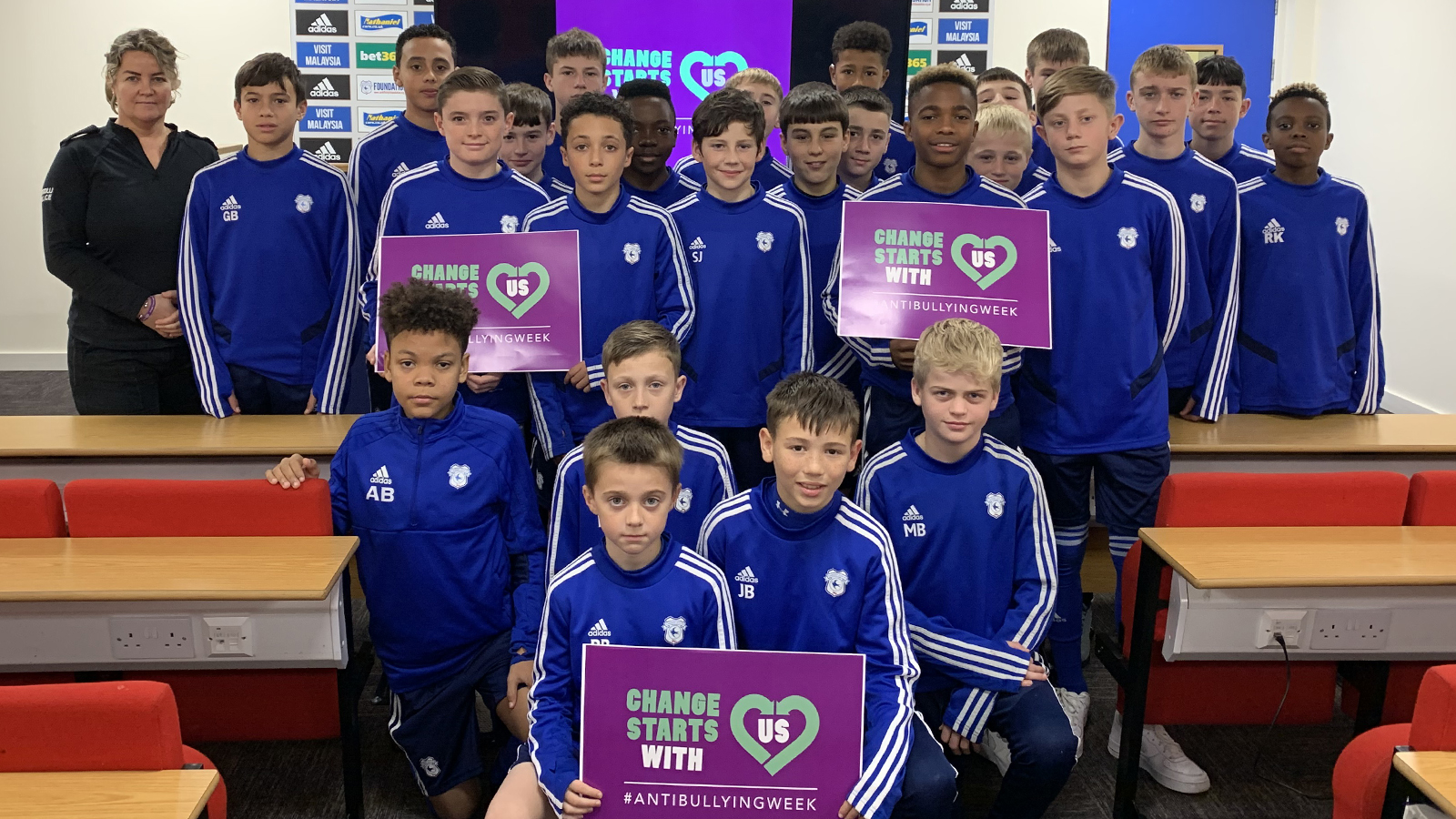 Cardiff City FC's Head of Safeguarding, Rob Cronick said: "Bullying can be a devastating experience and it is my commitment to those that participate in Club activities to enforce a zero-tolerance policy when it comes to this kind of behaviour.
"The Club's safeguarding message is speak up, speak out: we are here to listen, and that message is never stronger than when dealing with bullying. Our staff aim to ensure our supporters, players and beneficiaries of our Club's Community Foundation programmes, participate in a safe environment, whilst empowering them to speak up through the available reporting channels.
"Education is key and a firm priority across all areas of the Club. We will be working with South Wales Police during Anti-Bullying Week to deliver presentations to all our Academy players across all age groups. The Community Foundation, who work with over 80 schools across South Wales annually, will be educating students about what cyber-bullying is, why people do it and how it can be recognised. Students involved in the cyber-bullying workshops will also get to discuss their own experiences and practice skills that can keep them from becoming a victim.
"The message from the Club is that no form of bullying will be tolerated. The film you will see in this article (will also be shown at half time on Sunday) is an indication of the support from our Executive Director & CEO, Ken Choo, that is reflected through every facet of the Club to ensure we all understand our responsibilities. Change really does start with us."
If you wish to report a safeguarding concern in strictest confidence, please email the Safeguarding Team via safeguarding@cardiffcityfc.co.uk or telephone Head of Safeguarding, Rob Cronick, on 07872 147351.
If you are worried about the IMMEDIATE safety of a child or an adult at risk, please call the Police using 999.
Other key contacts are:
•    NSPCC 24hrs Helpline - 0808 800 5000
•    NSPCC Childline - 0800 1111
•    South Wales Police - 101 (Non-Emergency Number)
•    Cardiff Multi Agency Safeguarding Hub - 029 2053 6490
•    Cardiff Adult Safeguarding Team – 029 2233 0888
•    Emergency Duty Team – 029 2078 8570 (Out of Hours)