City History | Kev on Wembley, Forest & Promotion
History
31st March
We caught up with the City legend, who discussed his time in South Wales, a famous fixture against Nottingham Forest, and much more...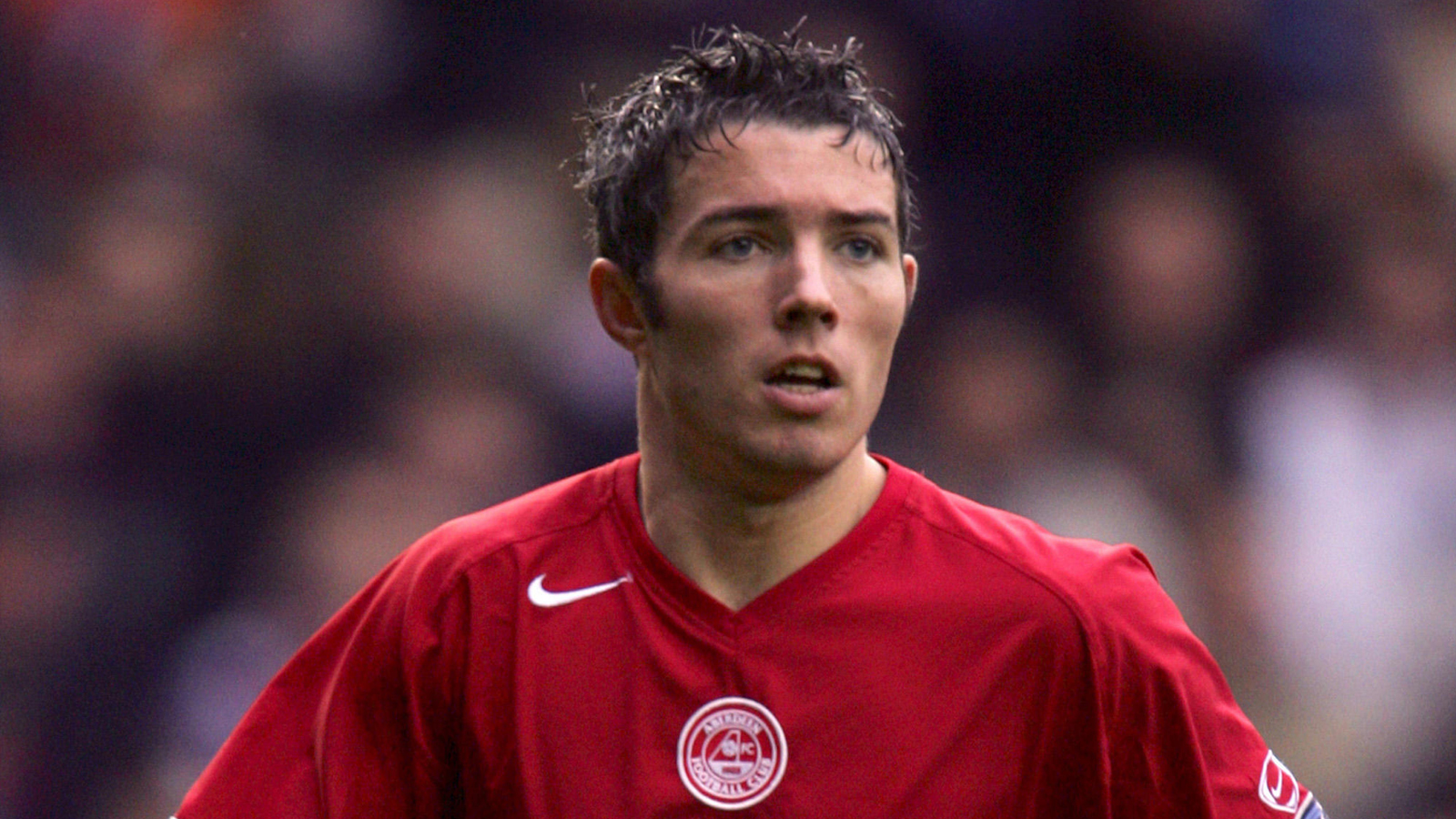 Born on August 28th, 1982, and raised in Dundee, Kevin's introduction to playing for a professional side came when he was a young man, having grabbed the attention of an Aberdeen scout while playing for a local side in his youth.
"I got spotted by a scout in Dundee, which is about an hour away from Aberdeen," he began. "I'd signed a schoolboy form that would take me up to the age of 16, and got offered a professional contract with the club after that.
"I'd been fast-tracked and was thrown into the first team due to a couple of the boys being injured, quite out of nowhere really!
"I had some good experience from that, including playing in Europe, which was useful for a young player to be involved in."
Across six years playing for Aberdeen in the Scottish Premier League, McNaughton developed from a young prospect into a consistent starter for the Dons. By the time he decided to leave the club in 2006, McNaughton had featured in over 200 competitive matches, aged 24.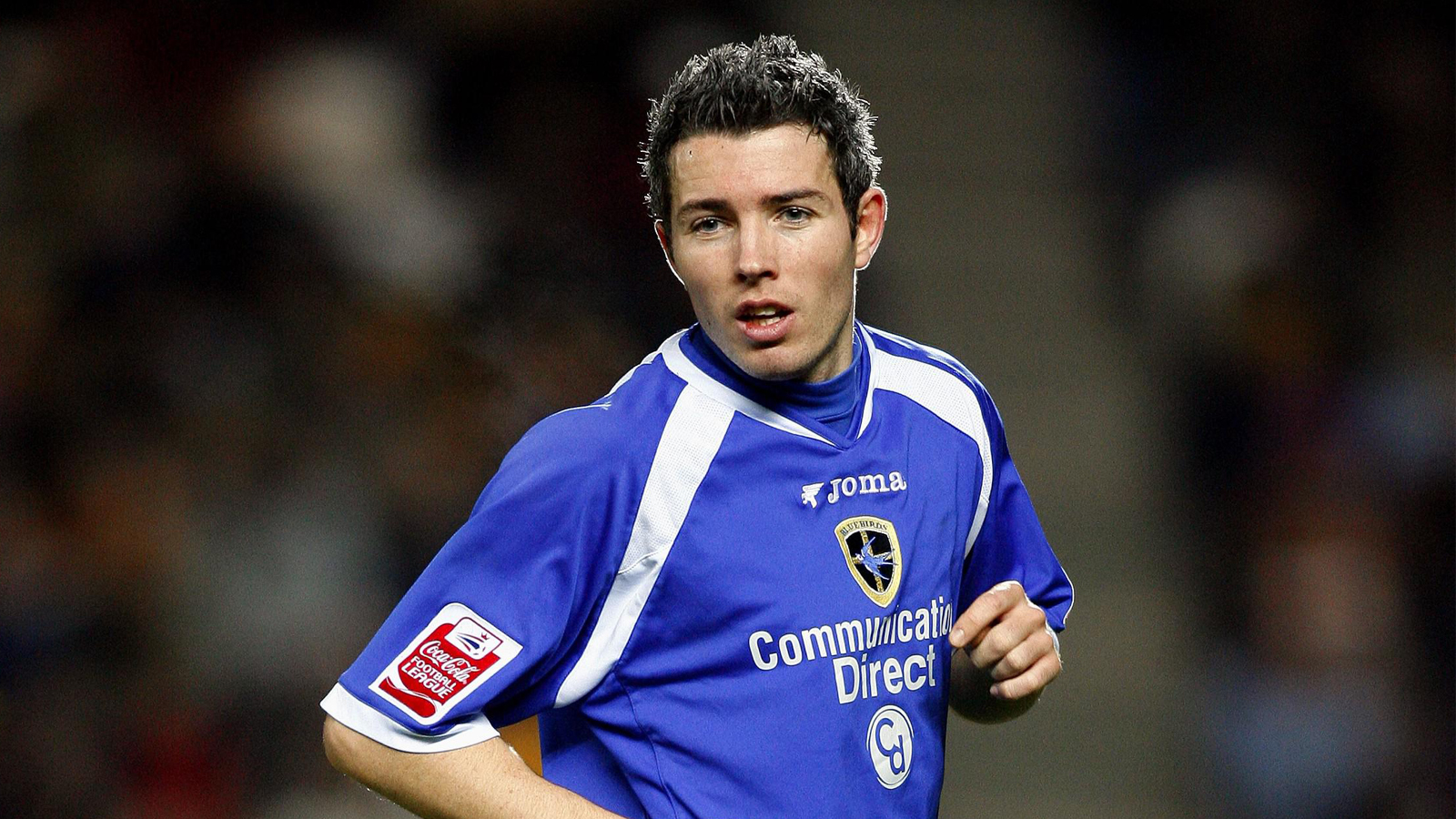 Departing the Granite City for South Wales that summer, the defender was excited at the chance to make his name in the Welsh capital. Going on to make 42 league appearances in his first campaign as a Bluebird, Kevin had put in the work beforehand to really have an immediate impact at Ninian Park.
"I knew that Cardiff City were an up-and-coming club by the time that I joined them, which was exciting," Kevin continued. "I felt that playing in the Championship was maybe a little faster paced than playing in Scotland, but I didn't think there were any massive differences.
"It was great starting up my time at City. I'd like to think that I've always been a fairly fit person, but that summer before joining I'd paid a bit more attention into putting in that extra work, and I was probably as fit then as I've ever been. That was me really giving myself a chance to hit the ground running.
"It started well for me, and I felt that I'd played my best football at left back, despite being a right-footer. There are things that work in your favour and against you in that situation, but I'd always felt that I played at my best there, which I also did for a spell at Aberdeen."
With the Bluebirds steadily climbing up the league table season after season, Kevin reflected on one of his personal highlights from his time in South Wales, as he spoke about his experiences with the FA Cup, both on and off the pitch...
"It's one of those things that really sticks out to me from my time with the Club," said Kevin. "The FA Cup was something that I'd always watched as a kid.
"I used to follow it religiously. The programme would start really early in the day on the television, and I'd always go through and watch all of it.
"I remember that clearly, watching as a kid. So it was one of the highlights of my career, to be honest, to walk out there and play in that match for City.
"For me, to be a part of such a match, it was and always will be something really special."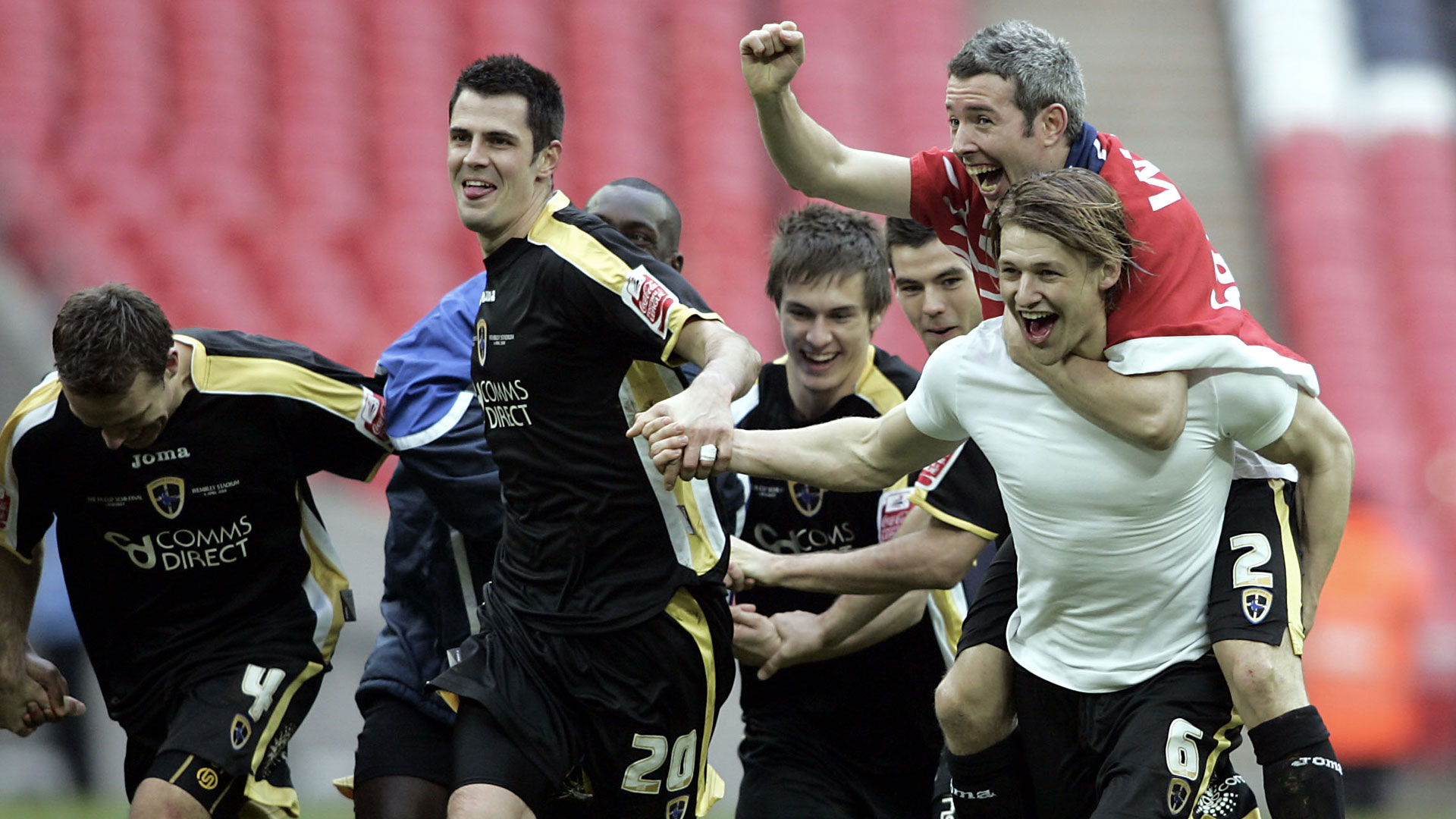 As City climbed the league table season after season in addition to two historic cup runs, McNaughton's pride in his former teammates is palpable, as was his delight at being joined by so many of his compatriots at the Club over the years.
"Every year we'd always seem to lose some of our best players, but we'd always have a good team who would have a good pop at getting promotion.
"I think that we'd eventually go from having a good team to a good squad, and that proved the difference in eventually getting promoted to the top flight.
"It's a long season. 46 games is a lot of football, and players will always have peaks and troughs, so if you've got good people there to step in when needed it certainly helps.
"We'd brought in the right players after the 2011/12 season. They had a great attitude and they only added to the boys that we'd kept together in the squad as well. The majority of the guys starting in that promotion campaign had been there the year before, which I really think paid off.
"When I first joined Steven Thompson was there, Gavin Rae joined as did Steve MacLean and Paul Quinn. Then later Chris Burke and David Marshall were there as well. There always seemed to be a conveyor belt of Scottish players coming in, there were loads!
"There was a great mix and some great characters in the changing room, with boys from different parts of the world. As well as playing well together on the pitch that promotion season, we'd also be a tight-knit group off the park as well. It can really make the difference at times.
"We'd all play darts when we weren't training, and I reckon Aron Gunnarsson is now up there with the best darts players in Iceland from the time he spent playing with us! He was murder when he started, and then all of a sudden he'd start hitting the treble 20's, and was pretty good by the end of that season. Both he and Heiðar Helguson were the same!"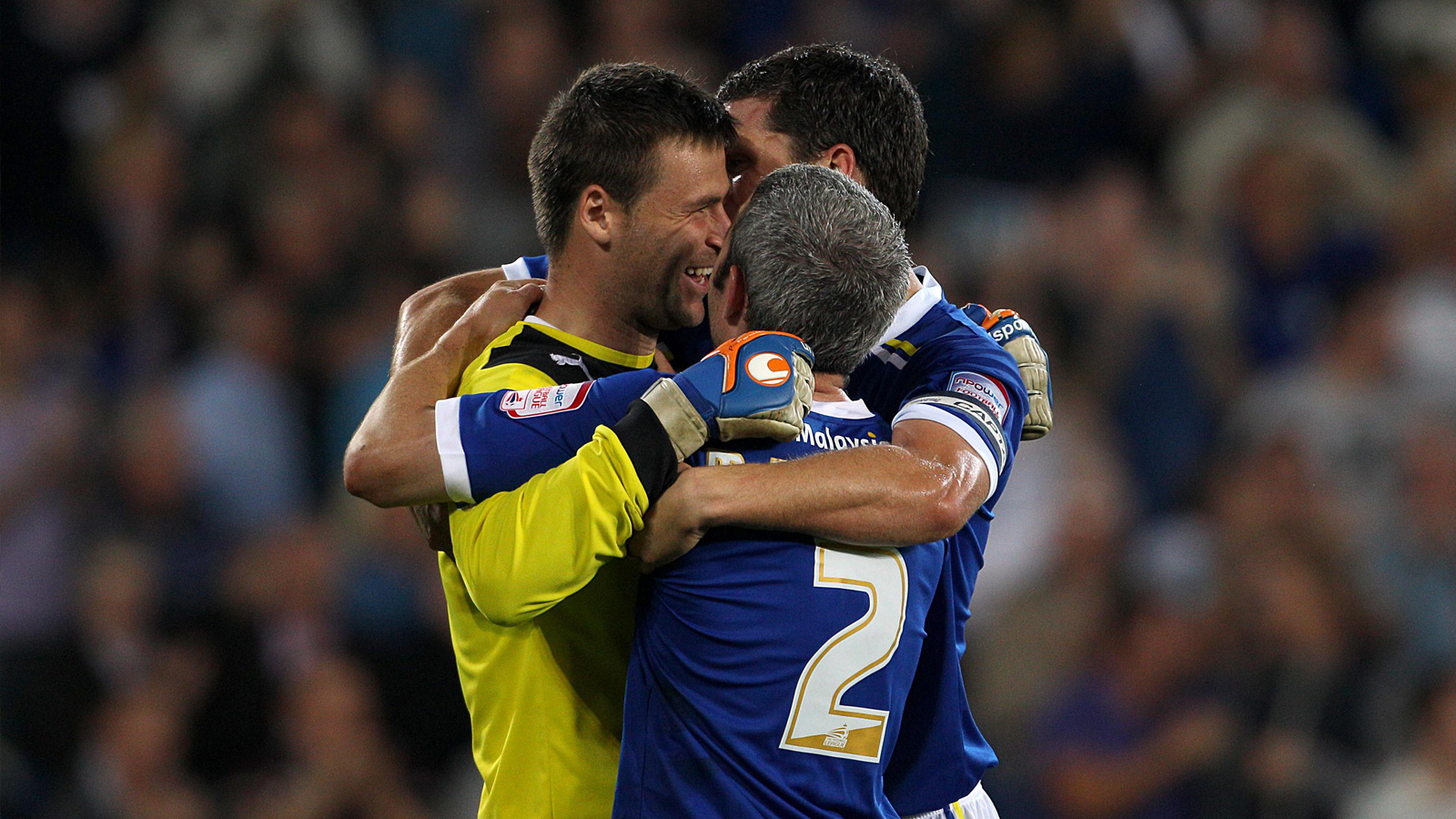 With Friday's match against Nottingham Forest fast approaching, Kevin further discussed the culmination of both his and the Club's campaign to reach the top flight in 2013. Meeting on April 13th that year, the Bluebirds put in one of their most clinical performances of the season to defeat Forest 3-0 in front of over 26,000 supporters at a packed CCS, Rudy Gestede scoring a brace after Helguson's opener.
The win put City within a point of guaranteed promotion, with four matches remaining afterwards. Recalling the team's final push towards their ascendancy into the top flight, Kevin described his experience of those final few weeks in the campaign, as well as the historic celebrations that surrounded them.
"It was massive for us when we were in the running for those final few matches," he explained. "Promotion was the most important thing of course, and getting that point from the match afterwards against Charlton sealed it, which was a relief after all of the hard work we'd put in.
"It really was one thing after another with those final few matches of the season. From going three up and winning against Forest to that draw to seal promotion and then later against Burnley to actually lift up the trophy, without forgetting about the celebrations afterwards, of course.
"It was special to have my kids there as I held the trophy, and the parade was of course a great day, to share your success with the City and everything else that went with it.
"Everybody chipped in across different parts of that season, and I think that really was the model squad from my time with the Club. I'd always thought that it was the best squad that got promoted, and not necessarily the best team. We had the squad that season, and it was probably the best one that I've ever been a part of overall.
"We were a tough team to beat, and I don't think that any team liked playing against us. When you're a part of a squad that you really enjoy being a part of, it really helps you to pull through when the chips are down.
"Since the day that I came to the club, the supporters had always been brilliant with me, and having them to celebrate with us towards the end of that was really special."
With 288 competitive appearances made for the Bluebirds between 2006-2015, Kevin McNaughton was there when it mattered, wearing his heart on his sleeve during one of the Club's most successful periods in the modern era. Across a nine-year period in South Wales, SuperKev carved his name into the annals of Cardiff City history.