City History | Player Focus: Mike Ford
History
6th May
We caught up with a Bluebird who helped Cardiff City to two promotions more than a decade apart, and a famous win on this day in 1988...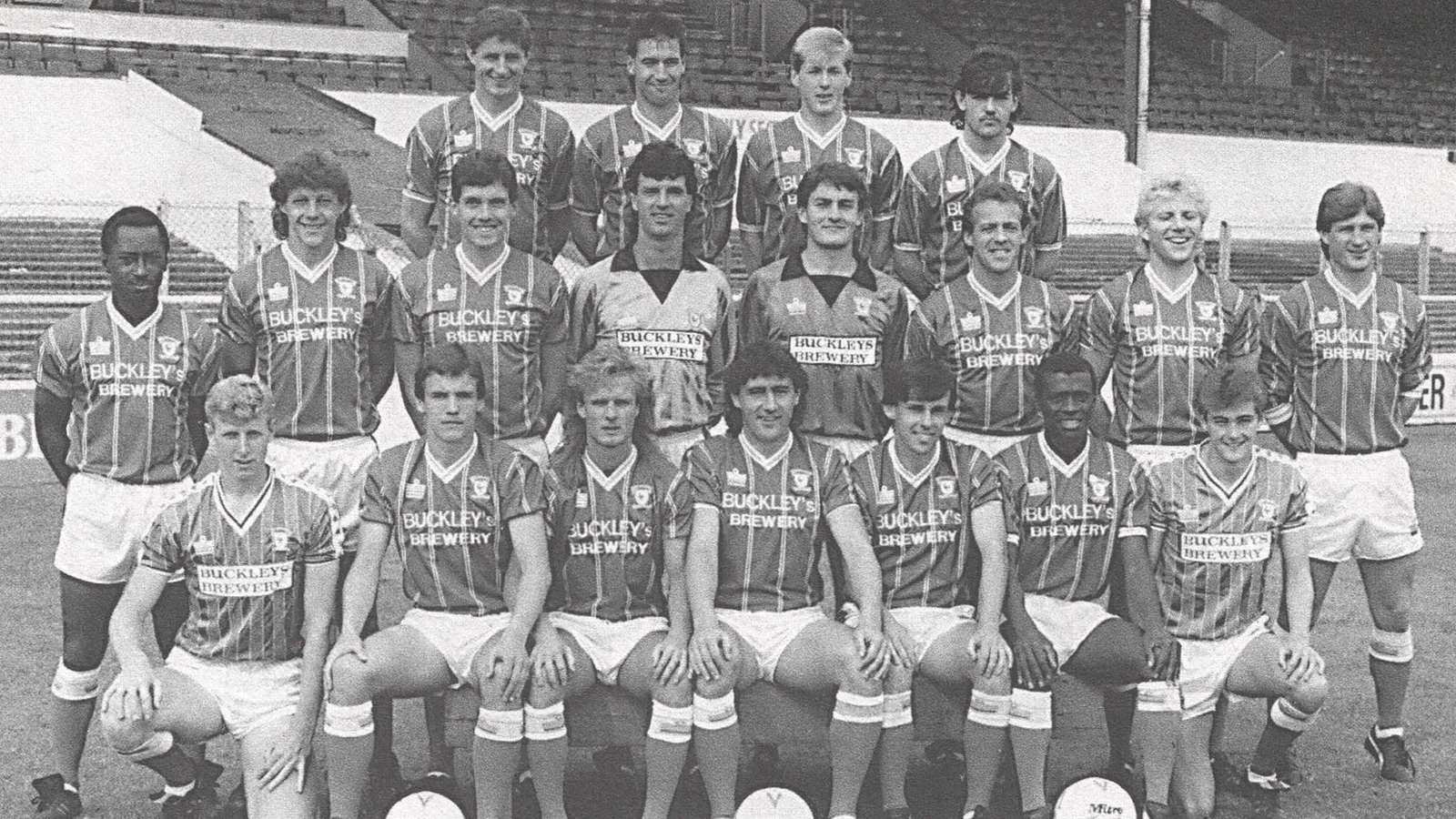 Growing up as the son of former Bristol City and Bristol Rovers defender Tony Ford, Mike Ford knew what profession he wanted to follow from a young age.
"I was living in Scotland as a year 10 or year 11 comprehensive school pupil." Mike began. "We'd moved up there as a family, as my Dad was the manager of Heart of Midlothian with Bobby Moncur.
"I played for Salvesen Boys Club, which was a good side. From there I had a trial at Leicester City, and went down there in one of the half-terms.
"I trialled there, staying at a hostel. While there I met a few of the boys, and went to watch the first team game on the Saturday, and they offered me an apprenticeship when I left the school after my exams in Scotland.
"My first club experience was with Leicester City, it was a fantastic experience, and I absolutely loved it. I was probably not good enough to get into their first team, as it contained the likes of Gary Lineker and Alan Smith, who went on to have stellar careers."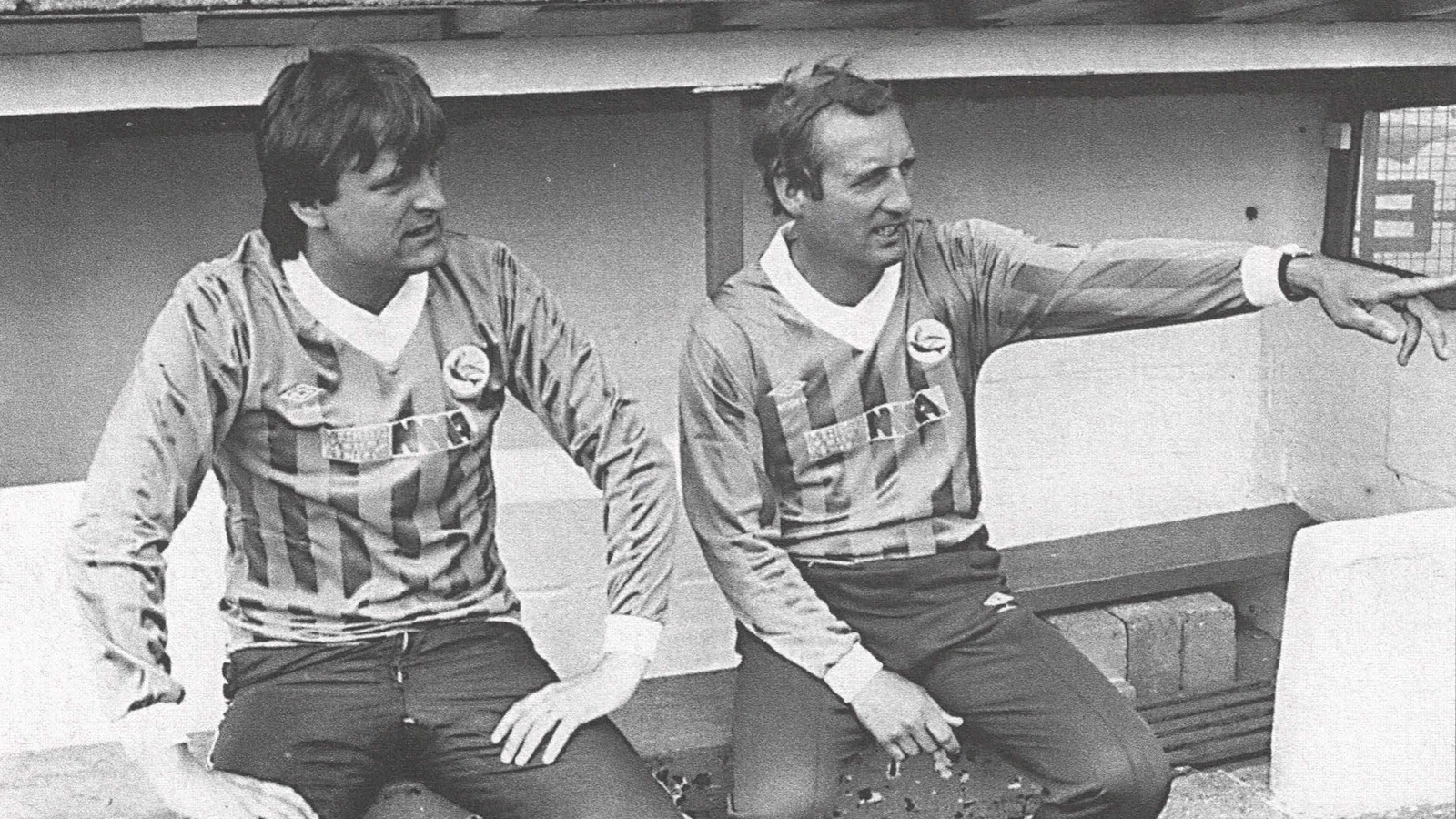 Jimmy Mullen and Jimmy Goodfellow were managing the Bluebirds together when Mike Ford initially joined the Club in 1984.
As a young man, it was a chance encounter between Tony Ford and a Cardiff City club legend that eventually led to Mike's move to play at Ninian Park, where he would make his first Football League appearance aged 18 in 1984.
"It's a bit of a weird story." Mike explained. "I was at Leicester for two years and then got released. I then trialled at Manchester City for six weeks in pre-season, where I wasn't quite good enough but enjoyed the experience.
"My family had moved back to Bristol after my Dad had been given the sack from the Hearts job in Scotland, and I basically didn't have a club to trial with, or a non-league club to play for.
"The manager at Devizes, who were a small town in Wiltshire, had a connection with Bristol City and vaguely knew my father, I think. Anyway, I ended up playing for them for about six games.
"I got £25 in an envelope each game, and it was like gold dust! I'd never been paid that much before, as even as an apprentice I'd get £20.
"The novelty was that I'd play centre-half, while my Dad played at right-back!
"I managed to secure a trial at Cardiff City, and actually played in a friendly up in the valleys for the Club the same day that I played my last game for Devizes.
"After drawing in the friendly, I then went to play for Devizes in the afternoon, where we lost 6-1. I ended up making my league debut for City at Elland Road the following Saturday.
"It's quite the tale; I got turned over by a non-league striker who got a hat-trick, and then I'm playing against Peter Lorimer and Leeds United the following weekend! You could say that my start to playing professionally was pretty bizarre.
"What makes it even more surreal is how the Cardiff City trial came about. My Dad was watching a game at Exeter, and he went to the toilet at half-time, where he bumped into Jimmy Goodfellow.
"They were chatting away and Jimmy asked 'how's your lad?'. My Dad explained that I didn't have a club, so Jimmy asked if I'd like to trial with Cardiff City, as he'd seen me play for Leicester City reserves.
"Alan Durban came in shortly afterwards, where I got an opportunity with a new contract to play for the Club, which was too good to turn down."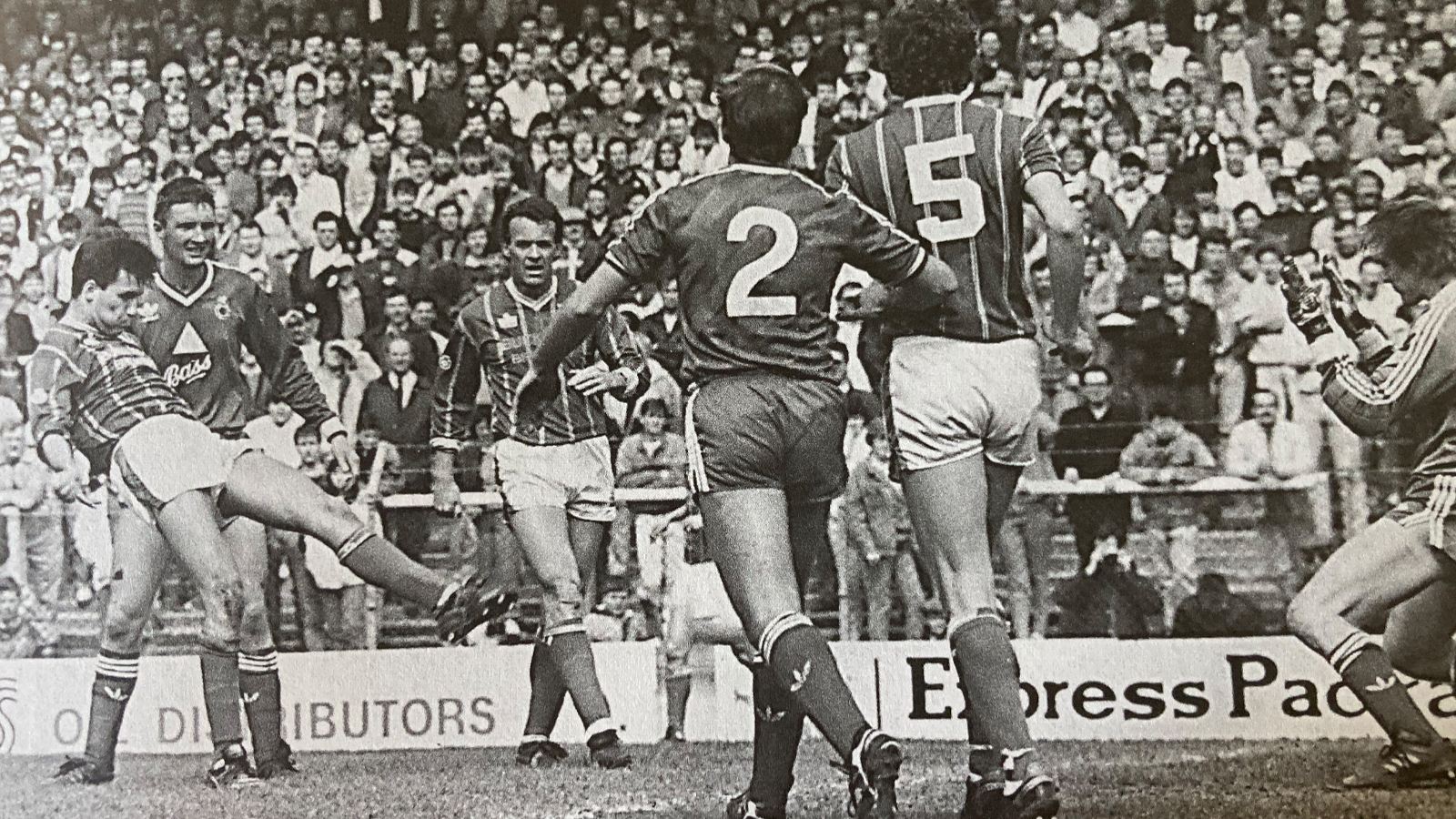 Though successive relegations were to follow in Ford's early years with City, the arrival of Frank Burrows in 1986 signalled a change in the Club's fortunes, with 20-year-old Mike set to play a crucial part in a promotion push at the end of the following season.
"In those early days with the Club, I wanted to play in the first team as much as I could." Mike recalled. "I made my debut at 18 at Elland Road, so being a young man going into my first stint as a professional, it was just about playing football for me. Of course, the added bonus was that I was playing in front of a few thousand people every week!
"We got relegated in both of my first two seasons, from Division Two to Division Four. During that period, in hindsight, I learned so much as a player, from game management to how to get yourself into the team and start winning games.
"Although it was two seasons of losing most of our games, I think the lessons that I learned during that time resulted in me having the long career that I ended up having.
"When Frank came in we saw a real improvement at the end of his first season. We finished mid-table, and had done well to turn things around a it, but I didn't feel that he was entirely convinced by me as a player who could help City to a promotion.
"I remember that he brought in Nick Platnauer and some other good players. In that pre-season, I looked at the squad and wondered where I would be able to play. Anyway, Nick got injured, so I finished pre-season that year playing at left-back.
"I started out the season in that position, and did well, so I kept a place in the side once Nick was fit again, moving into centre-half before then even midfield!
"I didn't notice it at the time, but I'd had two years of learning from losses and relegation, to one year of steadying the ship. That fourth year, earning promotion and winning the Welsh Cup at the Vetch against Wrexham, really felt like all of the pieces were coming together."
Having secured promotion in the weeks prior to the final match of the 1987/88 campaign, the Bluebirds were set for their final match of the season, with a trip to play mid-table Burnley at Turf Moor on May 7th, 1988. With the visitors going on to win the meeting 2-1 against the Clarets, his memories of the day are vividly drawn towards the City faithful who made the journey from South Wales that day.
"I recently watched a seven minute video I found on YouTube of that match against Burnley." said Mike. "I remember that we won 2-1, and I can remember getting onto Nicky Platnauer's shoulders in the corner at the top end near where the City fans were.
"I do remember being on the team coach on the way to Burnley for the game. There was a white transit van in front of us at some lights.
"The back doors of the van were flung open, and Batman and Robin got out of the back, followed by Snow White and the seven dwarfs! We were in hysterics!
"Then in the match itself, it was a Jimmy Gilligan goal that won it late for us, after we'd gone one up and Burnley had equalised. It was a terrific ending to a very nice season for me.
"I'm proud to have made 45 appearances that campaign. I just wanted to play as much as I can, and filled in whatever position I was needed in. Only Jimmy Gilligan and Terry Boyle made all 46 appearances that season I think, so I'm happy to have been within reach of those two immense players."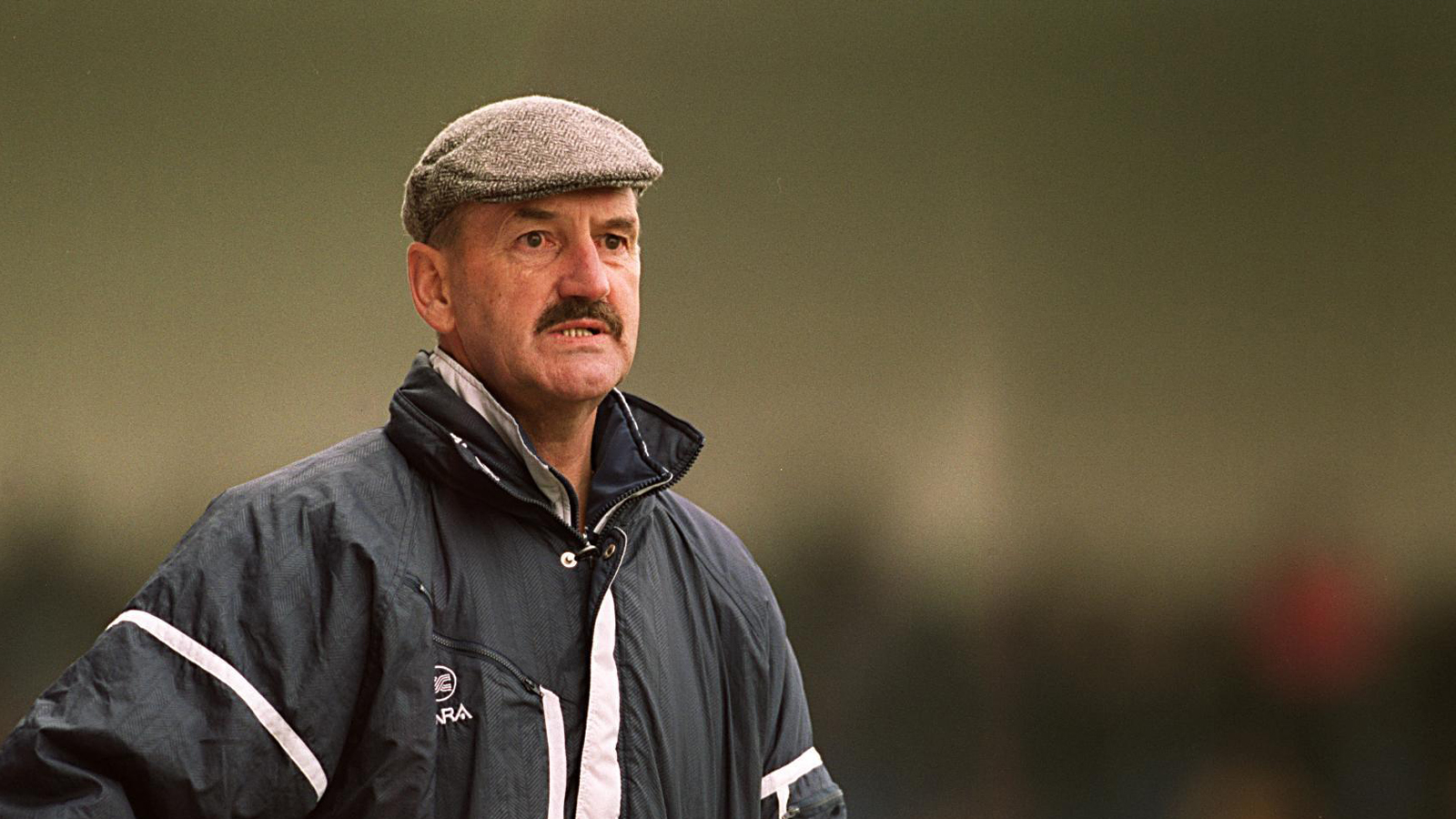 After spending ten years away from Ninian Park, Mike would eventually rejoin the Cardiff City in 1998, once again playing under Frank Burrows (above.)
Departing for Oxford United in 1988, Ford spent ten years with the U's, where he earned the side's captaincy and took them to promotion to Division One in 1992. With over 300 appearances made for Oxford, and his time at the club coming to an end, in 1998 he moved back to South Wales, where he would reunite with Frank Burrows, this time as captain.
"I knew I needed to find another club to play for," Ford explained. "I spoke to Frank before I'd left Oxford.
"As soon as Frank spoke to me, I realised it was a no-brainer. From my fondness for the Club as it was, to then knowing that Frank had a plan, I knew it was the right move.
"I moved back to South Wales wanting to work for the Club, for the manager, and for another promotion. I thought I was the right kind of player to win that promotion, so I was made captain. Of course, it all worked out well in the end!
"My first game back was against Hartlepool, and Frank didn't want a big announcement for my captaincy, as he wasn't like that at all.
"I wanted it, and it was a very proud moment for me in my career. It gave me that extra lift to see us through to getting promotion.
"Of course, that game also happened to be the one where Robert Earnshaw scored his first for the Club! It was a scissor kick, and he was of course that young and athletic player just starting out.
"I remember watching him score this great goal, and thinking 'that was alright, he's probably got half a chance here!'"
Winning promotion in 1999 with a third place Division Three finish, Mike Ford continued playing for City until 2000. Between his two stints and six seasons at Ninian Park, he made a total of 232 competitive appearances for the Bluebirds, helping them to two promotions over a decade apart, spanning separate eras in the Club's storied history.