City vs. Boro | Player Focus: Andy Campbell
History
19th September
Bringing to light a shared history between City and Middlesbrough, we look at Andy Campbell's time representing each club, featuring an interview with the former City forward whose moment of magic promoted the club to the First Division.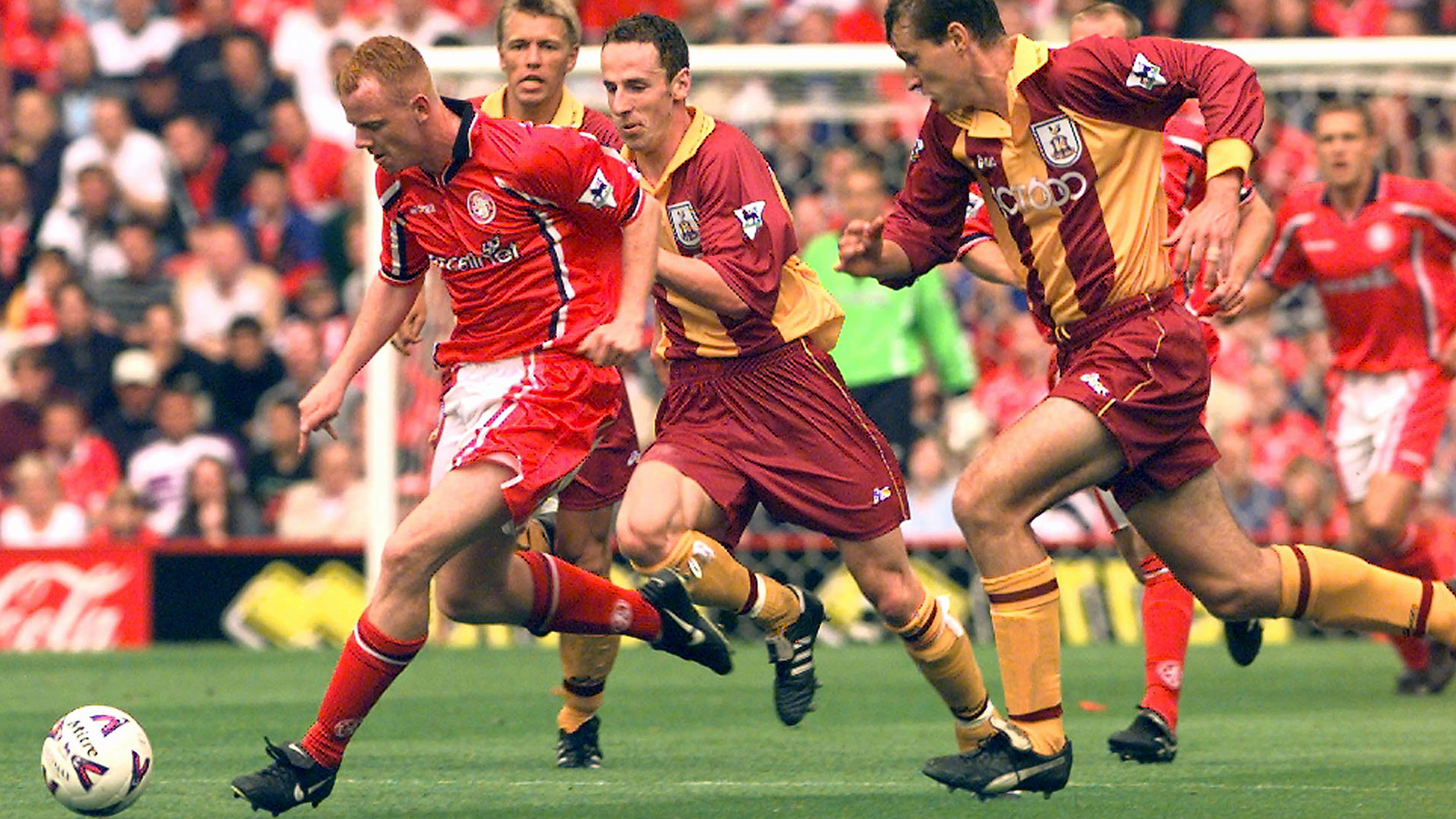 Born in Middlesbrough on April 18th, 1979, Andy Campbell made his senior debut for his boyhood club aged 16 on April 5th, 1996, coming on as a substitute in a 3-1 win over Sheffield Wednesday.
Having grown up as a youth player for his local club, Campbell remembers his time at Boro fondly:
"It was a dream come true playing for Middlesbrough. It doesn't get much better than being able to do that as a 16-year-old who has just left school. To do that was the best thing in the world."
Following relegation from the Premier league at the end of the 1996-97 season, Campbell was a part of the side that earned immediate promotion back to the top flight, and in subsequent seasons went on loan to both Sheffield United and Bolton Wanderers before joining Cardiff City on a loan spell in South Wales.
Andy scored seven goals in ten matches for the Bluebirds between March and May 2002, getting a perfect start as he bagged the winner on his debut against Northampton. His first impressions of the club were positive, as he went about impressing City supporters with his goalscoring ability.
"The fans were great, the players were excellent and I just seemed to hit the ground running, really."
Campbell signed for City on a permanent basis before the beginning of the 2002/03 season, as the club went about earning promotion to the First Division. Despite moving to South Wales from North Yorkshire, he found himself surrounded by familiar faces.
"I signed for City when [former Boro manager] Lennie Lawrence was manager. He'd just taken over at the club and I knew him from my Middlesbrough days.
"I think it was just a matter of seeing if we fitted each other's bill and as it turned out they suited me and I suited them. It was great, from the minute that I walked through the door everyone was welcoming."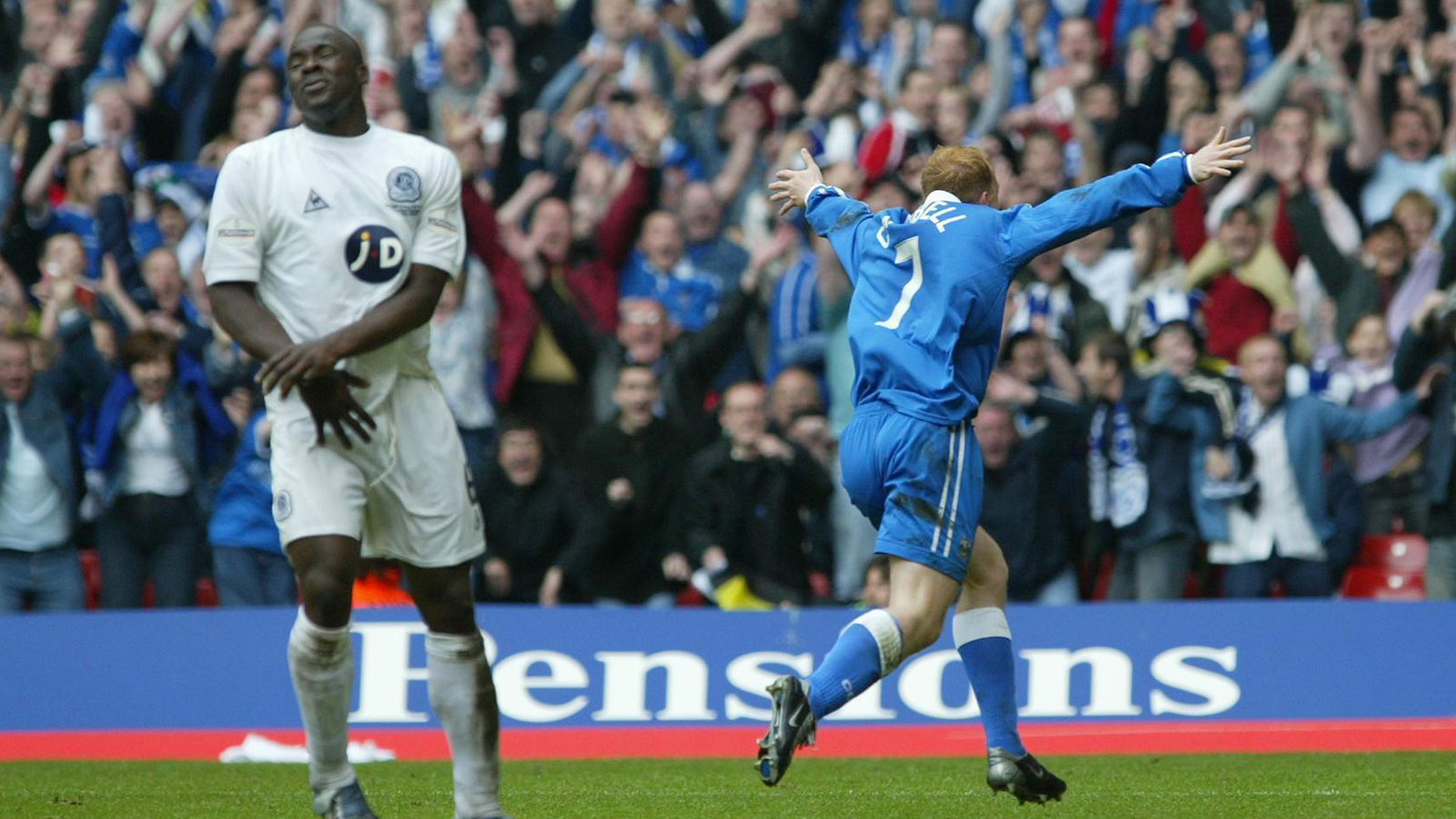 Alongside a manager that he knew from his previous club, Campbell's teammates included former teammate Graham Kavanagh (who had become City captain), Des Hamilton and Paul Brayson, who left for Cheltenham Town at the end of the 2001-02 season.
"I knew quite a lot of the lads anyway from just being around different football clubs and being from the North East, so it made it easy for me to settle in.
"I remember my first day, and it was just like playing with my mates again. It was great to be there, I felt like a proper player and it just felt right from that very first day. I knew that it was going to be a good loan spell at the club.
"I had a great time. I'd scored goals and we were a good young side and I played my part.
"Maybe I didn't play as much as I'd have liked to in the season that we had the play-off final. I started in the first game of the season against Oldham and scored before Earnie took over and scored a bagful of goals.
"It was great for the team and I didn't hold any grudges, I knew that I had to wait for my chance."
That chance came for Andy in the Second Division Play-Off Final, held on May 25th, 2003. City had reached the Final by defeating Bristol City over two legs in the previous round, finishing sixth on the league table at the end of the regular season.
To reach the First Division, the Bluebirds needed to defeat Queens Park Rangers in the heart of their home city at the Millennium Stadium. With the match remaining goalless with ten minutes left of normal time, Campbell was brought onto the pitch to replace Robert Earnshaw, who had scored 31 league goals throughout the season - a record that still stands unbeaten to this day.
"Lennie knew how important the game was, and before putting me on he told me to just do my thing and to go and get a goal.
"On a big stage like that in front of over 65,000 people I didn't need to be told twice!"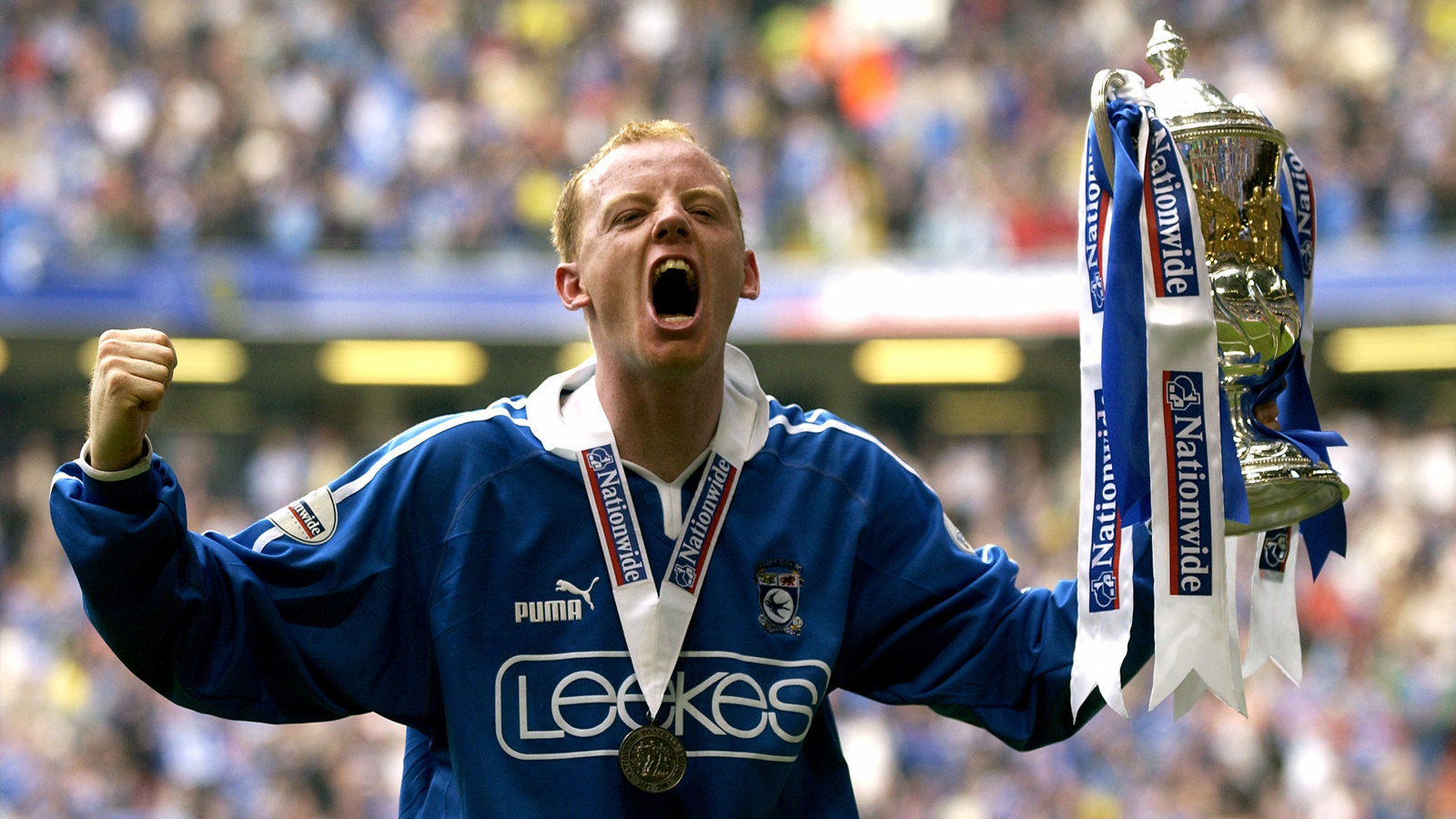 Heading into extra time, the score remained 0-0. Then, with little more than five minutes of play remaining ahead of a penalty shootout, Campbell produced a moment of magic that has gone down in City history.
Midfielder Gareth Whalley intercepted a loose QPR pass and received a long pass from Gareth Whalley, which sailed over the head of defender Danny Shittu and into the path of the striker.
On his first touch and at the edge of the area, Campbell hoisted the ball over Chris Day, who could not reach the shot as it flew over the goal line, giving City a long sought-after lead. The Bluebirds held tight for the remainder of the match, not allowing an equaliser despite QPR's best efforts. With the match won, the Bluebirds had made it to the First Division, marking their return to the second tier for the first time since 1985.
"Scoring that goal was without a doubt my proudest moment in a City shirt. It was great to pull on the shirt for the first time and score for City against Northampton and to score my first home goal against Blackpool, but to score for Cardiff City in Cardiff in a major final was a dream come true.
"Playing for City in the heart of the city, for both the football club and the fans we managed to get over the line, and I don't think that the club has looked back ever since.
"I always wanted to score in Wembley, which I didn't get the chance to do, but to score like that in Cardiff for me was far better.
"The celebrations were never ending. People were partying on until Tuesday and Wednesday, and we just rode that wave with our supporters. We made sure that everyone enjoyed what we'd achieved as a club."