History | Burke: I loved every single second playing for City
History
1st November
Ahead of Saturday's match against Birmingham City, we caught up with the former City winger who was as at the Club as it entered a new era...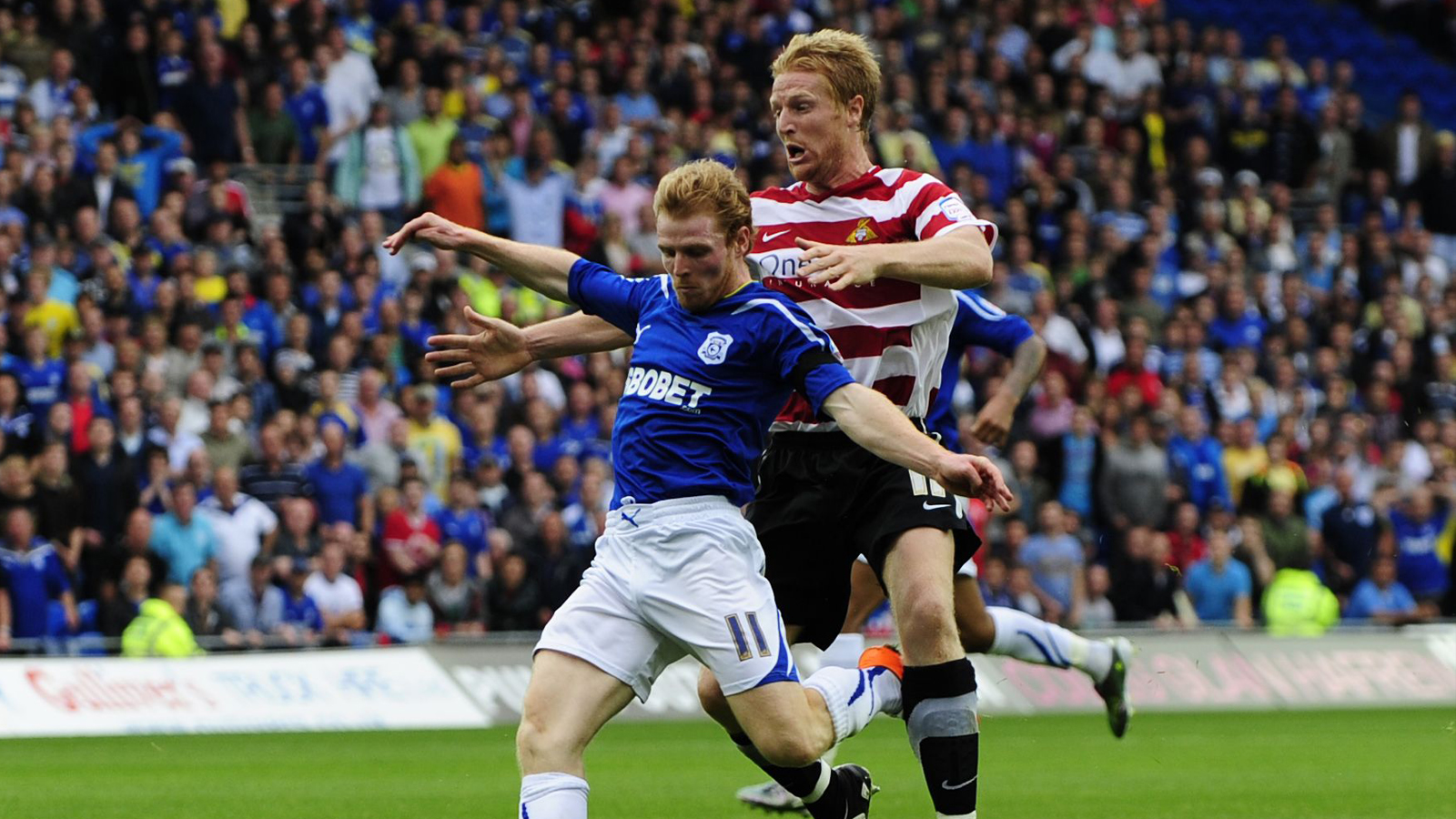 Born in Glasgow on December 2nd 1983, Chris Burke began his professional footballing career at Scottish Premier League club Rangers in 2002. Following seven seasons playing for the side, in January 2009 the winger moved from Scotland to South Wales to play for Cardiff City.
"I got the opportunity to play for Cardiff City after a long spell in my career at Rangers. In my last season [at Rangers] I wasn't playing as regularly as I'd have wanted, but I was given the opportunity to come to South Wales and rekindle my footballing career and play week in, week out.
"I had a successful time there and loved every single second of it. I moved there with my family and it was excellent, they were a very family orientated Club and the people surrounding the Club were very nice."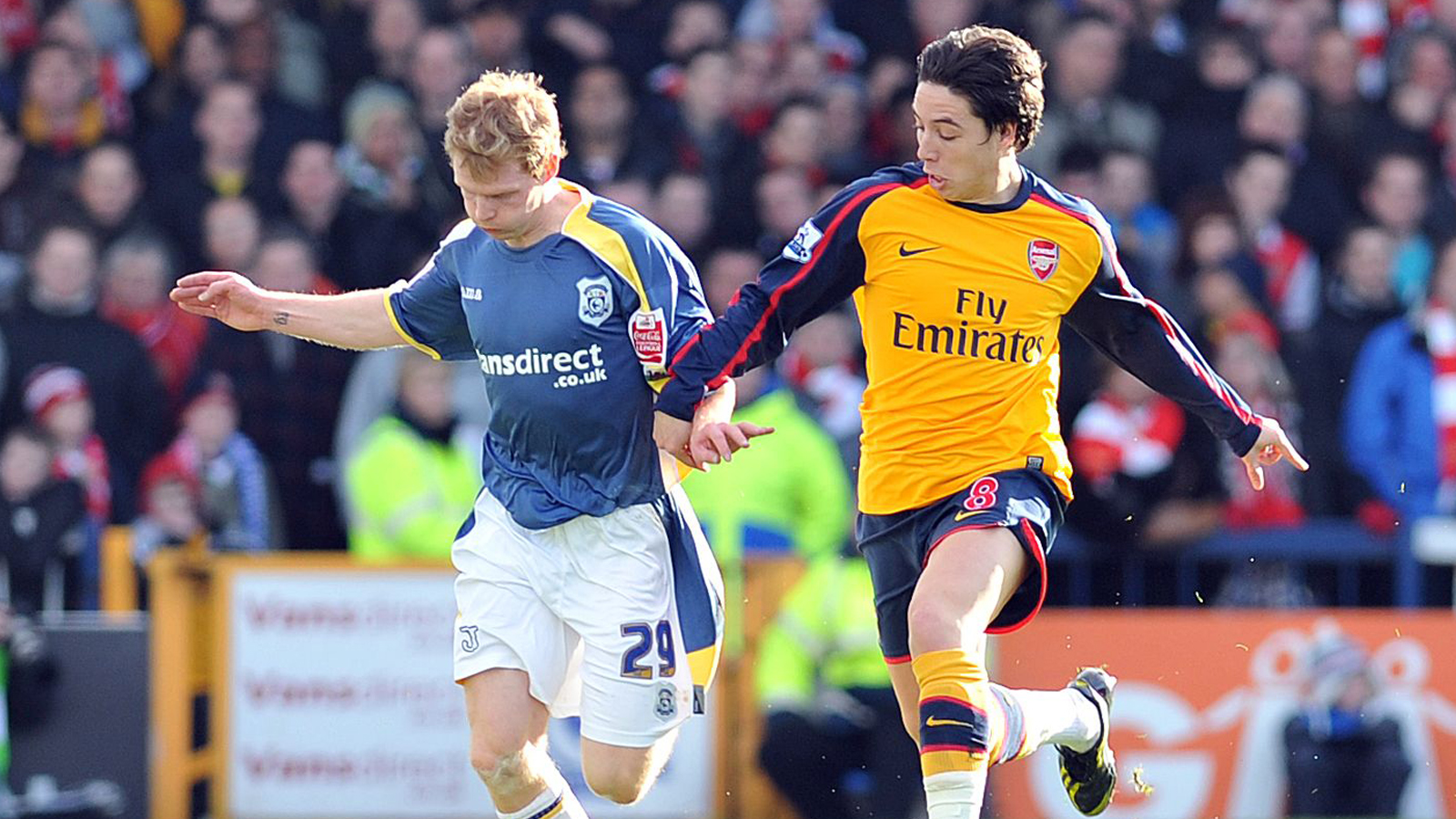 In one of his first matches played for City, here Burke is seen in an FA Cup tie battling for the ball against Arsenal's Samir Nasri at Ninian Park.
Though moving such a distance to play for the Club, Burke was familiar with a few members of City's squad already...
"It was actually Gavin Rae that texted me asking whether I'd be interested in coming to Cardiff City. He knew me from my time at Rangers and he'd obviously spoken about me to some people at the Club.
"My move to Cardiff City happened so quickly. It was during the January transfer window and the deal was done between both clubs in no time, pretty soon afterwards it was set in stone.
"I think that my first game for City was against Arsenal in the FA Cup so it was a good test for me. I was fortunate enough to play at Ninian Park ad be involved at the final games there with the Club before moving to the new stadium.
"Gavin Rae, Steve Thompson and Ross McCormack were some of the guys that I knew of because I played with them at Rangers.
"I think that in terms of support, both Cardiff City and Rangers were very similar. They both made lots of noise on matchdays and they'd get behind the players all the way.
"The fans at Cardiff City warmed up to me right away I'd say, which was excellent. I remember Mark Kennedy telling me when I turned up that as long as you try your best it doesn't matter, that the fans will warm up to you.
"He said that to me, and I remember just going out there and playing with my heart on my sleeve to give my all for the Club.
"I think that's why I had a good relationship with the fans and at the Club. Knowing a few of the guys already helped but my teammates really warmed up to me right away, which was great."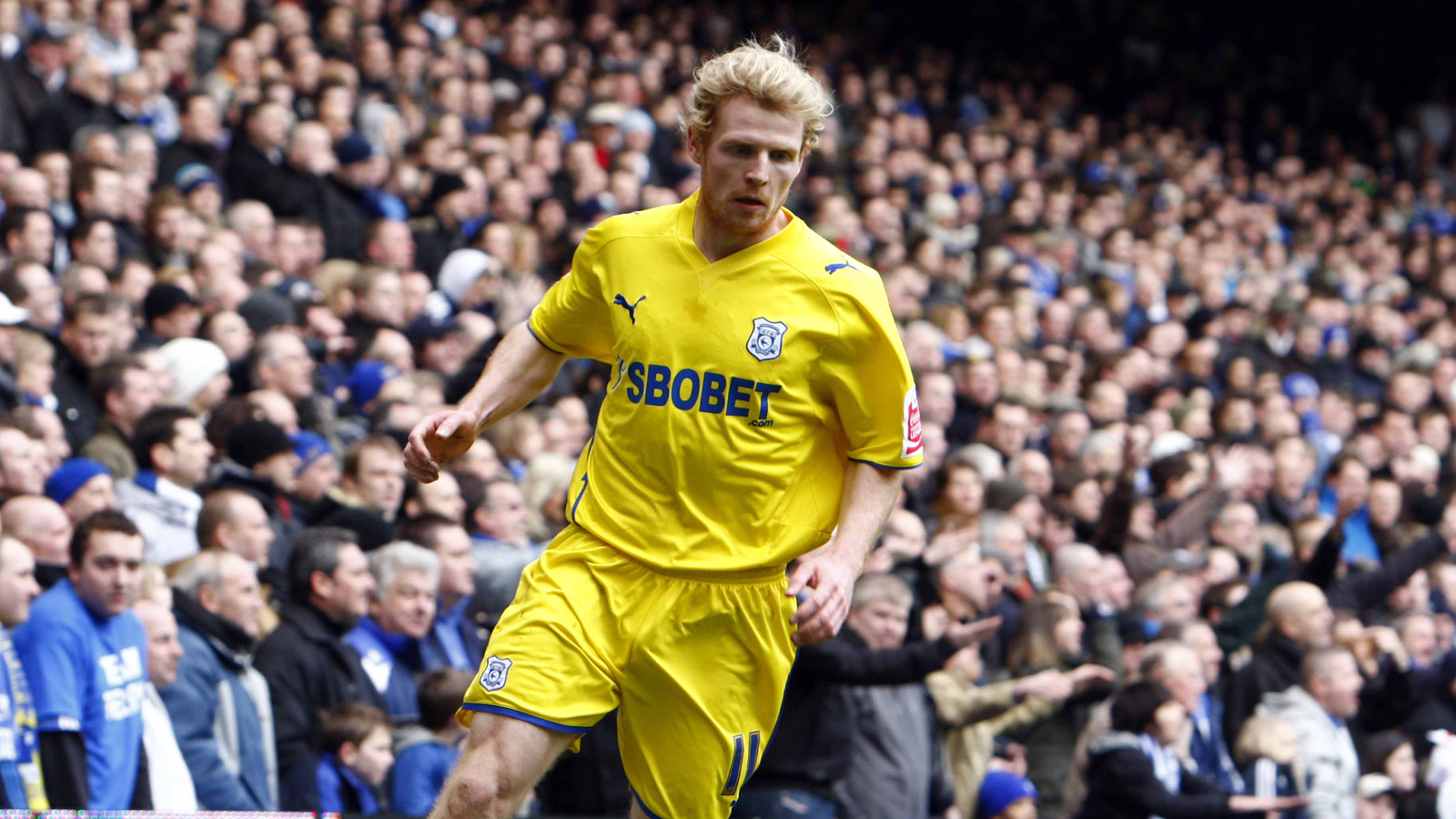 With the change of location came the change for the style of football that Chris would need to play. Having spent his life up to that point playing in Scotland, he found himself adapting to the change of pace that the Championship brought with it:
"I'd say that when playing football I took about six months to adapt to it. I changed my game a little bit; I knew I had to be more physical as it was a little more physical in the Championship compared to the league in Scotland.
"But then once I got a pre-season campaign with the Club under my belt I kicked on didn't really look back, it was great.
"We had a lot of talent in that team and a lot of experience as well. I knew I'd have to adapt quickly to the game after spending years at Rangers, or risk not playing as much as I would've liked to at Cardiff City.
"The players really helped me out there, letting me know where I needed to change to better myself. I wanted to listen and learn from both the coaches and the players. They were great with me.
"I remember that first pre-season that I did with the team. Pre-season is always a massive thing because you have to be super fit, and in the Championship that's exactly how you have to be.
"Initially it was different for me because I had start playing three times a week, when I had been playing once of twice a week when I was in Scotland.
"I had to be fitter and get to the same base fitness as everybody else. That season, having been told that I was somebody who was going to be a regular in the starting lineup, it put that pressure on me that I'd have to step up and push myself for that role.
"I took it on board, and then even when I wasn't picked I'd keep working so that I was always in the running to get back to it."
Having scored against Peterborough United on February 9th, 2010, Chris celebrates alongside teammates Michael Chopra and Jay Bothroyd.
Burke scored one goal from 14 league appearances during the latter half of the 2008-09 season. By the time the following season came around, however, he had successfully stood up to the challenges that playing in the Championship posed, and went on to make 44 appearances - with nine league goals scored - during City's first season at Cardiff City Stadium.
"Peter Whittingham and I linked up really well that season, I thought. I'd stay out on the right and he'd push out left a bit more than he had done before, then we'd assist each other.
"He scored lots of goals that season and I had a few myself, with some assists to go with it. I think that season was great for us, even though we didn't quite get over the final hurdle.
"We had a lot of strong characters in that changing room, the senior pro's were great to have there. I'd look up to the likes of Gavin Rae and Mark Kennedy, who were established at the Club and knew all about it.
"With people like Stephen McPhail as well you couldn't help but learn from them, whether that was in training or on the pitch. I learned a lot from how they would apply themselves day in, day out.
"I started doing little extra things to improve my training whether that was turning up a little earlier to work on my strength or to start practicing a bit on my left foot rather than my right.
"Just picking up bits from these senior pro's who were successful because of their hard work helped me, I wanted to be as successful as them."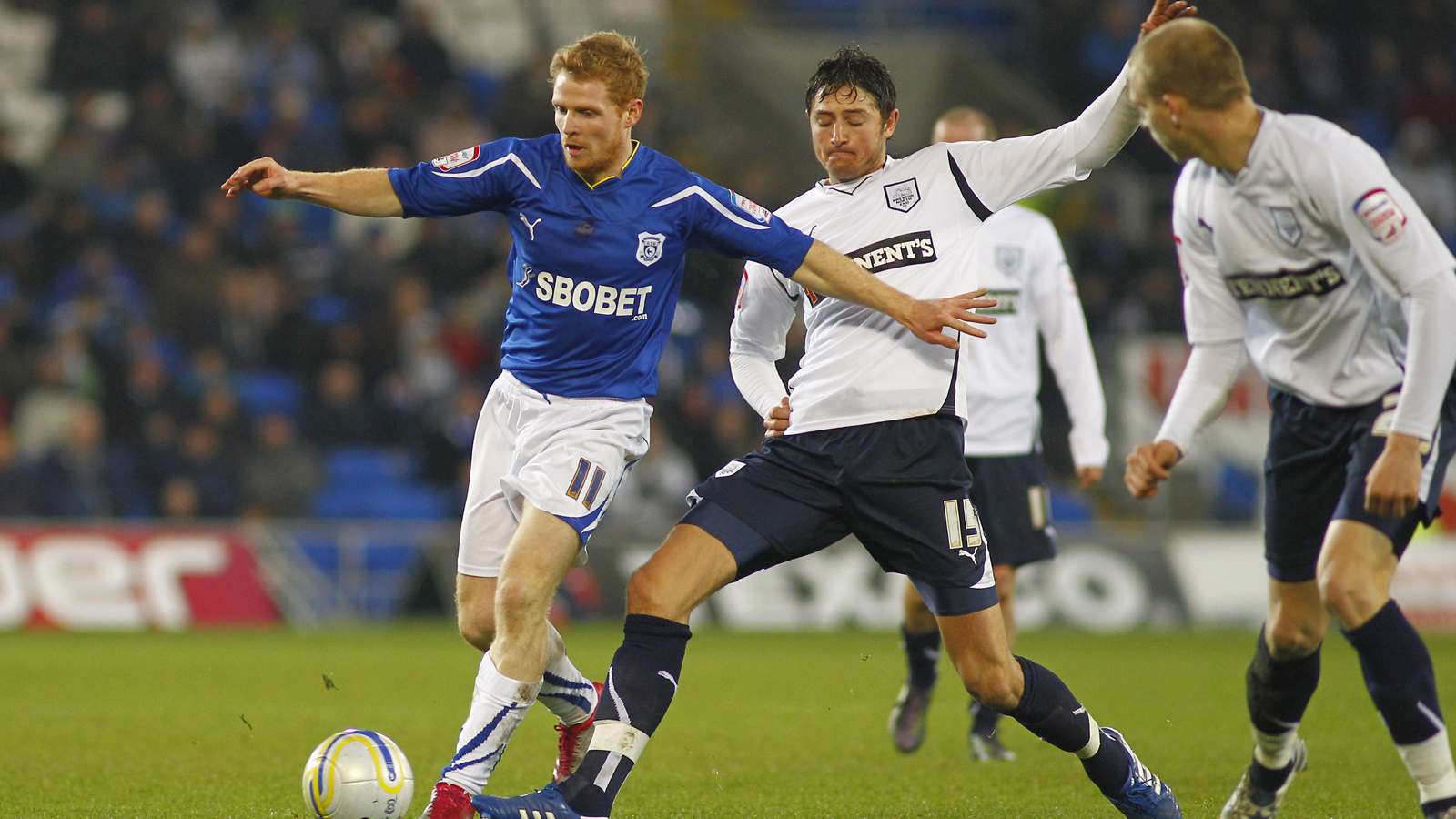 Alongside the support of his teammates, it was also the City supporters in the stands that inspired the winger whenever he played took to the pitch for the Bluebirds:
"Every time I stepped onto that pitch I wanted to give my all for them. It wasn't just for my family, myself or the management and teammates, but for the supporters, as I knew that they'd give it back.
"When they do give it back it gives you that extra energy. When you're playing it revitalises you and makes you feel as though you can always give that little bit more.
"We did have a great attacking team which I was a part of, though not as much as Whittingham, Bothroyd and Chopra. I'd like to think that I was more of a second line of attack as opposed to those guys.
"I was told since I was young that you have to make sure that you do the defensive part as well, which was instilled in me while I was at Rangers."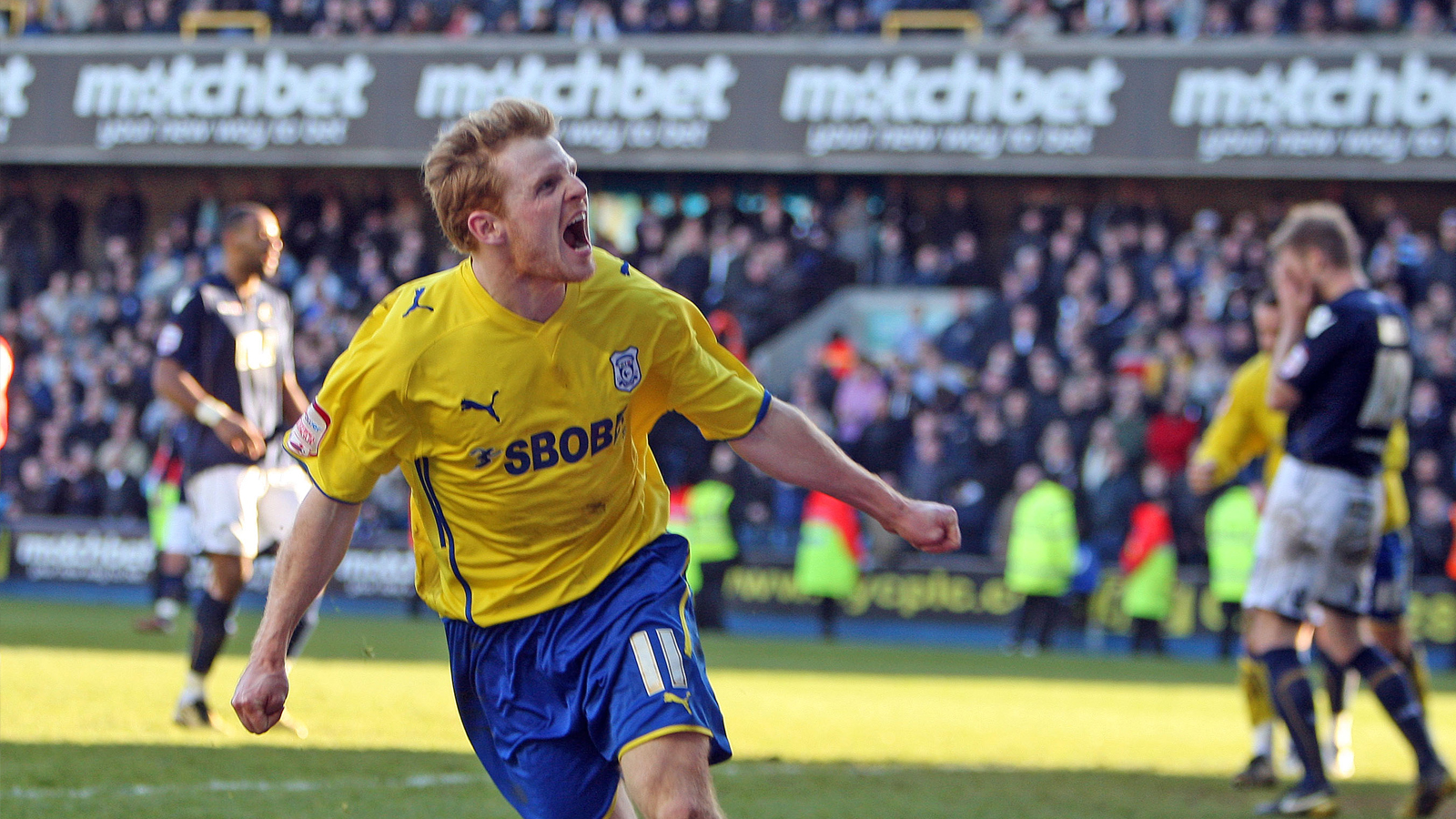 Leaving South Wales for Birmingham City in 2011 with over 100 league appearances under his belt for the Bluebirds, Chris Burke enjoyed a spell with Blues before then playing for Nottingham Forest and Ross County. Returning to the top flight in Scotland, the winger has been playing for Kilmarnock since 2017, where he has been playing regularly for Killie.
Looking back at the years he spent at Ninian Park and CCS, Chris remembers his time as a Bluebird fondly as the Club entered a new era:
"I know it sounds clichéd but every single match was memorable for me, from my first until my last for the Club.
"Even from playing in the first games at CCS it was great because you knew that the Club was going in a great direction, and being even a small part of that was amazing.
"You could see that the Club wanted that success, wanted to be in the Premier League and to get the best players that they could.
"My time at Cardiff City has been a big part of my life, and even though I'd left the Club I've still to this day got links to it from the great friends that I made while there."