A Letter From Jeff
Community
23rd December
Football united once again during 2019 in support of Prostate Cancer UK and Jeff Stelling's March for Men events. The Welsh leg of his epic journey took in Newport County's Rodney Parade and our own Cardiff City Stadium, prior to an emotional finish at the Principality Stadium in the city centre. Jeff has written the following open letter to thank all the clubs and participants that took part in raising an incredible amount of money...
"Unbelievable Jeff".
That was the message from everyone who joined me during my brilliant March for Men event for Prostate Cancer UK in September. But in truth, everyone who joined me this year, and in previous years, are the amazing ones.
News reaches me that the fundraising for my epic four-nation marathon march across Glasgow, Belfast, Cardiff and London has soared to a whopping £373,000, which is a terrific effort in the fight against prostate cancer.
I may have been the figurehead for the event, but this was the ultimate team effort, and everyone who played their part deserves special praise. They include the clubs across all four countries who went above and beyond, the support staff, and my celebrity pals. Then there are those who have donated, from large corporate contributions to kids running up to me with their pocket money. And then the walkers, those amazing men and women who joined me along the way, each reaching their own personal Everests.
It was such an emotional feeling to cross the line back in September when Tottenham Hotspur kindly opened their amazing new stadium for the finale. But I was happy too, and incredibly proud to walk side by side with so many inspirational people, men affected by what is the most common cancer in men, some with an uncertain future, some who have lost loved ones, some who remain beacons of hope. But all unified in the fight against prostate cancer and perfectly advocating our position: we are with men, and for men and their families both now and in the future.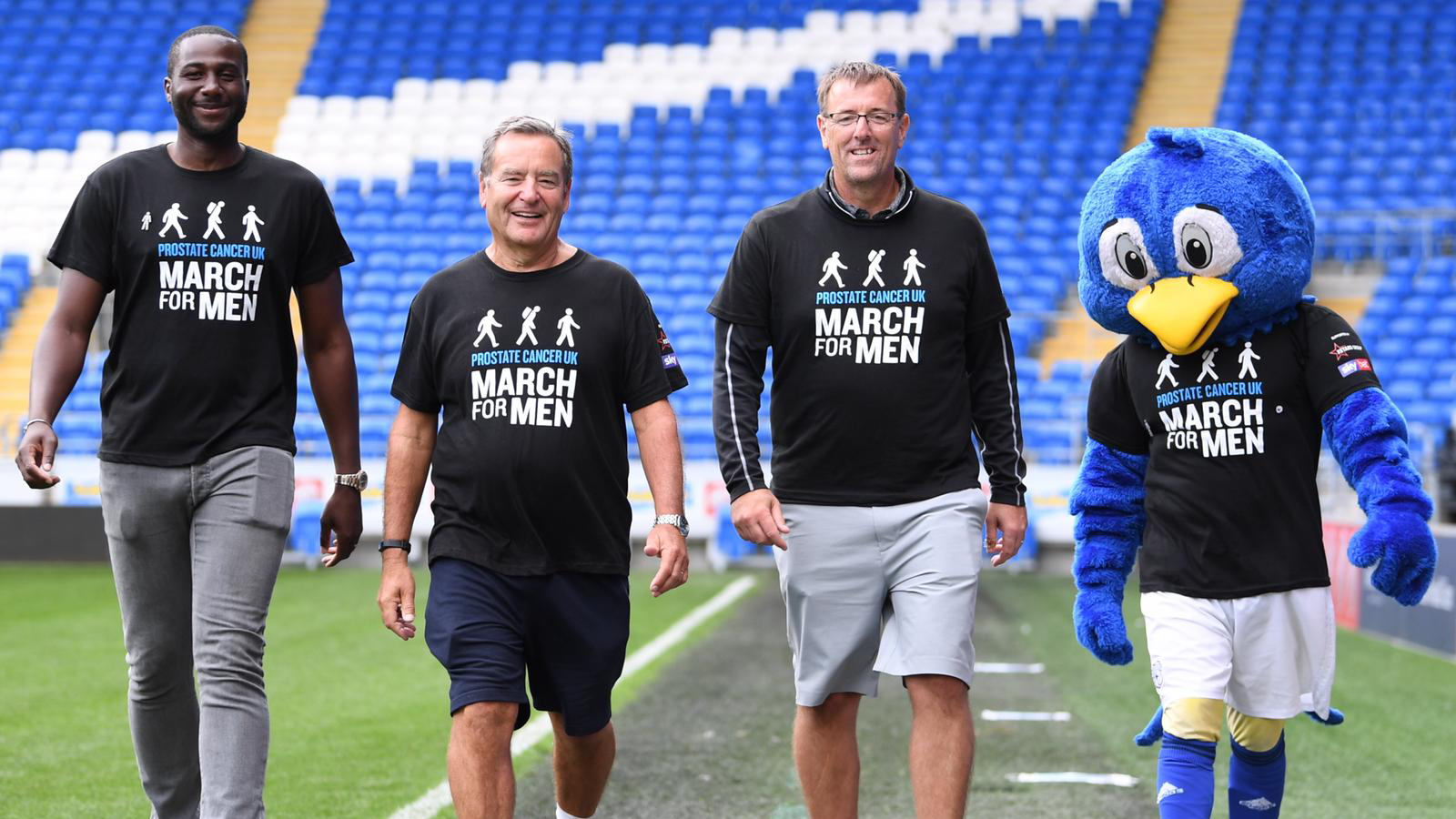 The money raised is making a huge difference; I've seen it myself in the research labs in Newcastle and can see in the press the latest incremental steps we are taking as one movement to solve the problem of prostate cancer.
It sounds like a cliché, but the football community are one big family in the fight against prostate cancer, a disease that shockingly kills one man every 45 minutes.
So I'm very proud of what everyone has achieved since we started this project back at the gates of my club, Hartlepool United, in 2016. To have raised £1 million through my three March for Men events alongside 1,253 walkers has been incredible. But the awareness we have generated of the disease, particularly to men and families at risk, on the streets and when the boys and I proudly wear our Man of Men pin badge on TV every Saturday is so important too.
So, to everyone who have supported and continue to support Prostate Cancer UK, I say thank you. Have a very Merry Christmas and a Happy New Year and, who knows I might see you somewhere in 2020…
Jeff Stelling
Ambassador for Prostate Cancer UK
PLAY YOUR PART & REPRESENT THE CITY
This summer, you can represent the Bluebirds and take an active part in the fight against Prostate Cancer.
On 5-7 June, join over 400 football fans who will be taking part in Prostate Cancer UK's flagship Football to Amsterdam bike ride. The extremely popular event, now on its eighth year is set to be bigger and better than ever before.
Sign up now at prostatecanceruk.org/amsterdam and get £25 off registration with the code F2A25.