Match Report | Cardiff City FC Women 6-0 Abergavenny Women FC
Women
6th February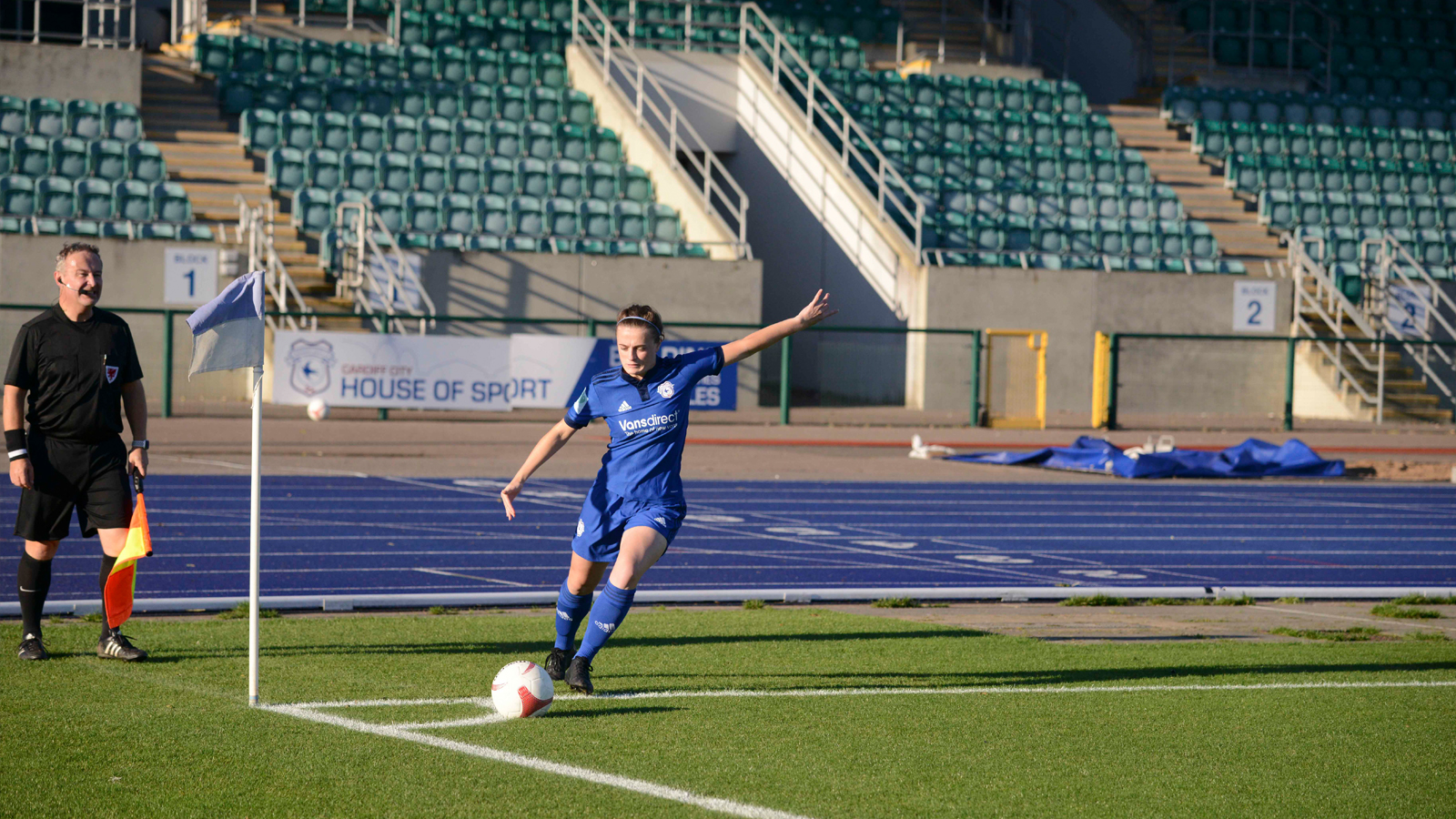 Cardiff City FC Women booked their place in the Semi-Final of the FAW Women's Cup on Sunday afternoon, following a terrific home display against Abergavenny.
Ffion Price took the lead before the quarter hour mark, striking wonderfully from a free-kick at the edge of the area.
Danielle Broadhurst doubled the lead moments later, hitting low past the 'keeper after Catherine Walsh had played the midfielder through on goal.
City nearly scored their third before the match reached 20 minutes, as Walsh went to take a penalty-kick won by Zoe Atkins. However, the 'keeper guessed the right way, and dove to keep the effort out.
Amy Williams and Siobhan Walsh added to the scoresheet in quick succession as the half reached its conclusion, with Walsh's headed effort finding the back of the net from Price's well-placed corner-kick.
Though the hosts remained in control of proceedings for the second half, making use of their commanding lead, they were unable to score again until late on.
Hannah Daley set up Phoebie Poole in the 89th minute of play, with Atkins on hand to net a final goal for City in injury time,
A resolute display by the Bluebirds earned them their spot in the FAW Women's Cup Semi-Final, with six different goalscorers each netting on the day.
6️⃣ Goals
6️⃣ Goalscorers
1️⃣ Clean sheet

Great effort this afternoon, #Bluebirds! 💙#CityAsOne https://t.co/yWvQuS3pA9

— Cardiff City FC Women (@CardiffCityFCW) February 6, 2022
FINAL SCORE: CARDIFF CITY FC WOMEN 6-0 ABERGAVENNY WOMEN
Cardiff City: Chamberlain, Price, S. Walsh, Poole, Watkins, C. Walsh (Waite 83'), Broadhurst, Bayliss (Daley 29'), Williams (Billingham 62'), Atkins, Smith. Subs: Saunders.
Abergavenny: Hastings, Bull, Lowley, Summers, Boyd (Jones 71'), Barnes, Mudge, Hudson, L. Davies, C. Davies (Simmonds 45'), Atkins (Bidhendy 63'). Subs: Leonard.
Following the final whistle, Iain Darbyshire praised the squad for their efforts on the pitch:
"From the first minute of play until the 90th we controlled the game," began Iain. "The football that we played was pleasing to see, and being as clinical as we were in the first half put us well ahead.
"We've got a lot of players who can score goals, and it's good to see everybody getting involved, as it can also take pressure off our strikers at times.
"This is another cup campaign that we hope to progress even further in. It will be interesting now to see who we draw in the next round, as there are plenty of good sides that would be great to go up against."