#StopOnlineAbuse | Social Media Boycott
Club News
30th April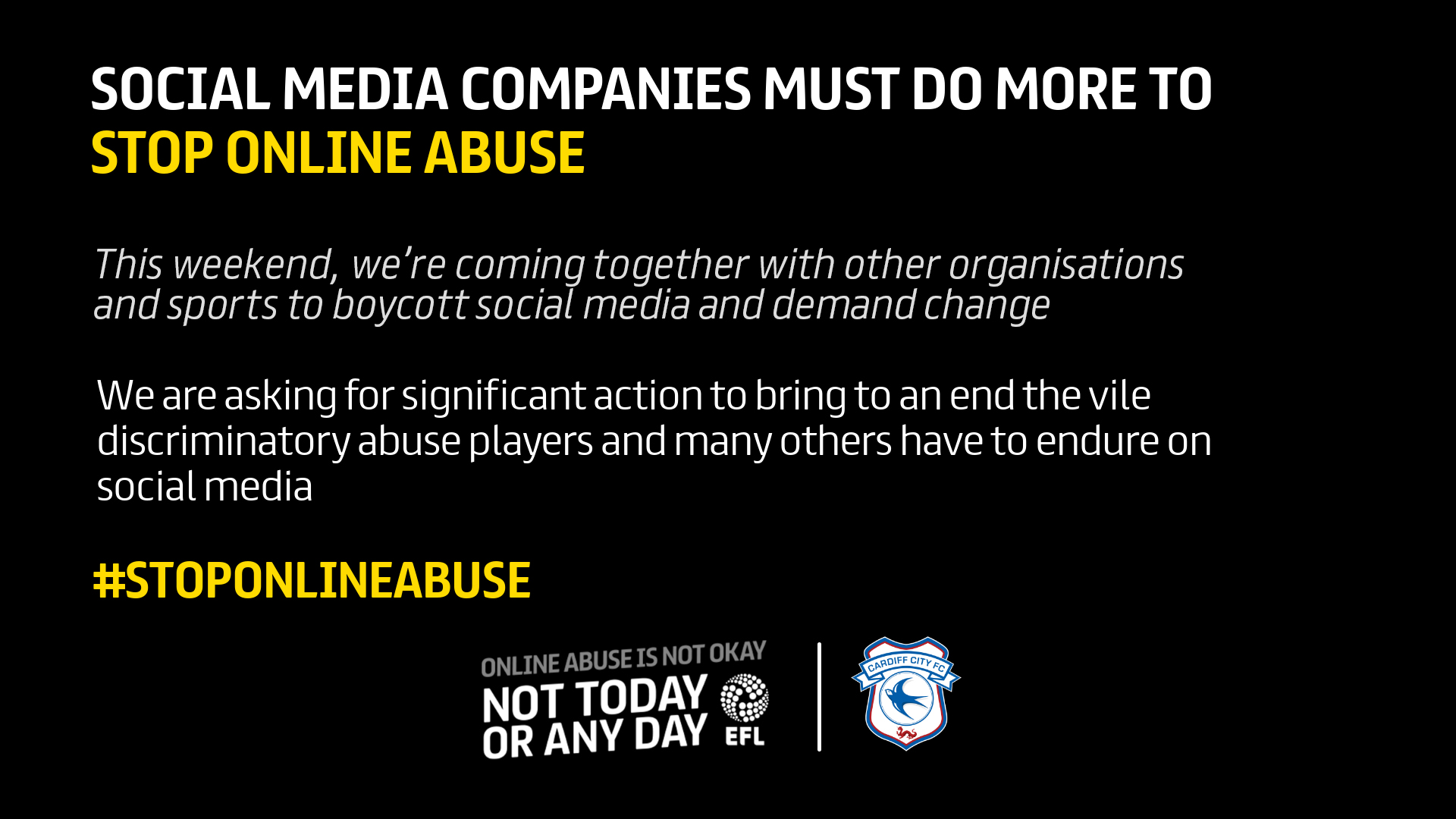 Social media companies must do more to stop online abuse. That is why this weekend we are coming together with football and other sports and organisations, to boycott social media and demand change.
Cardiff City Football Club will join the EFL and wider sport in switching off our Facebook, Twitter and Instagram accounts, from 3pm Friday 30 April to 11.59pm on Monday 3 May.
Why are we boycotting social media?
Following proposals from EFL clubs earlier this month, Cardiff City FC, the EFL and the wider game as a collective wants to demonstrate our collective anger at the constant abuse on social media received by footballers and people in the game, as well as others across the world, which goes without any real-world consequences for perpetrators.
We know that a boycott alone will not eradicate the scourge of online discriminatory abuse, which is why we will continue to take proactive steps to call for change. We will not stop challenging social media companies until we see enough progress.
What change do we want to see?
We are asking for significant action from social media companies, including:
Apply preventative filtering and blocking measures to stop discriminatory abuse being sent or seen
Be accountable for safety on platforms and protect users by implementing effective verification
Ensure real-life consequences for online discriminatory abuse: ban perpetrators, stop account re-registration and support law enforcement
A warning message to be displayed if a user writes an abusive message and need to enter personal data if they wish to send the message
Platforms to have robust, reliable and quick measures in place if abusive material is sent or posted
Transparent quarterly reports on the work social media companies are doing, internally and externally, to eradicate abuse on their platforms
We are also urging the UK Government to ensure its Online Safety Bill will bring in strong legislation to make social media companies more accountable for what happens on their platforms.
How can you help?
If you have experienced or witnessed discrimination on social media, you can report it to Kick It Out through their online reporting form or via their reporting app available on both iOS and Android. You should also make your local police force aware by filing a report here. 
You can also report posts to the respective social media channels by using the following links: Facebook | Instagram | Twitter | TikTok | Snapchat | YouTube
By reporting online abuse, you can help stop the behaviour and protect other people from seeing the abusive content. Online abuse does not have to be experienced directly by someone in order for that person to report. Everyone has a responsibility to report online hate they see.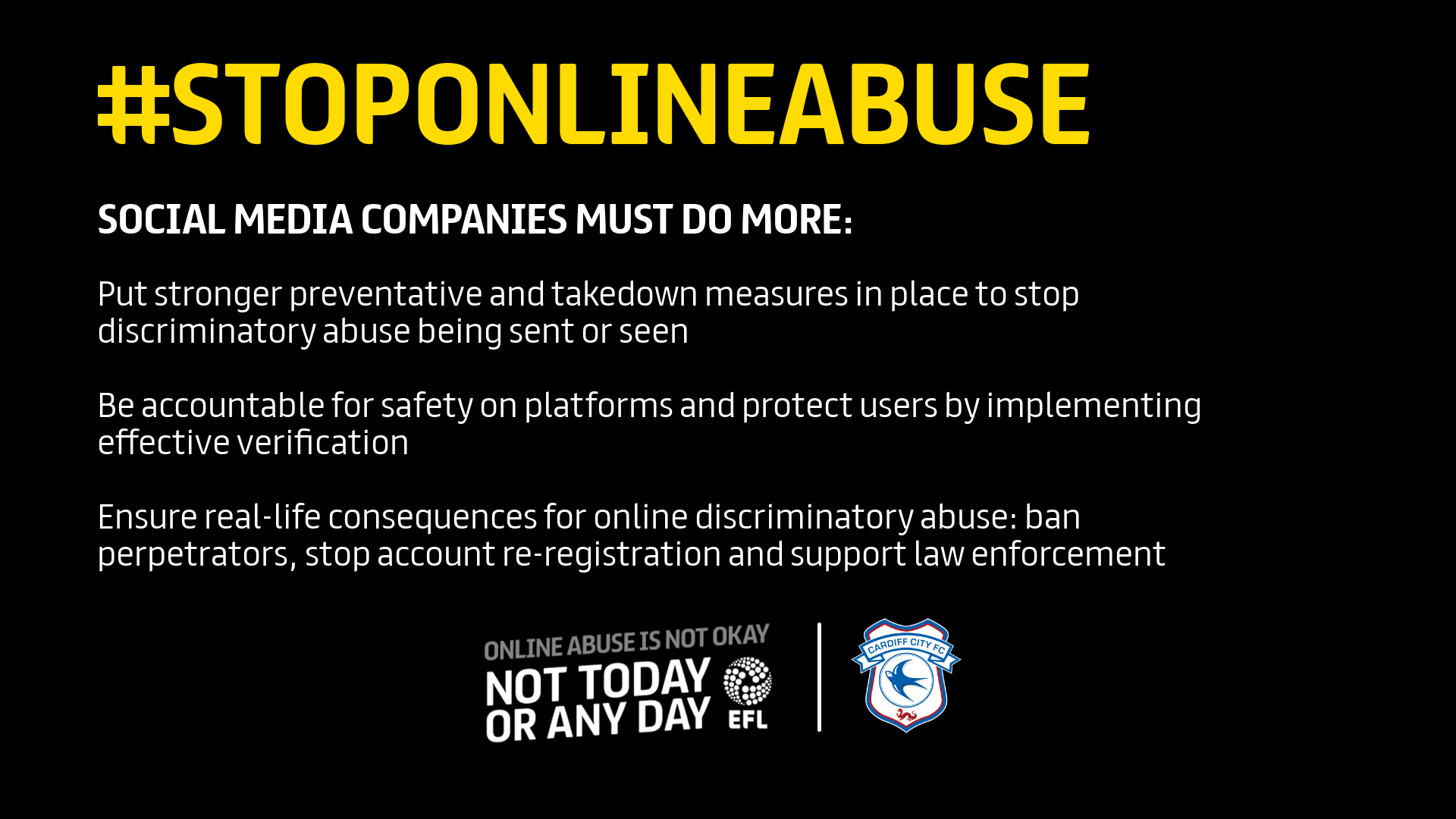 While there will be a social media boycott in effect across all Cardiff City FC official channels, our website will remain active and live to bring you all the weekend's action.
BIRMINGHAM CITY VS. CARDIFF CITY
Watch this game live from anywhere in the world on Cardiff City TV! Click here for full details on how you can purchase a match pass.
As with all fixtures, download the official Cardiff City FC app now on iOS or Android to receive team news, live goal and match updates, and more.
cardiffcityfc.co.uk will have a live match blog throughout the encounter with the Blues in-case you can't join us live on CCTV!