U18 Match Report | Cardiff City 4-1 Coventry City
Academy
31st October
Cardiff City's U18 side defeated Coventry City U18 4-1 in the Professional Development League at Cardiff International Sports Stadium on Saturday.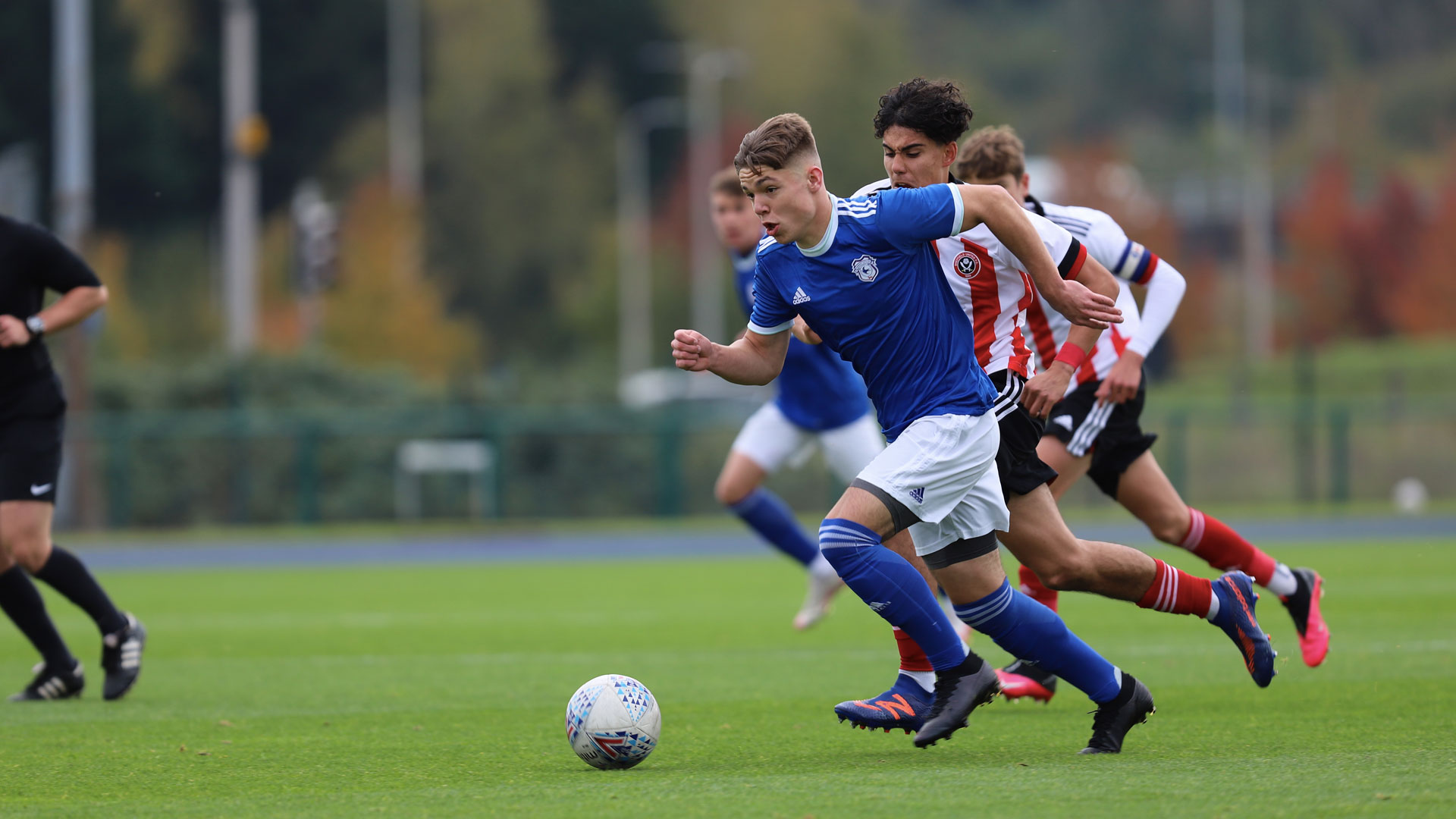 There were four different home scorers in Caleb Hughes, Siyabonga Ligendza, Taylor Jones and Ntazana Mayembe.
Matthew Bloxham made one change from last time out as winger Mayembe started.
The Bluebirds' opening opportunity came after just three minutes. Josh Rippon's effort from just inside the area struck the crossbar.
City continued to put pressure on the visiting defence and were awarded a penalty two minutes past the half hour mark. Midfielder Hughes stepped up to score his third of the season.
The hosts hunted for a second goal and it came just six minutes later. James Crole's low cross across the face of goal found forward Ligendza who tapped in his third of the campaign.
Cardiff City played terrifically, scoring a third goal with two minutes of the opening 45 remaining. Defender Jones rifled the ball into the bottom corner with a sublime strike from range, securing two goals in two consecutive games.
After the interval, it took one minute for the Bluebirds to come close to a fourth. Threatening Ligendza found himself through on goal and chipped Keelan Fallows, but the ball travelled agonisingly astray of the post.
The Bluebirds proved to be as strong in defence as attack with 49 minutes played. Harrison Nee's shot from within the box looked to be a certain goal, but Jac Clay sped back to clear the ball off the line.
Coventry City were awarded a penalty on the hour mark. Forward Nee finished well to reduce his side's goal deficit to two.
City refused to let that affect them though and went on to add a deserved fourth goal after 89 minutes. Captain Mayembe sprinted into the area and fired home his first goal of the season.
U18 FINAL SCORE: CARDIFF CITY 4-1 COVENTRY CITY
Cardiff City U18: Cogman, Jones, Davies, Rippon, Clay, Chiabi, Crole, Hughes, Ligendza, Thomas (MacNamara 67'), Mayembe (Schwank 90'). Subs not used: Coley.
Coventry City U18: Fallows, Reeve, McGrath, Finnegan (Burroughs 76'), Evans-Harriott, Harland (Costa 81'), Purves, Howley (Pitts-Eckersall 65'), Rodber, Nee, Nightingale. Subs not used: Bell.
Match Report: Richard Early