2023/24 Sky Bet Championship fixtures
Fixture News
22nd June
Cardiff City FC will kick off their 2023/24 Sky Bet Championship campaign with an away fixture against Leeds United on Sunday, August 6th.
The Bluebirds will face the recently relegated Whites on the opening weekend of the new campaign, with our 2:30pm KO televised live on Sky Sports. Returning to CCS for the first home match of the season the following weekend, City will host Queens Park Rangers on Saturday, August 12th,.
The first South Wales derby of the season takes place on Saturday, September 16th at CCS, with the return fixture at the Swansea.com Stadium scheduled for Saturday, March 16th.
City will face the recently promoted Plymouth Argyle at home on Boxing Day, later kicking off the New Year with a visit to Queens Park Rangers at Loftus Road on New Year's Day
The Bluebirds will conclude the campaign on Saturday, May 4th, as they travel to play Rotherham United.
All fixtures are subject to change.
Information for match ticket prices will be released in due course.
You can also get our full fixture list straight into your mobile phone, tablet or laptop by syncing with your digital calendar. Click here to sync.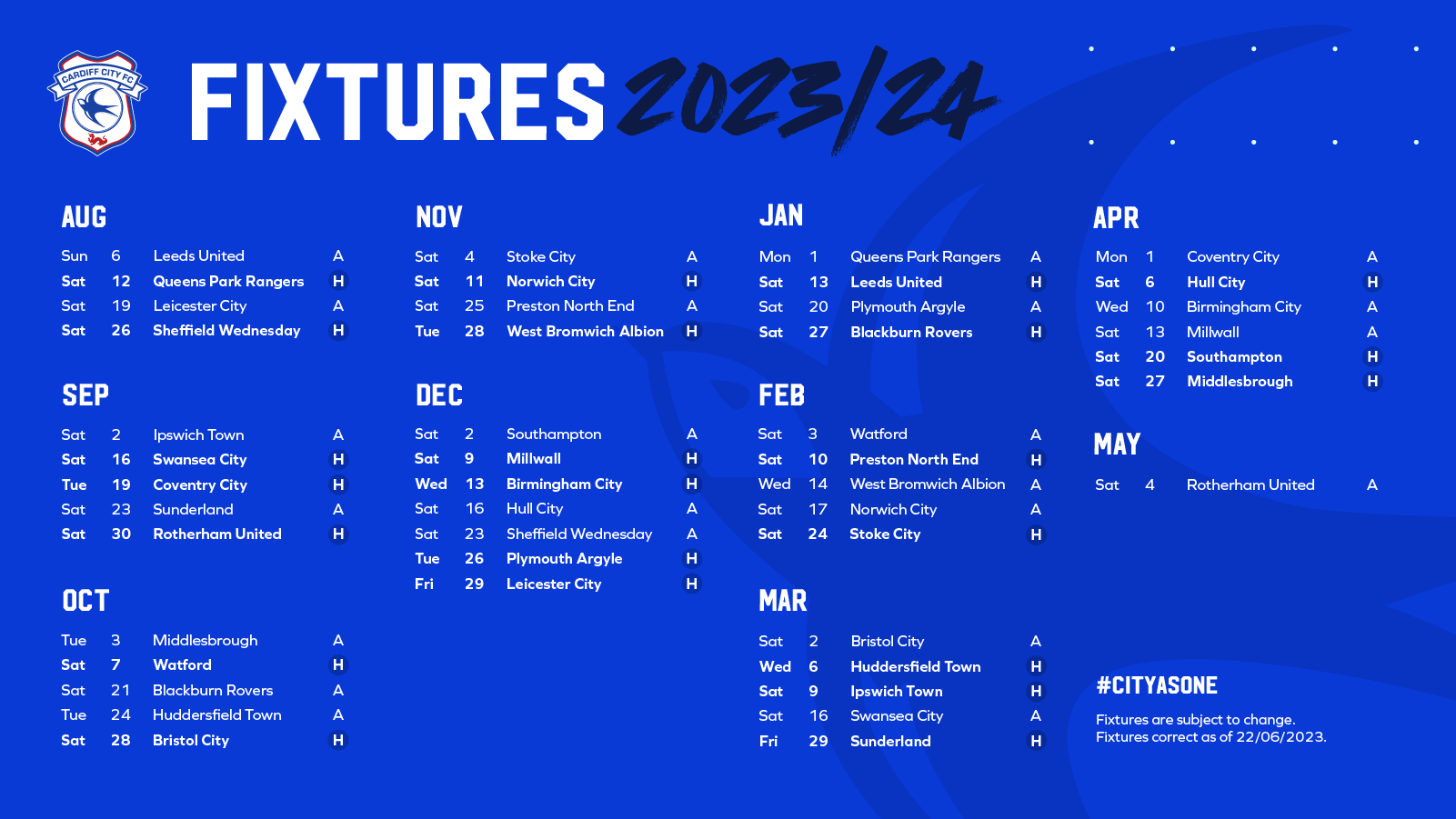 Sky Bet Championship 2023/24 Fixtures
Sun Aug 6 - Leeds United (A)
Sat Aug 12 - Queens Park Rangers (H)
Sat Aug 19 - Leicester City (A)
Sat Aug 26 - Sheffield Wednesday (H)
Sat Sep 2 - Ipswich Town (A)
Sat Sep 16 - Swansea City (H)
Tue Sep 19 - Coventry City (H)
Sat Sep 23 - Sunderland (A)
Sat Sep 30 - Rotherham United (H)
Tue Oct 3 - Middlesbrough (A)
Sat Oct 7 - Watford (H)
Sat Oct 21 - Blackburn Rovers (A)
Tue Oct 24 - Huddersfield Town (A)
Sat Oct 28 - Bristol City (H)
Sat Nov 4 - Stoke City (A)
Sat Nov 11 - Norwich City (H)
Sat Nov 25 - Preston North End (A)
Tue Nov 28 - West Bromwich Albion (H)
Sat Dec 2 - Southampton (A)
Sat Dec 9 - Millwall (H)
Wed Dec 13 - Birmingham City (H)
Sat Dec 16 - Hull City (A)
Sat Dec 23 - Sheffield Wednesday (A)
Tue Dec 26 - Plymouth Argyle (H)
Fri Dec 29 - Leicester City (H)
Mon Jan 1 - Queens Park Rangers (A)
Sat Jan 13 - Leeds United (H)
Sat Jan 20 - Plymouth Argyle (A)
Sat Jan 27 - Blackburn Rovers (H)
Sat Feb 3 - Watford (A)
Sat Feb 10 - Preston North End (H)
Wed Feb 14 - West Bromwich Albion (A)
Sat Feb 17 - Norwich City (A)
Sat Feb 24 - Stoke City (H)
Sat Mar 2 - Bristol City (A)
Wed Mar 6 - Huddersfield Town (H)
Sat Mar 9 - Ipswich Town (H)
Sat Mar 16 - Swansea City (A)
Fri Mar 29 - Sunderland (H)
Mon Apr 1 - Coventry City (A)
Sat Apr 6 - Hull City (H)
Wed Apr 10 - Birmingham City (A)
Sat Apr 13 - Millwall (A)
Sat Apr 20 - Southampton (H)
Sat Apr 27 - Middlesbrough (H)
Sat May 4 - Rotherham United (A)