The Bluebird | City At War - Ernie Curtis
History
8th November
Continuing the series of articles celebrating the lives of Bluebirds who fought for their country as we approach Remembrance Sunday. As featured in the most recent issue of Cardiff City FC's official matchday programme, The Bluebird, Ceri Stennett remembers the life and service of Cardiff-born FA Cup winner, Ernie Curtis.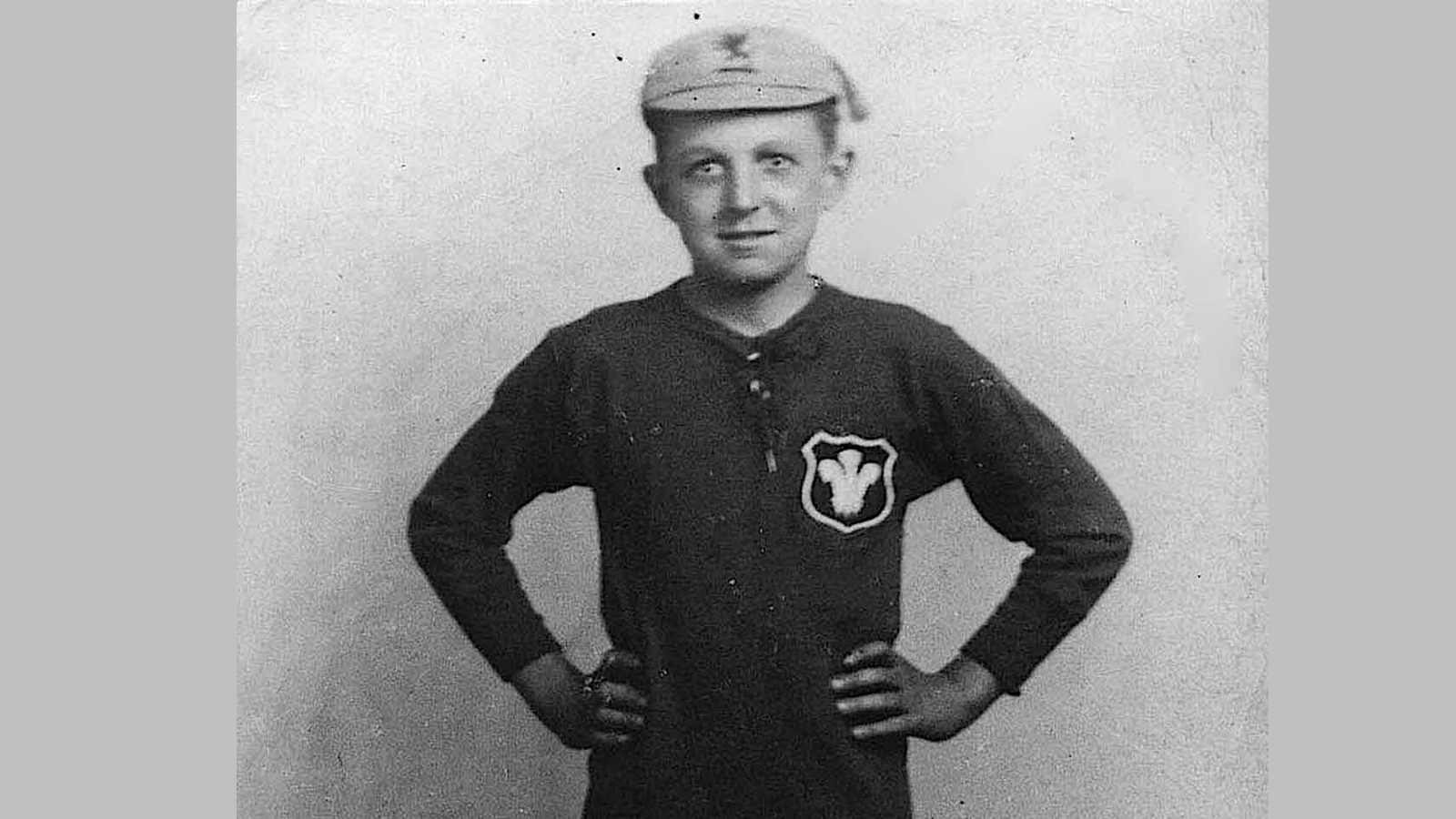 A young Ernie represented Wales from an early age.
A popular football quiz question from days gone by went along these lines: 'Name the footballer who won FA Cup, Welsh Cup and Charity Shield winner's medals plus an international cap by the age of 18'. The answer was Cardiff City's Ernie Curtis, but that does not even tell half his remarkable story. I was honoured to have met Ernie and listened to his stories in the years before his passing in 1992. They certainly don't make them like him anymore. 
Born at 12, Severn Road, Canton, on 1st June 1907, Ernie was the son of Ernest Robert Chiplen and Annie Laura Stevens. His father died in late 1909 aged only 27 and his mother remarried to Frank Edwin Curtis, a fuel works labourer in Cardiff Docks, at St. John the Evangelist in Canton on 27th November 1910. On the 1911 census, the family was at 51, Lansdown Road, Canton, with Ernie attending Severn Road School.
An outstanding young footballer, Ernie played for school and town and came to the attention of the Welsh Schools FA selectors; he was a reserve for the team in 1920 before winning his cap the following year with appearances against England and Scotland. In that same team was Eugene O'Callaghan from Ebbw Vale who would also go on to win senior honours as a Tottenham Hotspur inside forward. Ernie was a "little'un" who had pace and control and was busy as an inside forward or winger.
Whilst playing locally for Cardiff Corries, Cardiff City had him on their radar and he eventually signed on the dotted line as a professional in the summer of 1926, but only after adding a Wales Amateur Cap to his collection against Scotland. At the time he was working in the Electric Light Department for Cardiff Corporation. He made his first team debut against Manchester United in 1926 and held his place in the team for much of the season.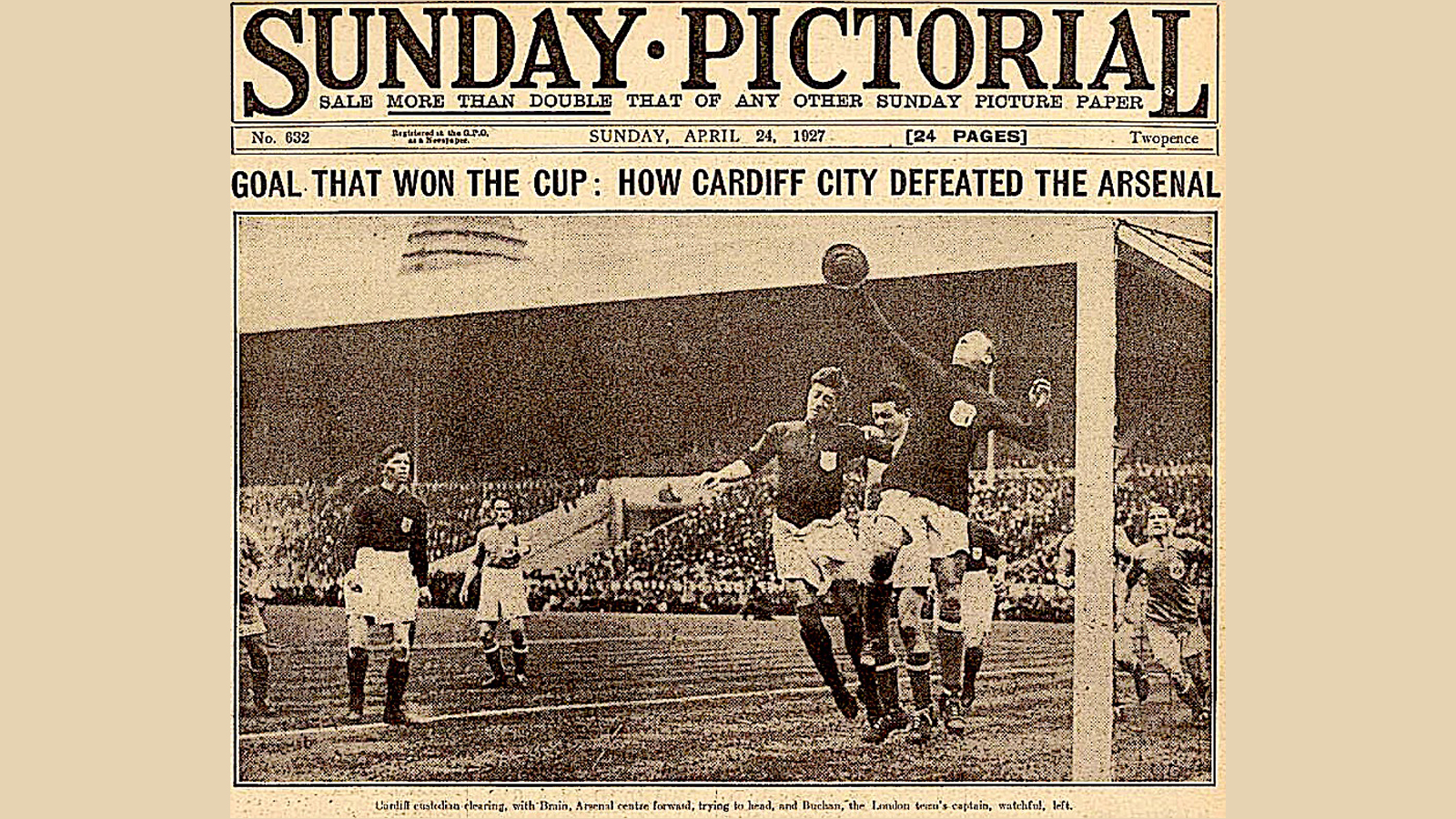 A Bluebird History Maker
It was an incredible run for young Ernie as the Cardiff City team with the established stars of Keenor, Hardy, Len Davies, Ferguson, Farquharson, Watson, Sloan and Co., made a return to Wembley in 1927 to attempt to avenge their 1925 FA Cup defeat to Sheffield United. This time it would be against an Arsenal team that was on its way to becoming one of the dominant sides of English Football, a run that would take them through the 1930s and only be halted by the Second World War. Every Cardiff City fan will know the story of the Ferguson's goal, a shot that squirmed under the body of Arsenal's Wales international 'keeper, Dan Lewis and into the net, bringing the 'English' Cup to Wales for the first and only time. 
Ernie, who played on the right wing in the final, was very much filling the place of Wales international, Willie Davies, who had contracted Tuberculosis earlier in the season. It made Ernie the youngest ever player to appear in a final and 90 minutes later, the youngest holder of an FA Cup winner's medal. When asked later what King George V had said to him in the pre-match presentation, Ernie replied with a straight face: "See you for a pint later, Ern?" 
To that coveted FA Cup medal, Ernie added a Welsh Cup winner's medal a few weeks later (vs. Rhyl) and a Charity Shield winner's medal at the start of the new season (vs. The Corinthians). He completed a unique set of honours when selected for the senior Wales team that played Scotland at Wrexham in October 1927 and scored in a 2-2 draw. 
Ernie was not to feature for Cardiff City for too much longer however, as Secretary/Manager, Fred Stewart told him that Birmingham FC had expressed an interest in him, and Stewart thought that 'it would be wise for him to leave'. Reluctantly Ernie agreed and a £3,000 fee was negotiated between the clubs. It was the start of a five year stay that would see Ernie appear at Wembley again in 1931 when West Bromwich Albion won an all-Midlands final.  
Ernie had married Gwendoline McJennett in Cardiff in 1928 (sister of Bluebird teammate Jack McJennett) and they embarked on a new stage in Ernie's career, together with young daughter Faith (born in October 1929). He became a firm favourite at St. Andrew's, though the club actively discouraged him from accepting invitations to play for Wales at a time when international games were played on league football dates. Consequently, he was only to play two further internationals. 
Ernie rejoined Cardiff City in November 1933, becoming skipper of the side, but the team was in decline and he fell-out with manager Ben Watts-Jones in a dispute over promised wages and was told that he would never play for the team again. He left to take over a pub in Birmingham in 1934, thinking his playing days could be over; however, Coventry City found out that he was available and signed him, and he spent a couple of seasons combing playing and coaching with them, before a further move to Hartlepool United in 1937, to see out his playing days. He then returned to Cardiff to run the Lansdowne Hotel on Beda Road, Canton with his wife.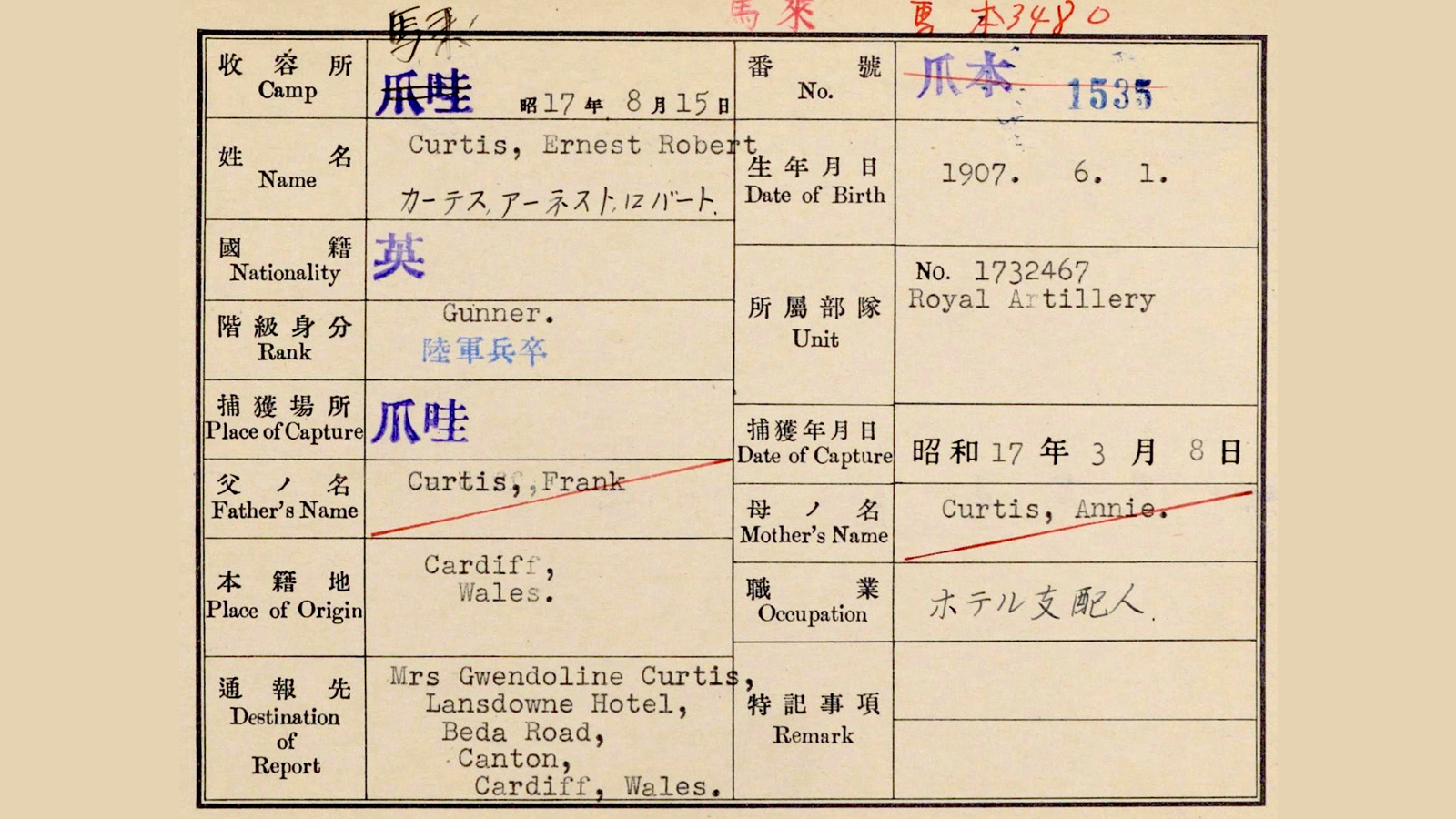 Ernie was captured on March 8th 1942 in Java.
The Second World War in Europe
War clouds were looming in the late 1930s and Ernie, like so many, was ready to 'do his bit'. He attested in 1940, becoming 1732467, Gunner E. Curtis, 77 (Welsh) Heavy Anti Aircraft Regiment, 2nd Welsh Brigade, Royal Artillery (TA), one of many sportsmen who joined up for the duration of the war. These included fellow Cardiff footballers Billy James, Jackie Pritchard, Billy Baker and Bobby Tobin. The Regimental Headquarters was located at the Drill Hall, Dumfries Place, Cardiff and initially was dispersed around the Cardiff area, providing the air defences. 77 Regiment RA comprised 239, 240 and 241 Batteries. Ernie served in 240 Battery. 
After initial military training and postings to Blandford Camp, Dorset, then Headingley, Leeds and Cheshire, the regiment proceeded to Glasgow to prepare for overseas service and sailed on 6/7th December 1941 from Gourock on the Clyde, for the Middle East. Early in the New Year, whilst still at sea, orders were received to divert to Singapore in the Far East to bolster the Allied Forces following the Japanese invasion of Malaya.  
In fact, they diverted once again after arriving in Durban, South Africa, and eventually arrived at Batavia (now Jakarta) on the island of Java in the Dutch East Indies (Indonesia) on 3/4th February on the Empress of Australia. 
The Japanese onslaught was relentless by air and sea, and it quickly became obvious that the situation was very grim indeed, with a shortage of men and weapons to defend such a large area of land and islands. Once the enemy began their land invasion of Java in early March 1942, fierce fighting ensued, but the outcome was inevitable, and surrender came some eleven days later. Ernie had been captured 8th March. 
He was one of the thousands of British and Allied troops that then had to endure over three years of captivity in some of the most atrocious conditions, initially on Java. Large numbers died due to brutal treatment by their captors, as well as through disease, malnutrition, overwork, and shipwreck. Ernie later claimed that he taught some of the Japanese officers how to play football in exchange for extra food for him and his comrades. 
Regardless, by the time of the Japanese surrender in 1945, Ernie had lost more than half his body weight by the time of his liberation. On his return home even his family and friends hardly recognised him. He was adamant that it was only his high level of fitness from his football career that saw him through when others around him succumbed.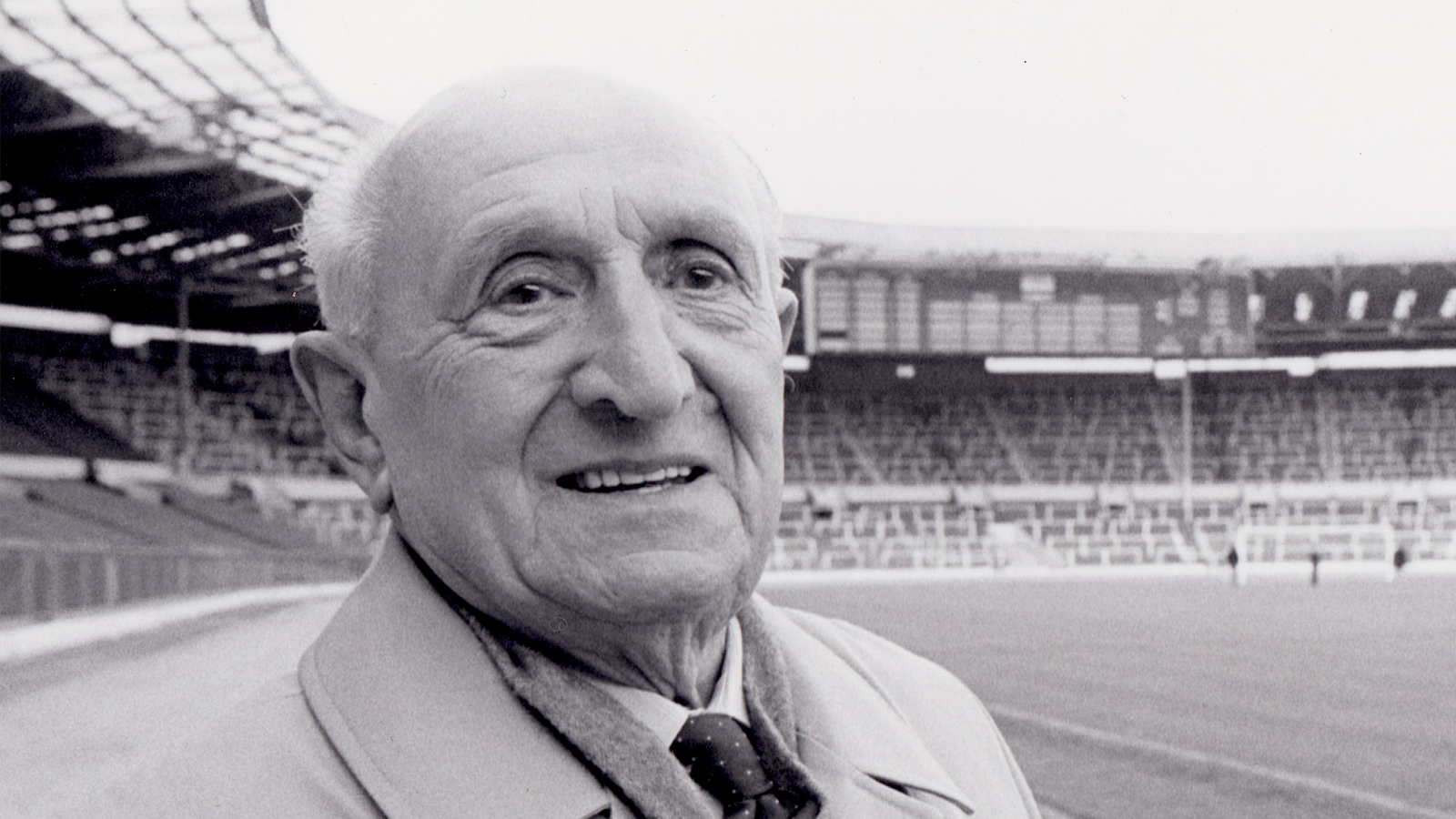 Ernie back at Wembley in later life.
A Return to Domesticity 
In time, Ernie was able to pick up the pieces of his domestic life and a son, Ray, was born in 1947 as he and his wife continued in the publican trade at various establishments in Canton. In addition, he joined the back-room staff at Ninian Park in the 1950s, on a part time basis, under managers Trevor Morris, Bill Jones, and George Swindin, assisting with the junior and reserve sides and even donning a Cardiff City shirt again in December 1957 when he had to turn-out for the Welsh League side in an away game as they were a man short. Those at the game at Gwynfi said that even at the wrong side of 50, he displayed some nice touches and one of his free kicks almost led to a goal! He even had a couple of games assisting as caretaker manager of the first team when the side was in-between managers. 
In his personal life, tragedy was to strike Ernie in 1958 when his wife died, aged only 47, when the family was living in Northumberland Street, Canton. With two children to support and still needing to earn a wage, times were far from easy. He continued with Cardiff City until a disagreement with manager Jimmy Scoular saw him end his connection with his beloved club in the mid-60s. 
A Personal Privilege
I was privileged to have known Ernie in his final years, having first met him in 1987 when he kindly signed a precious copy of the FA Cup Final programme that I had bought, and I was writing a book (Wembley 1927) with fellow City fan Derrick Jenkins. I went on to visit him regularly at the retirement complex in Whitchurch where he lived until he passed away in November 1992, aged 85.  
Ernie was the last surviving member of the 1927 FA Cup winning side. In his typical modest style, he admitted that he had been "a moderate footballer who had the good fortune to be part of some memorable occasions". For those of us brought up on stories of those legendary far-off days by our fathers and grandfathers, we can only salute the memories and achievements of Ernie, Fred, Hughie, and Co. They don't make footballers like them anymore. 
To tell us your stories of war heroes past and present, email forever@cardiffcityfc.co.uk.