Academy to host Emerging South Asian Bluebirds event
Academy
19th June
Cardiff City FC Academy, in conjunction with Cardiff City FC Foundation and the Professional Footballers' Association, will host an Emerging South Asian Bluebirds event on Sunday, July 3rd.
The invitation-only event will help to encourage young local players to participate in grassroots football, whilst further strengthening the ever-growing bond between our Academy and the wider Cardiff community.
Taking place at Cardiff International Sports Campus, children from school years 1-4 have been invited to attend the event by local community leaders.
Players will enjoy a day of football activities hosted by the Academy and the Foundation, whilst parents will have the opportunity to find out about prospective pathways into the Cardiff City Academy and learn about the support offered by the PFA's 'AIMS' project to players and families of South Asian heritage.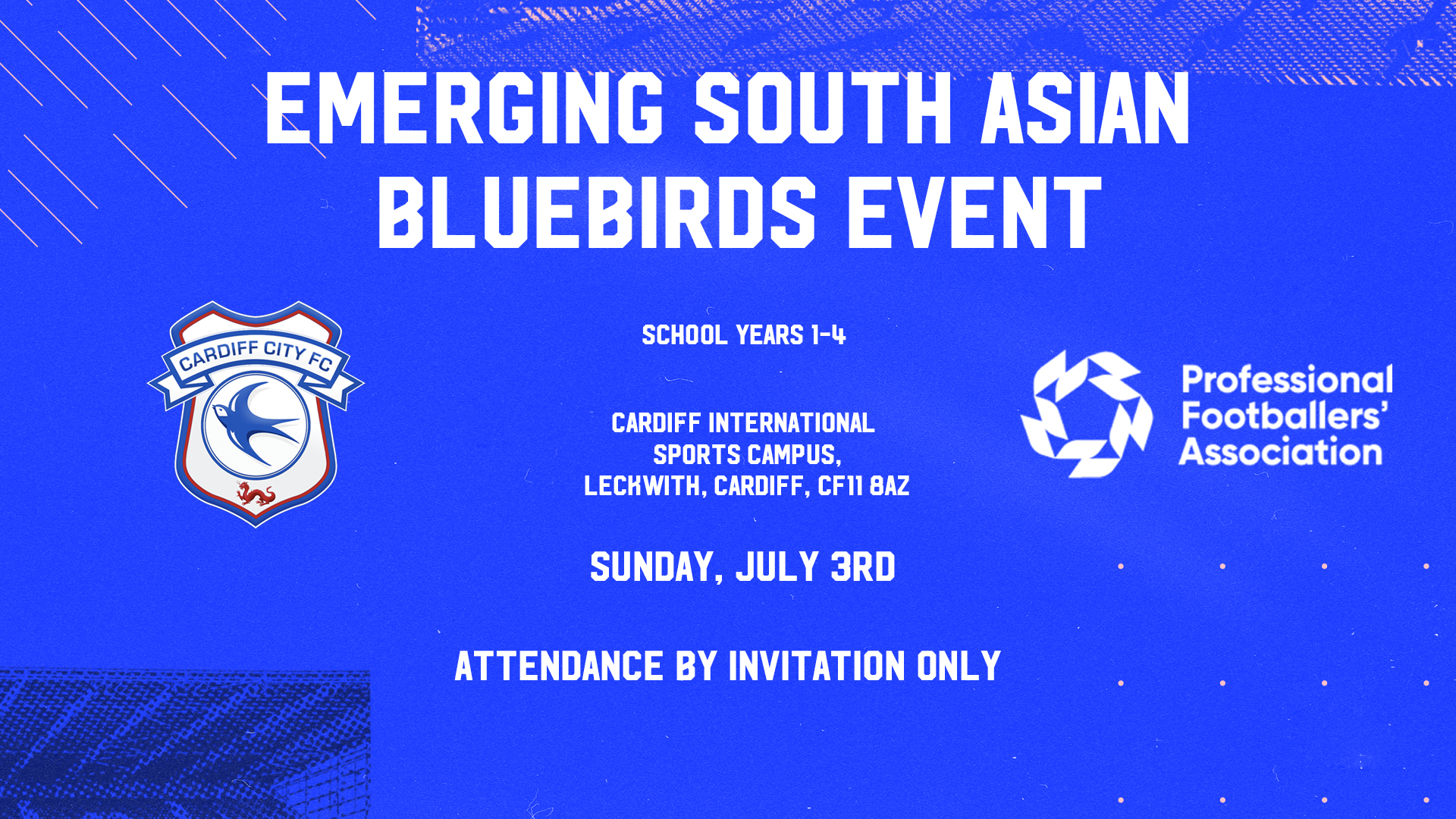 Head of Academy, David Hughes, said: "This is a fantastic opportunity for children from many different backgrounds to become involved with the Club, and for us to continue to connect our Academy with the community.
"Cardiff is a proudly multicultural city, and we've been looking at ways to ensure that there are opportunities for everybody. It will be a great day for both children and parents, we're delighted with the collaborative work that's been ongoing between the Academy, the Foundation and the PFA.
"This is an excellent opportunity to use football and sport as a vehicle for inclusion, and I'd like to say a huge thank you to everybody who has been involved in putting the event together."
PFA Player Inclusion Executive, Riz Rehman, added: "Through our Asian Inclusion Mentoring Scheme (AIMS) and our ground breaking data, we can clearly see that we need to boost elite participation at the younger age groups.
"We have been working closely with Cardiff City FC for some time, as they are fully committed to attracting more South Asian talent from surrounding communities.
"We are delighted to be partnering with an engaged team for this forthcoming event and look forward to creating meaningful and sustainable change for the future."
If you and/or your son/daughter is interested in attending the event, please fill in the registration form here. Successful applicants will be contacted shortly.