Mick post-Swansea | It was certainly our night
Interviews
20th March
SWANSEA REACTION | MICK
A delighted Mick McCarthy spoke to the press and media after the Bluebirds sealed victory in the South Wales derby on Saturday evening.
"It was a very hard-earned victory, and it feels good." he began. "We put a lot of work in to ensure that we play as well as we can and the lads certainly gave everything they've got.
"I knew they would be better in the second half, but I was really pleased with our first-half performance. If we get that early goal we're a tough nut to crack, which has been proven beyond any reasonable doubt.
"We've had to be really solid as a defensive unit. If one link in the chain breaks, it can let everything else down. But it didn't tonight, because they all put a shift in."
Aden Flint's first-half header gave City a vital win at the Liberty Stadium and the Gaffer was keen to compliment the match-winning defender.
"He's been great," he continued. "I liked him when he was at Bristol City, but he always used to play well and score against me! I admired him, and I always thought that he'd be a top defender.
 
"I'm amazed at his resilience and how he's come back after being off for three months with a hamstring operation. He's been incredible."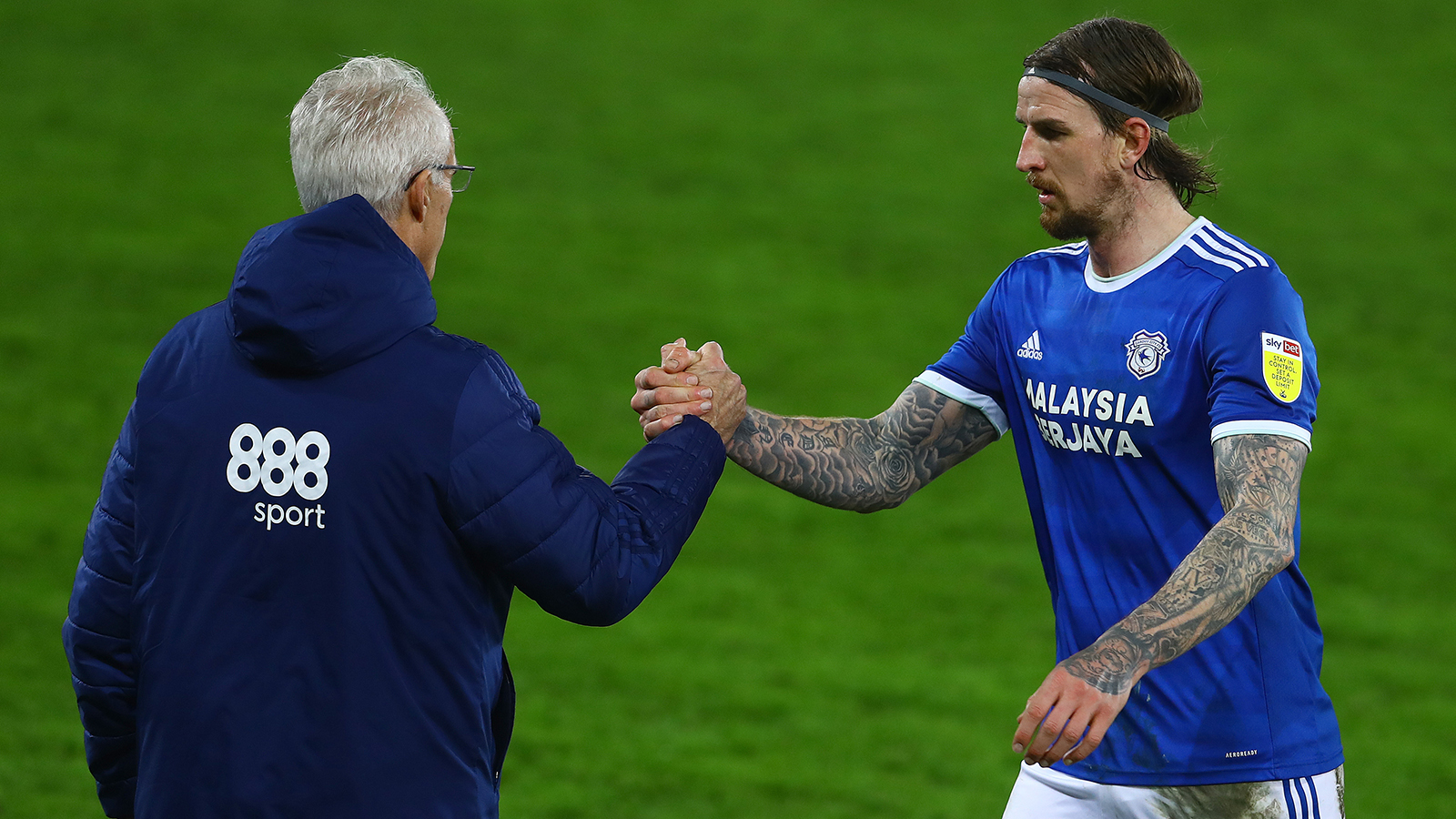 The Bluebirds produced a determined second-half performance to keep a clean sheet, with the boss reserving special praise for the members of his defensive unit.
"I'm not sure it was always composed, but it was good," he laughed. "Throwing themselves at the ball, last-ditch tackles and blocks. I'm thrilled with them, they've been really good.
"Tom Sang and Rallsy were brilliant today. Rallsy is not a left wing-back, and Tom has gone in there and done a great job. Tom is playing out of position really, but maybe that is his position now!
"Ciaron Brown was up in Scotland out on loan, and he's come back. He has really improved since he's come back, and he's listened to everything we've asked of him. It's even better when those things happen with those players."
With a two-week hiatus for international action ahead, Mick concluded with a reflection on the result within the overall context of the Championship campaign.
"It was certainly our night, for sure," added Mick. "That stat that nobody has ever won two games still remains. We've beaten our arch rivals, we've got three more points and we're four points off the Play-Offs.
"I wanted to get back on the tail-end of the Play-Offs, and with that result we've done it. It gives us momentum, and now we're going into the break having not been beaten.
"The boys have been working their socks off, so they deserve some time off. Now they can enjoy that time off with the three points in their pocket."