City Flashback - 2002 | Earnshaw bags brace against the Terriers
History
4th November
As we prepare to welcome Huddersfield Town to Cardiff City Stadium on Saturday, 6th November, we take a look back a famous win over the Terriers with Bluebirds legend Robert Earnshaw.
In December 2002, the Bluebirds hosted Huddersfield at Ninian Park in one of the standout performances of a memorable season for City.
Lennie Lawrence's side recorded an emphatic 4-0 victory on their way to promotion to the First Division.
Earnshaw netted a fine brace as well as two goals from Jason Bowen. The striker expressed that despite the challenge of facing the Terriers, the Bluebirds' fine form meant they went into every game full of confidence.
"Huddersfield at that time were hard to play against," he began. "It wasn't easy or straightforward for us to win 4-0 on that day.
"However, when we faced teams like Huddersfield, we felt confident going into those games because at the time, we were fearless. We were going into games thinking let's get another three points, do well and for me especially, score lots of goals.
"I remember us being in really good form. We were flying at that moment and confidence was really high."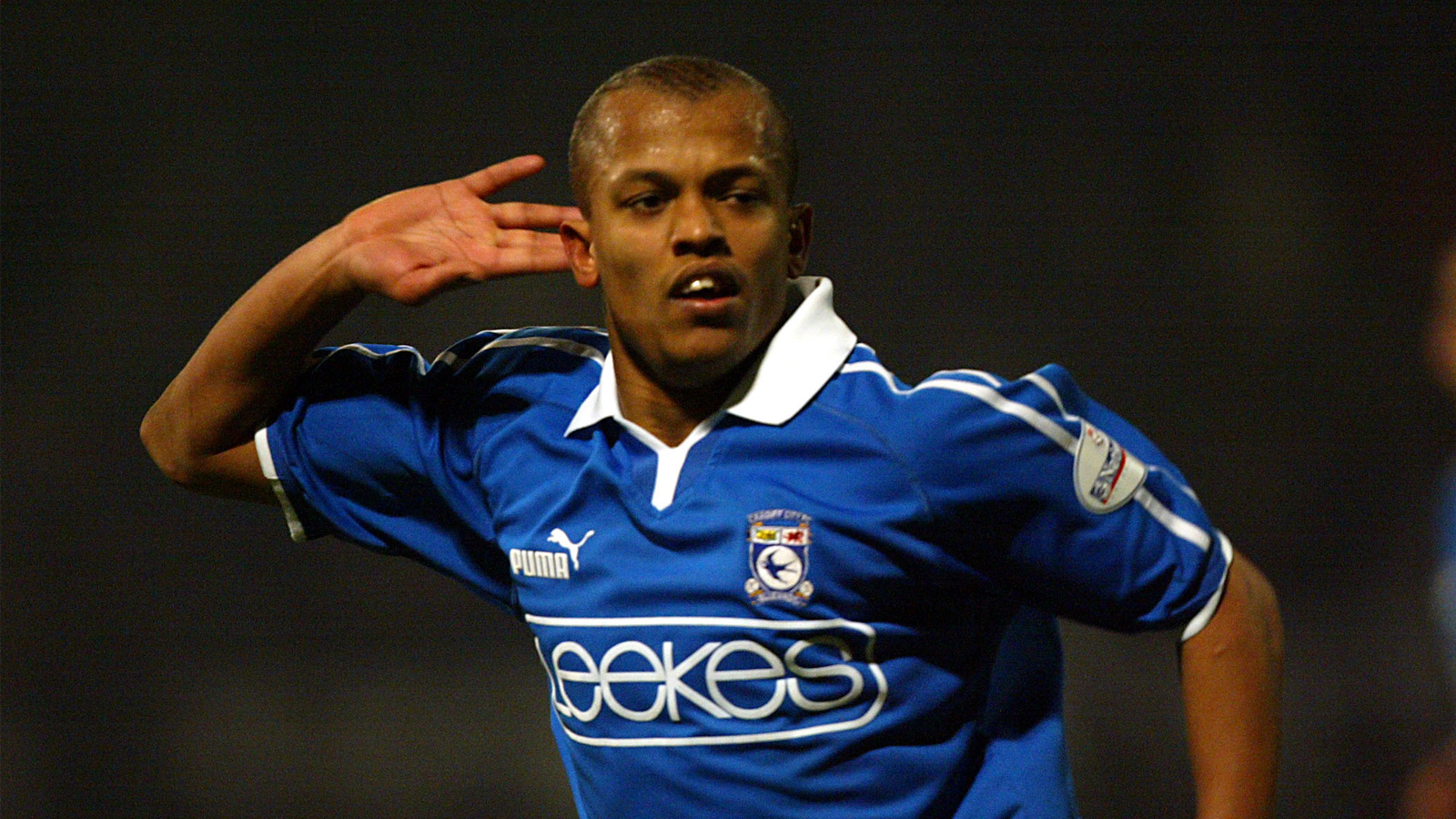 Earnshaw was part of a hugely talented Bluebirds team squad in the 2002/2003 season, going on to win 23 of the Bluebirds' 46-game campaign.
Under the leadership of Lawrence, the striker hailed the high standards set at the club during such a successful time.
"That season was unbelievable, for me especially. We had a really good team.
"We were excellent in the way we worked every day and we were all flying. We were at different stages, you had Andy Legg and Graham Kavanagh, Leo Fortune-West, Peter Thorne, the more experienced players who were all driven.
"They were driving the young players like myself, Danny Gabbidon, Rhys Weston. We were all on the same path trying to earn promotion. That season was just great."
Earnshaw was on fire for the Bluebirds on their way to promotion, having his most prolific season in his professional career.
The striker scored 31 league goals in a remarkable campaign, notably scoring hat-tricks against Queens Park Rangers and Tranmere Rovers.
Having had such a prolific year, the City legend expressed that the talent around him was a striker's dream.
"For me it was the perfect season," Robert recalled. "What people forget is that it wasn't so easy, it wasn't straightforward because we had a lot of competition in the squad.
"For example, our front four were myself, Peter Thorne, Andy Campbell and Leo Fortune-West. At any one point, all of us were playing at different stages of games, so the competition was very high.
"I had to score lots of goals to stay in the team. It helped me a lot because the competition made me better. For me, I started off the first few games on the bench, but once I got in, it was about doing the business.
"The standard had to be very high. As soon as I scored the first few goals, it felt like I was going to score every game. It was a very unique year where it just felt like every single game was going to be goals.
"I had so many good players who created lots of chances for me and that helped a lot. As a forward player, you just want players creating chances for you all the time and that was happening. I just loved it."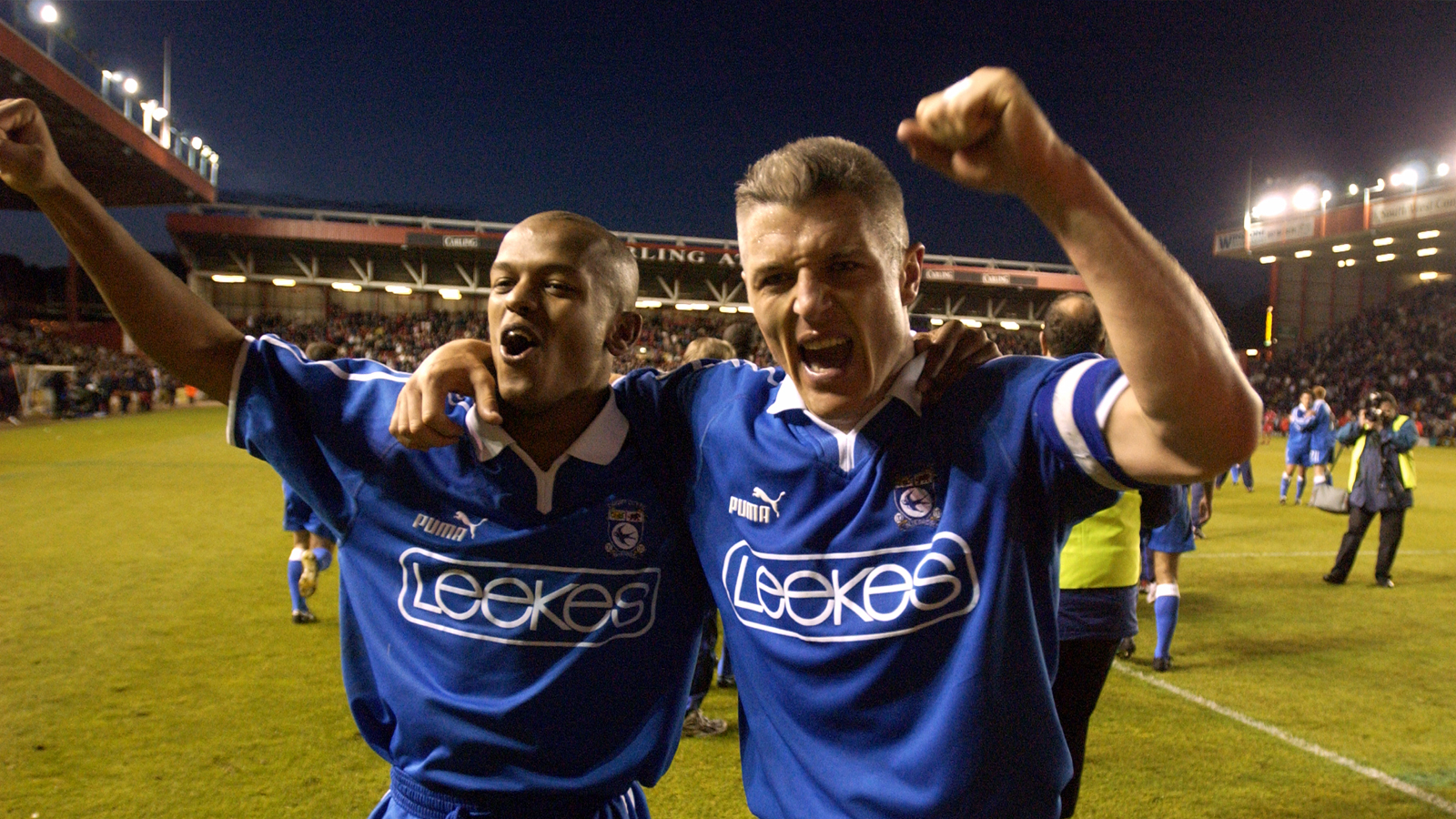 Earnshaw went on to break the 56-year record of 30 league goals held by Stan Richards, as well as the record of Hughie Ferguson of 32 goals in all competitions.
Breaking Richards' record on a dramatic final day of the season, City secured the final play-off spot with a 1-1 draw at Crewe Alexandra.
The former Wales international conveyed that the fixture at Gresty Road brings back fond memories for a number of reasons.
"Going to Crewe was extra special because not only were we thinking about Play-Offs and promotion, but for myself, I was thinking about breaking the record for the amount of goals, it just doesn't come around so often.
"For a few months, people were talking about it, so there was a lot of attention and focus on that as well as promotion. But when I was playing for Cardiff, the main thing was making sure I made an impact, if I did that it would help the team and help us get promotion. All of those things were in my mind.
"Going to Crewe and breaking the record was extra special and I remember so many fans being there on that day, such a huge following which there always was. It brings back great memories, because even now people talk about those special times."
With the point on the final day of the season, City earned a Play-Off tie against local rivals Bristol City.
Lawrence's side stepped up to the occasion, as Thorne's strike secured a 1-0 victory in the first leg on a special night at Ninian Park, before a 0-0 stalemate at Ashton Gate.
Earnshaw expressed that despite the pressure of the Play-Offs, the Bluebirds had to deal with the magnitude of the fixture.
"That year, Bristol City were very strong," Earnie recalled. "They had a really good side and we always had really tough games against them.
"When you go into play-offs, it's less about the performance, it's just about getting through. We felt confident because we had good players.
"We felt that when we played them away that we'd be fine, but we had to make sure we did well at home. We did that and got a good result, then it was just about seeing it through.
"In the game away, it could have been 2-2, 3-3, there were lots of chances. It was two teams battling end-to-end, but we just had to make sure we got through, it didn't matter how."
The pinnacle of City's memorable 2002/2003 season was the play-off final, in which the Bluebirds faced Queens Park Rangers.
In front of 66,096 fans at the Millennium Stadium, Campbell's famous goal secured promotion to the First Division. Earnshaw insisted that he regards that day as one of the best of his career.
"It's really hard to sum up the emotions," he explained. "It was just electric. It was a really special moment.
"When you reach any final, it's great, but at that time, it was in the centre of Cardiff in the Millennium Stadium.
"For us to reach the final, it was special, because we knew that the final was going to be in Cardiff, at home for us. That was a big thing.
"To do something special in front of your own fans was an unbelievable feeling. It was extra sweet because it was in Cardiff and so many more fans could enjoy it as well.
"As a footballer, when we were on the pitch, we were feeling the same thing, but we wanted to make sure that we sent the fans home happy and finish the season with the ultimate goal which was to get promotion. It was just so sweet to do it at home."