Pre-Season Match Report: Paulton Rovers 3-2 Cardiff City U23
Academy
21st July
Cardiff City's U23 side continued their preparations for 2021/22 with a narrow loss and second pre-season run out against Paulton Rovers at the Athletic Ground on Wednesday evening.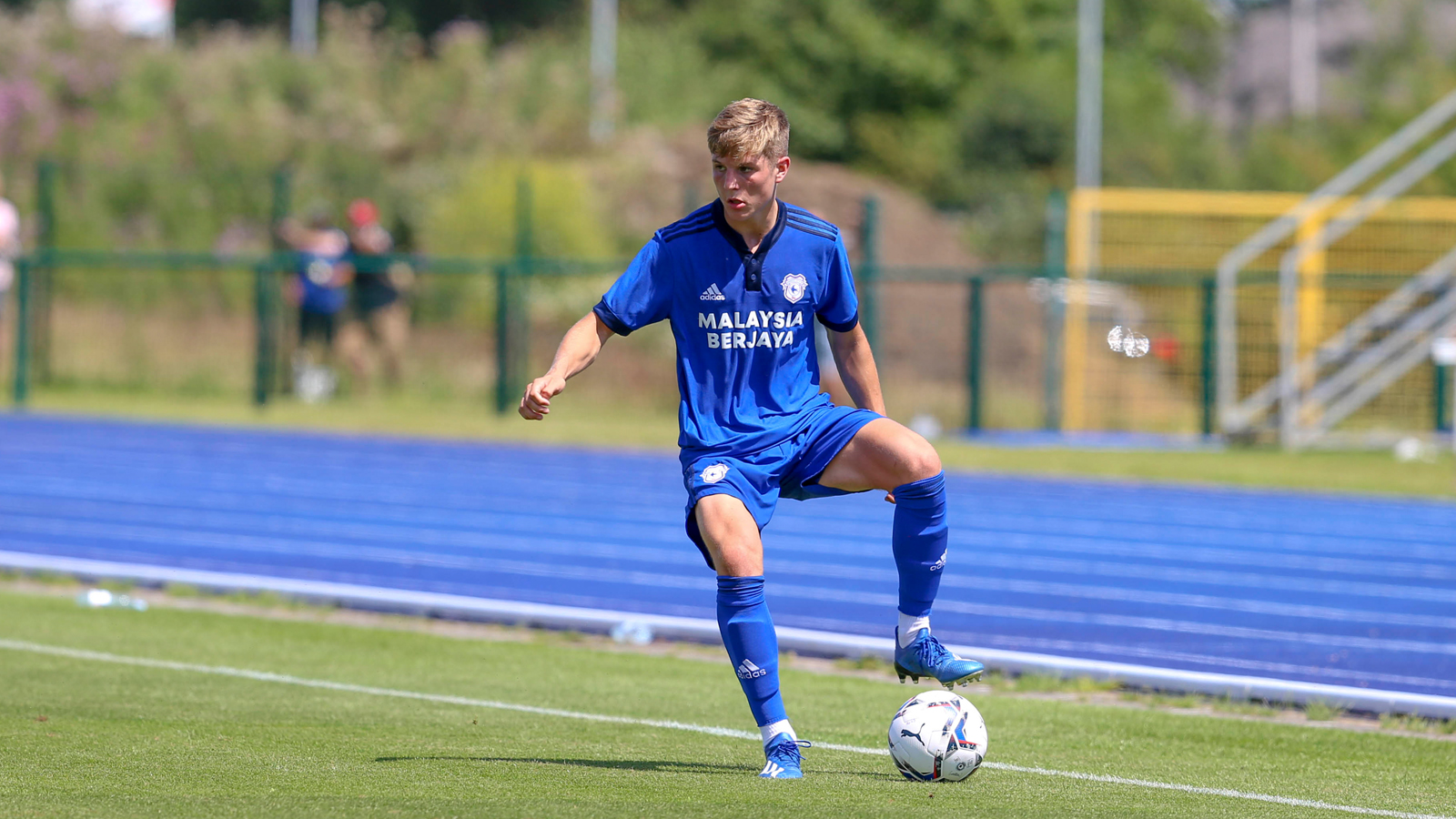 Chanka Zimba's third goal of pre-season and a Trialist's strike weren't enough for the Bluebirds.
Steve Morison named Rohan Luthra, Taylor Jones, Oliver Denham, Ibrahim Bakare, James Connolly, Tavio D'Almeida and Zimba in the starting line-up – all were on the First Team's bench at Forest Green Rovers.
The Bluebirds' opening opportunity came after six minutes. Right-back Jones made a superb run off the right flank and into the area, but his pass towards striker Zimba was blocked at the last moment.
Play then tightened as both defences stood resilient and City's next chance arrived with 40 minutes played. Defender Connolly met a well-delivered corner from Trialist, but the header was saved by Aaron Sainsbury.
Cardiff City took confidence from that attack and went ahead just one minute later. 19-year-old Zimba charged forward on the counter attack, before rounding goalkeeper Sainsbury and finishing from an acute angle.
After the interval, the hosts got off to a quick start and equalised inside the half's opening three minutes. Dan Cottle chipped in from close range.
The Bluebirds responded strongly and took the lead once more after 57 minutes. Trialist shot low and found the back of the net from just outside the box.
Both sides displayed great battle and eight minutes later, the home side levelled for a second time. Braeden Symes struck from the edge of the box and Trialist got a hand to it, but the powerful effort went in.
The teams were determined to find a late winner and it went the Rovers' way. An own goal gave them the advantage and they managed to hold on in the closing stages, as City's youngsters gained more beneficial minutes.
FINAL SCORE: PAULTON ROVERS 3-2 CARDIFF CITY
Paulton Rovers: Sainsbury, Kelly (Paradise 18'), Felix, Dempsey (Symes 46'), Rennie, O'Hare (Sturnbank 66'), Ibrahim, Fowler, Cottle (Eglin 70'), Thomas, Sloggett (Jackson 46').
Subs not used: Brown.
Cardiff City U23: Luthra (Trialist 46'), T. Jones (C. Jones 61'), Denham, Bakare (Rippon 61'), Connolly (Clay 61'), Trialist, Patten, D'Almeida (Coomer 61'), Trialist, Schwank (T. Davies 46'), Zimba (Wigley 46').
Subs not used: Tana Jones.
Reaction | Steve Morison
U23 Coach Steve Morison spoke of the many positives the young Bluebirds could take from the pre-season encounter following the final whistle.
"We never like losing games of football," said Steve. "The lads did really well: the U18 players came on in the second-half and it was the first game they've had this season so it's great to get them some minutes.
"Some of our players were involved with the First Team at Forest Green Rovers, but they put in another session for us so it's really good and there's lots of positives to take.
"Chanka's got another goal and the young lads did really well when they came on, we're really pleased that we could get the lads some more minutes and we'll go again against Barry Town."