U23 Match Report | Watford 2-2 Cardiff City
Academy
15th December
Cardiff City's U23 team recorded a 2-2 draw against Watford on Tuesday afternoon, twice coming from behind to earn a deserved point against the Hornets.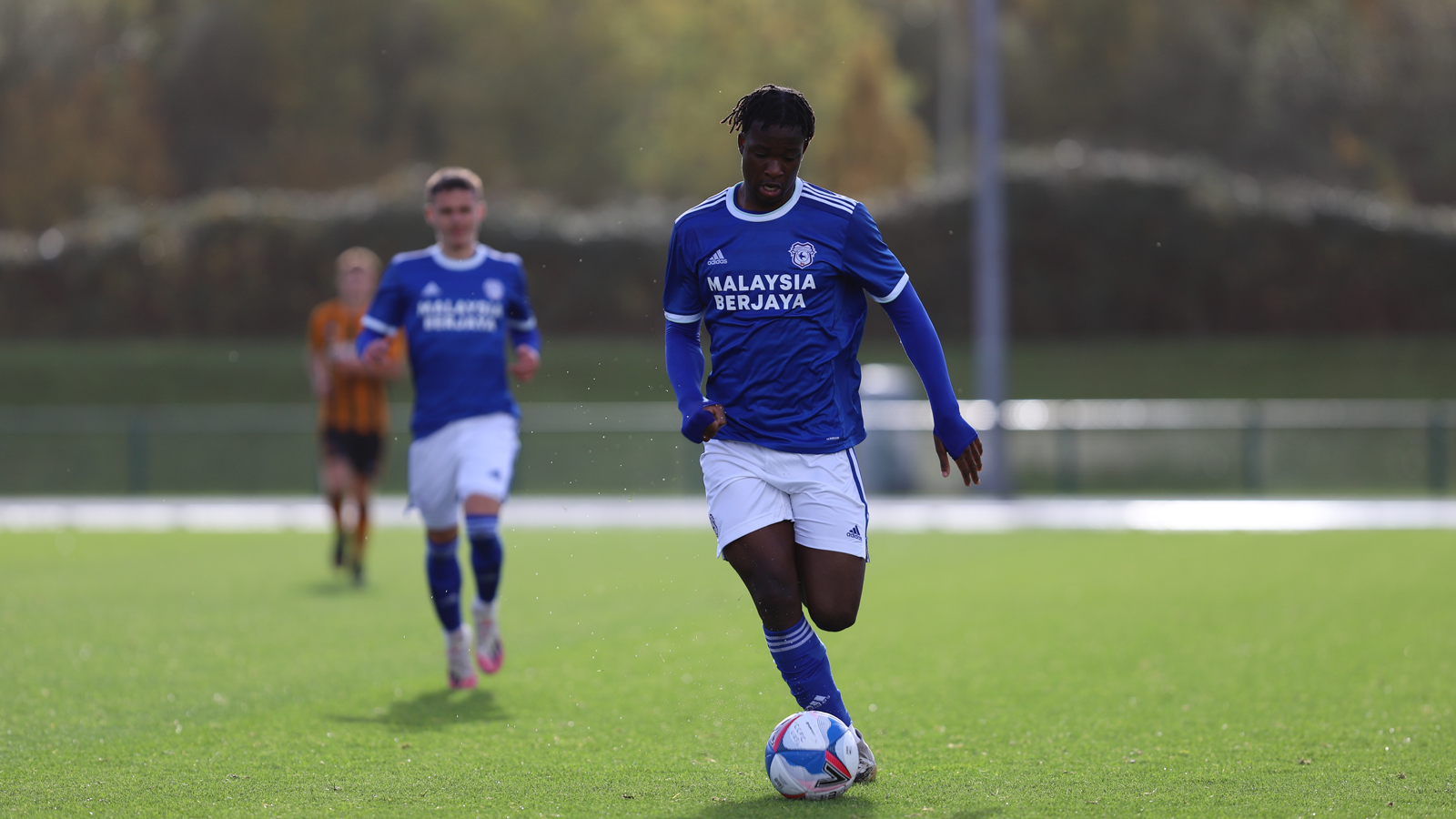 Lead U23 coach Steve Morison made three changes to his starting line-up, with Taylor Jones, Isaak Davies and Roland Idowu coming in for Jack Walls, Kieron Evans and Chanka Zimba.  
After defender Oliver Denham had received an early yellow card, it was the hosts who took the lead on home turf. After nine minutes, a low cross from the left flank was met by trialist Louis Walsh inside the penalty area, who finished smartly into the bottom left-hand corner.
Undeterred by the early setback, the young Bluebirds recovered well and controlled the game for the middle period of the first half. After 15 minutes, Rubin Colwill took aim, firing a curling shot from the edge of the area with his left foot, which agonisingly struck the woodwork. Nine minutes later, Ben Margetson also took a shot from distance, which was tipped over by Watford's trialist goalkeeper.
The Bluebirds were rewarded for their attacking efforts two minutes later, with Margetson finding the back of the net. The defender fired home from close range, putting City back on level terms with 26 minutes played.
Watford looked to hit back through Joseph Hungbo, who shot wide of goal with a left-footed effort, before regaining the lead just ahead of the interval. Forward Dominic Hutchinson found space inside the area, and dispatched the ball with his right foot. The half-time whistle sounded with the Hornets ahead.
With Steve Morison introducing striker Siyabonga Ligendza after the break, the Bluebirds looked to get back in the game once again. However, the second period brought fewer chances than the first, with Eli King's yellow card being the only major event of the first twenty minutes.
However, with 74 minutes played, City found their second leveller of the afternoon through Colwill. A low cross from the right side was pulled back towards the edge of the box, finding the midfielder in space. Colwill finished neatly into the bottom left corner, equalising for the Bluebirds.
Tom Chiabi replaced King for the final fifteen minutes of the match, but the remainder of the game passed with few chances. The final whistle confirmed a hard fought and deserved point for the Bluebirds, who showed character and determination to fight back on two occasions. City's next U23 fixture comes on Tuesday, 22nd December, as Queens Park Rangers visit the Welsh capital.
Full-Time: Watford U23 2–2 Cardiff City U23 (Trialist 9', Margetson 26', Hutchinson 45', Colwill 74')
Cardiff City U23: Ratcliffe, Jones (Ligendza 55'), Pritchard, Margetson, Denham, Bodenham, Colwill, King (Chiabi 84'), Davies, Hughes, Idowu. Subs not used: Cogman, Crole, Thomas.
Watford U23: Trialist (GK), Barrett, Stevenson, Wise (Lo-Everton 76'), Statham, Perkins, Crichlow, Patterson, Hutchinson (Burchell 76'), Trialist, Hungbo. Subs not used: Baptiste, Forde, Trialist.
Match Report: Connor Pearce