City Flashback - 2003 | A magical moment at the Millennium
History
24th December
It's possible that somebody reading this was recently given the gift one of those bespoke mugs with the old Teletext font on that reads: Sunday, 25th May 2003. Millennium Stadium, Cardiff. Cardiff City 1-0 Queens Park Rangers (AET). Campbell (114).
Yes, it's the most written about fixture ever played between Cardiff City and Queens Park Rangers; though at this time of year, there's nothing quite like a bit of nostalgia to notch up the levels of festive spirit.
Cardiff City Disabled Supporters Association are hosting a special Q&A on January 26th (limited space available, click here for more details!) to mark the twentieth anniversary of that barmy day in the city centre. Andy Legg, Jason Bowen and Andy Campbell will be part of the proceedings, too!
And ahead of the Bluebirds' hosting of the Hoops on Boxing Day (get your tickets here), we take a look at what our protagonists got up to once the champagne stopped flowing that night on St. Mary Street…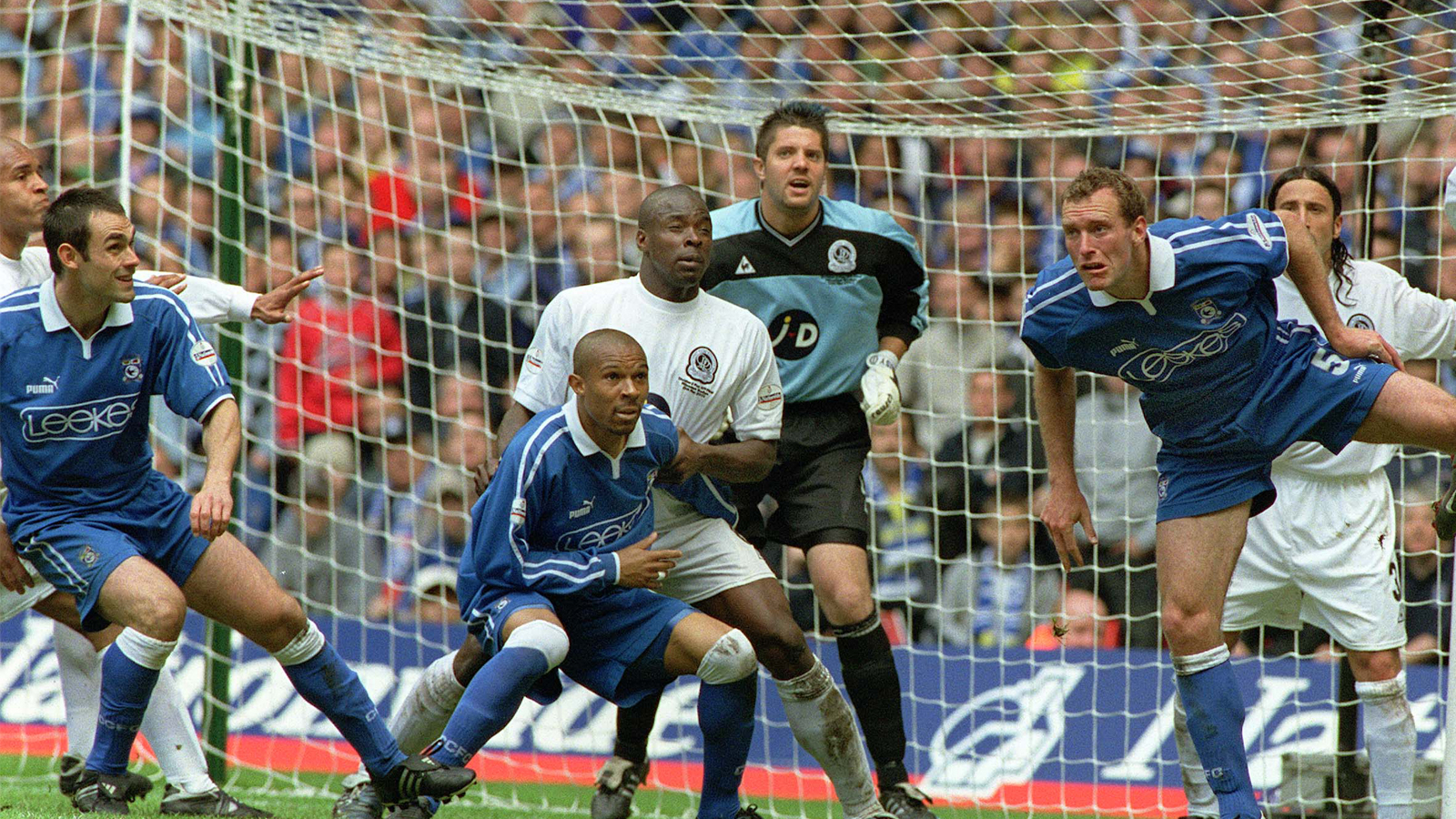 Neil Alexander (Goalkeeper)
A giant between the sticks for City between 2001 and 2007, Neil only hung up his gloves as recently as this past spring having been on loan from Dundee United at Dunfermline (he failed to make an appearance for either club, acting as the experienced back-up). Joined the Bluebirds in 2001 from Livingston and effectively ended his playing days with Livi when he returned to them for the 2017/18 season. Made a welcome return to the Welsh capital for a pre-season friendly in the summer of 2017.
Chris Barker (Defender)
A gentleman off the field and a warrior for the Bluebirds on it. Barks made 181 appearances for City, predominantly as left-back and went on to play for QPR during the 2007/08 season. Tragically we lost Chris early in 2020. A memorial cricket match was held in his memory in Cardiff this summer, whilst a number of his former friends and team-mates turned out for a memorial football game at Southend United's Roots Hall back in May. Sadly missed by so many.
Spencer Prior (Defender)
Prior's signing was something of a coup back in 2001, with the big centre-half having made Premiership (now Premier League) experiences and turned out for the likes of Norwich City, Leicester City, Derby County and Manchester City (the first three, significantly sized clubs compared to City at the time; the latter, not the powerhouses they are today). Redeemed himself in the 2002/03 Final having been sent off at Ninian Park in the second leg of the semi-final defeat to Stoke City 12 months prior (no pun intended).
Rhys Weston (Defender)
In 2019, long-retired, Rhys joined Brentford as part of their Venue Optimisation team. As a player, he made the most out of a long career; he joined City from Arsenal where he started out as a youngster, before going on to play in Norway, Iceland and Malaysia. Earned seven senior Wales caps between 2000 and 2005.
Danny Gabbidon (Defender)
Experienced international, earning 49 Wales caps between 2002 and 2014. Gabs joined City from West Bromwich Albion in 2000 before becoming an established Premier League defender with West Ham United, Queens Park Rangers and Crystal Palace. Returned to City to see out his playing days in 2014, before joint-managing the Bluebirds for a caretaker spell with Scott Young prior to the appointment of Russell Slade. Now enjoying life as a prominent media guest.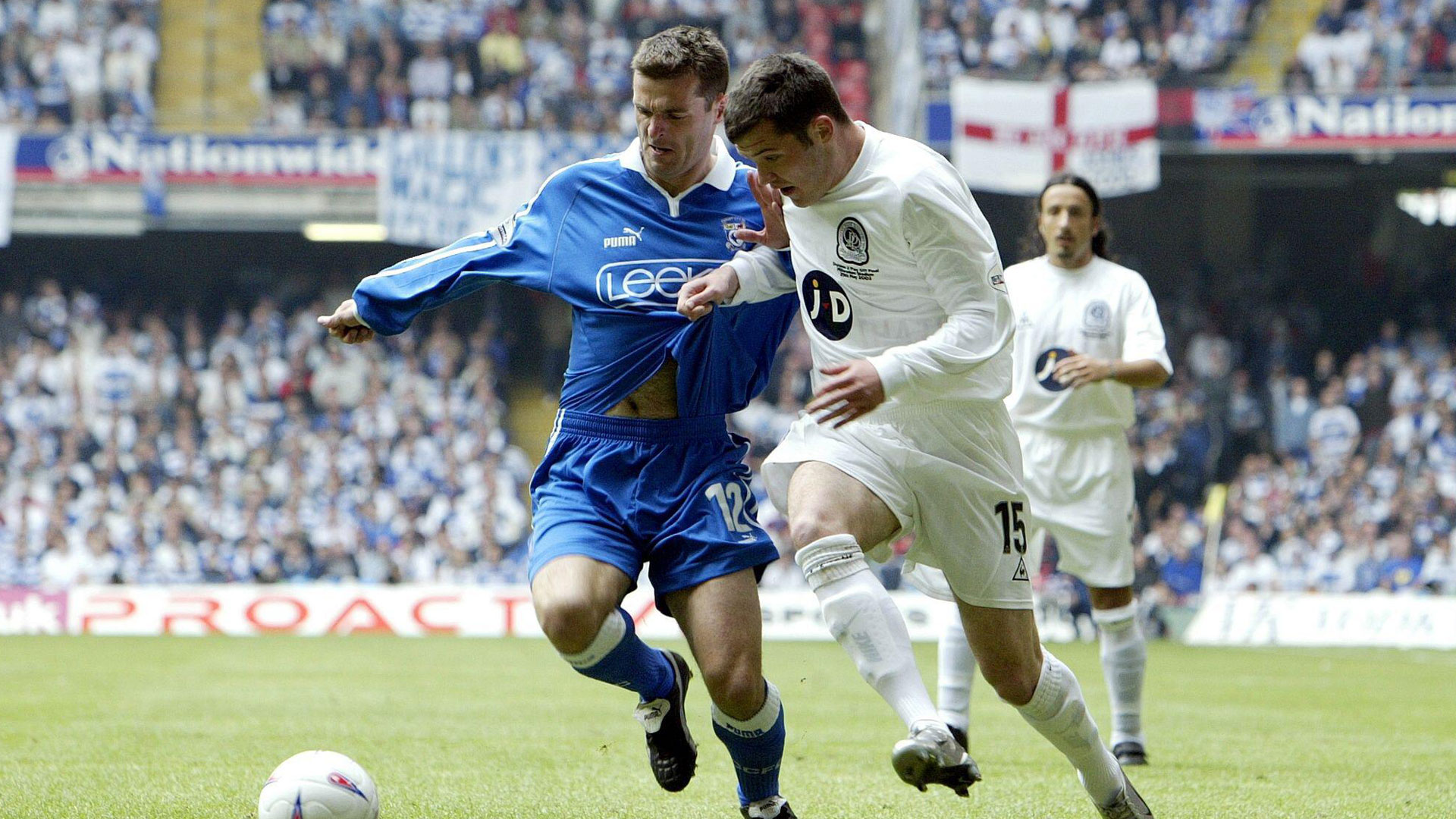 Willie Boland (Midfielder)
An under-the-radar midfield general, Willie was a big signing for the Bluebirds from Coventry City in the summer of 1999 when they embarked on a season in the third tier following promotion under Frank Burrows. Made 243 appearances between 1999 and 2006 before spending the final three years of his career with Hartlepool United and retiring in 2009. Only had three clubs in a 17 year-long professional career.
Andy Legg (Midfielder/Defender)
Leggy had to win over the Bob Bank having previously worn the white of Swansea when he signed for the Bluebirds from Reading in December 1998. And win them over he did, becoming an entrenched fan-favourite and making over 200 City appearances. The Play-Off Final was his last game in City blue, before he saw out his professional career at Peterborough United and moved into coaching. Part of the Bluebirds Academy coaching staff for a time, and another popular local media pundit.
Graham Kavanagh (Midfielder)
A leader of men who remains a modern-day City icon. Signed from Stoke City in June 2001 and stayed until Wigan came in for his services in 2005. Scored the opening goal in City's memorable 2002 FA Cup victory over Leeds United and lifted the Play-Off trophy on that sunny spring afternoon at the Millennium Stadium. Became a coach and manager of Carlisle United during the 2013/2014 season and now focuses his energies into supporting his talented son, Calum, who's progressing through the Middlesbrough youth ranks.
Gareth Whalley (Midfielder)
Like Boland, another who went about his business quietly but effectively in the middle of the park. Signed for City from Bradford City in 2002 before making 46 appearances over the subsequent two seasons. Was the man who intercepted a loose Clarke Carlisle pass and sent in Andy Campbell for that dramatic lofted winner. Enjoyed a spell in coaching with Manchester City's U18 side in 2014.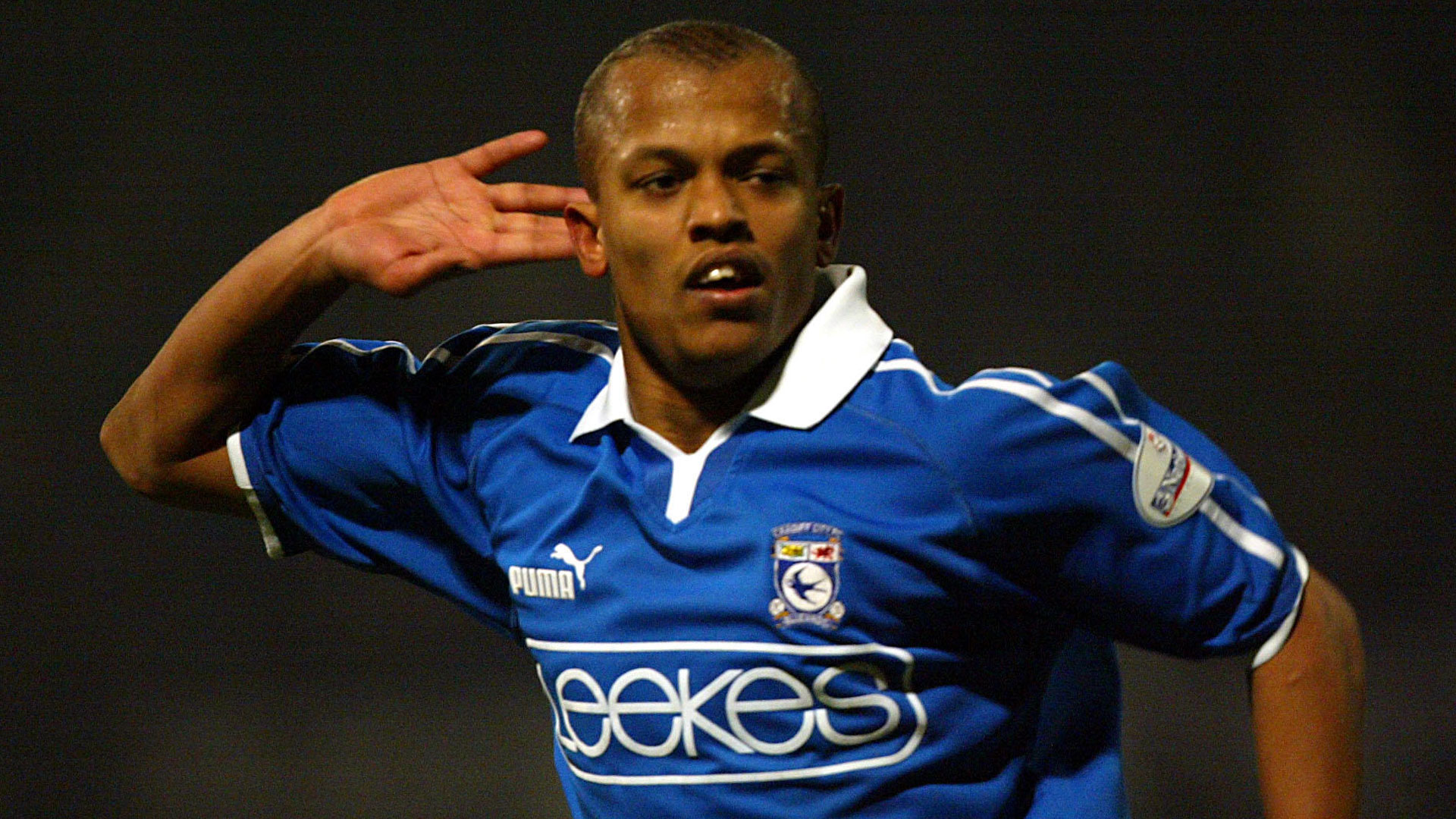 Robert Earnshaw (Forward)
There's not too much left to say about Earnie that hasn't been said. The only man, still, to score a hat-trick at every level of league football, plus in the FA Cup, League Cup and at international level. Think about that for a moment… it's quite something isn't it? Raised down the road in Caerphilly, Rob burst onto the scene with City in 1998 and broke record after record with his inimitable style. Will forever be considered as a Bluebirds great.
Peter Thorne (Forward)
His magic hat is yet to be found. But whilst wearing it, Thorney achieved cult status as an unassuming, hard-working, stoic centre forward who was the perfect foil for the wispy Earnshaw. Spent four years at Ninian Park before moving onto Norwich City in 2005 and Bradford City (where he saw out his career) in 2007. Still wouldn't have to buy a pint around these parts, though no longer a football enthusiast, preferring to spend his days on the surf down on the south coast of England.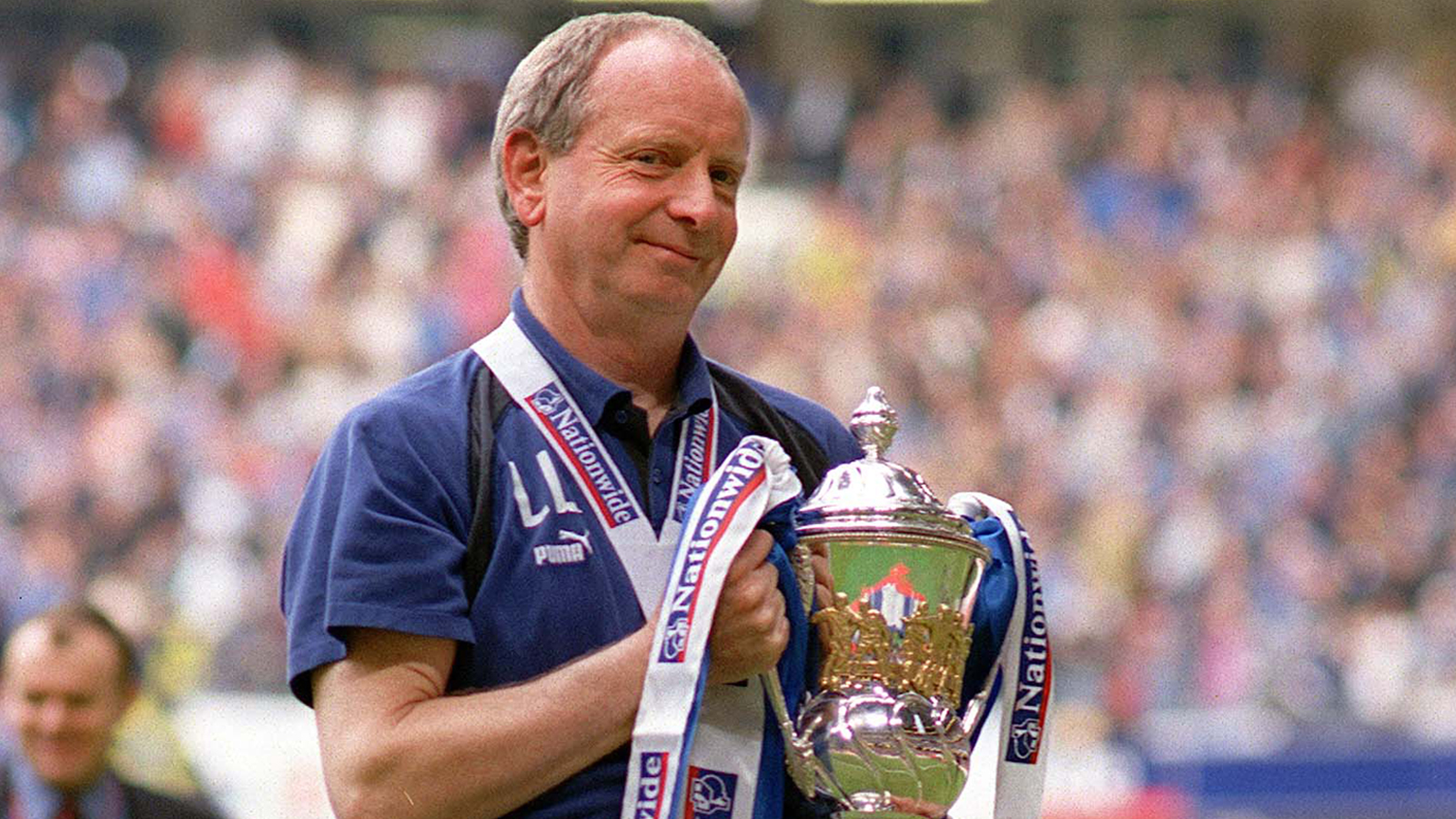 The Substitutes
It goes without saying, but Andy Campbell is the key name here. Having replaced Earnshaw 11 minutes before the end of regular time, to the chagrin of the swarming Bluebirds presence inside the national stadium, Cams proved his manager's decision was correct when he latched onto Whalley's pass and lifted it over the helpless Chris Day's head and into the back of the net.
Immortality amongst the Cardiff City faithful was bestowed upon the former Boro boy from that moment, and he continues to receive a hero's welcome when returning to the Welsh capital or joining the team on Cardiff City TV.
Gary Croft replaced Weston in the 70th minute in a like for like full-back switch, whilst Mark Bonner (another who can slot into the Boland and Whalley category when it came to style), helped City see out the final four minutes of extra time, replacing Legg. Martyn Margetson was the un-used goalkeeping option, whilst Jason Bowen was City's final un-used outfield player.
The Manager: Lennie Lawrence
An enigmatic manager who brought the best out of a talented squad that was misfiring somewhat prior to him having a steady hand on proceedings. Returned to the Bluebirds coaching setup for a short time as Paul Trollope's assistant in 2016, before fulfilling a consultancy position at Newport County with whom he stayed until 2020. Now 75, he's still highly respected in the game having managed over 1,100 professional matches.