History | Paul Parry: It was tremendous playing for my boyhood Club
History
19th December
Ahead of Saturday's match against the Lilywhites, we caught up with the former Bluebird who grew up attending matches at Ninian Park before playing for his boyhood Club.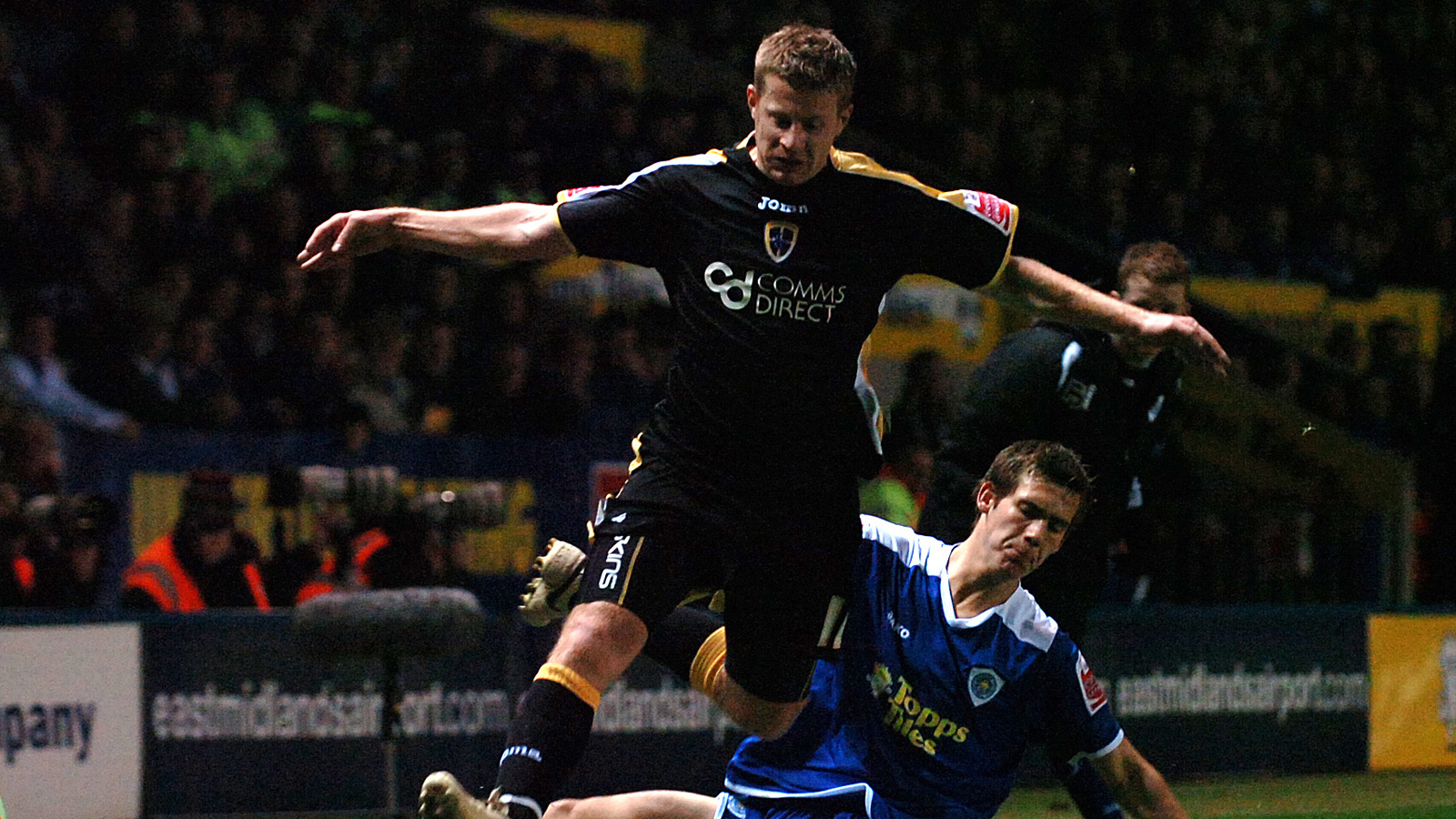 Born in Chepstow in 1980, Paul Parry became involved in football as a player from a young age, initially joining Bristol City as a youth player when he was a teenager.
"Football has always been a big part of my life," began Paul. "I got into it when I was very young. I was a schoolboy at Bristol City to start with, before I went to Hereford United.
"I was fortunate enough to begin my senior career at Edgar Street, it's where it all began for me as a young player. Being a left-footer I would look up to John Barnes when I was growing up. He was somebody that I admired and respected, seeing as he was in a very similar position to myself.
"I had a great time at Hereford, making my debut there when I was 17, and became more of a regular in the first team not long after that. There were a lot of opportunities and speculation regarding other clubs when I was a youngster, but the manager [Graham Turner] had my best interests at heart and it wasn't until there was an approach from Cardiff City that we decided it may be best to speak to them and move on to something different."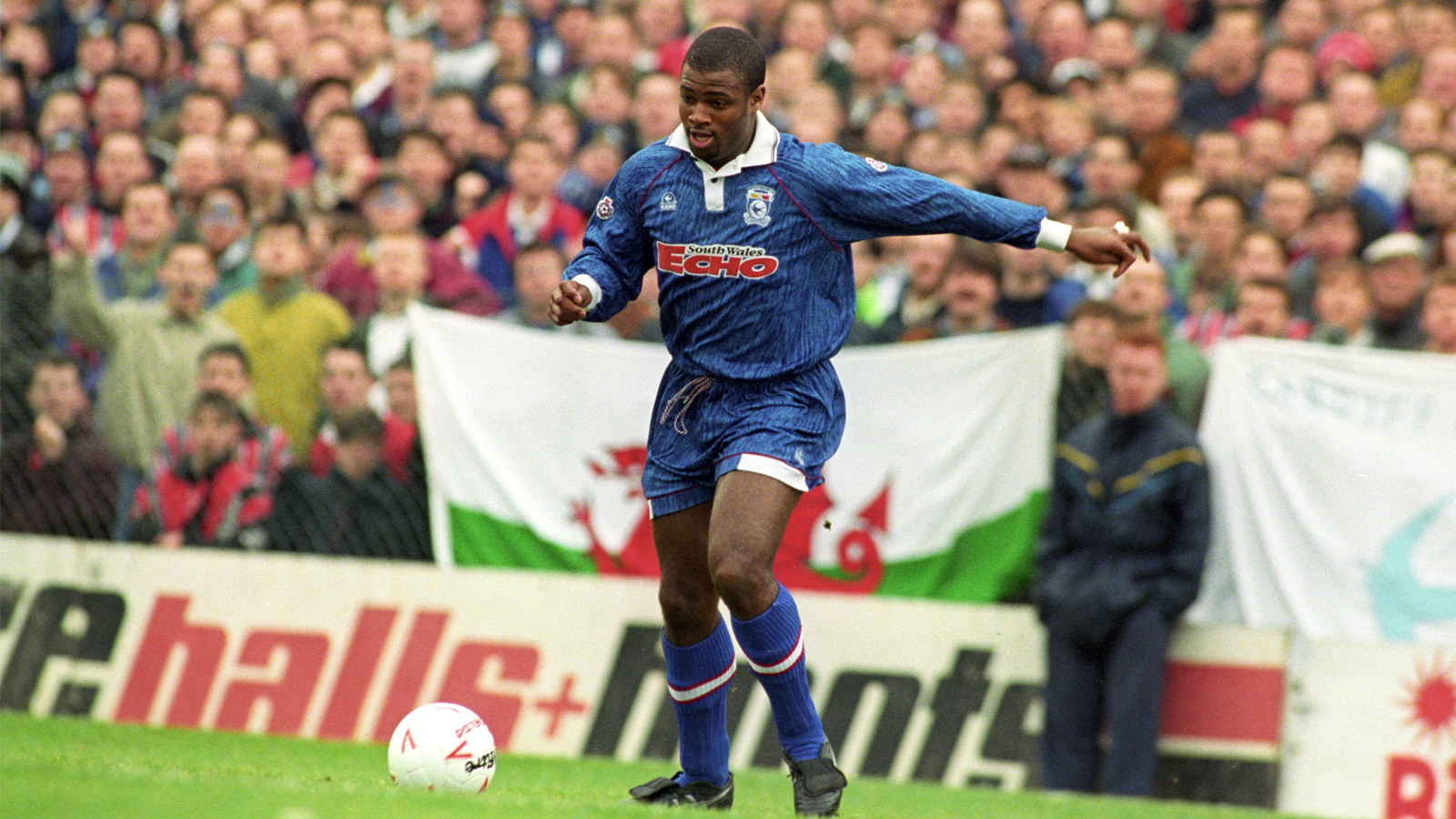 Growing up an avid City supporter, Paul Parry would make his way to Ninian Park to watch matches regularly, when the Bluebirds fielded sides featuring the likes of Nathan Blake (above).  
Prior to his playing days, Paul had often made the long trip to Ninian Park from Chepstow as a teenager, where he would go to watch his beloved Bluebirds as much as he could.
"I followed Cardiff City a lot from a young age, really," he continued. "Being brought up in Chepstow I'd jump on a train with some friends from a young age – probably around 14 – and come to Cardiff to watch the Bluebirds play.
"I'd been watching the Club play a lot, certainly as they'd been progressing from some of the lower leagues, and it was a massive thing for me as a childhood supporter to then get the chance to move to play for them a few years later. It was a great opportunity for me.
"I remember that when I used to go to watch City play you'd have the likes of Nathan Blake, Carl Dale, Cohen Griffith and the likes. I'd go down around once a month to watch them, or whenever I could to be honest.
"A highlight for me as a supporter when I was growing up was beating Manchester City in the FA Cup in 1994, when Blakey scored the winner! The Club has progressed massively since then, and it was great that I got to sign for them when I did."
Moving to play in South Wales in 2004, Parry found himself making the big step up to a Championship side, but began playing regularly for the Bluebirds despite what must have been a daunting challenge in his early days at Ninian Park.
"It was a bit nerve-wracking making the move to play for City," he explained. "It was a massive step up for me at the time. I'd been playing for Hereford in the Conference and to then jump up three divisions to the Championship was a challenge, especially when I was chucked straight into it from the off! I was given my debut literally a day after signing in a match against Rotherham United, so they didn't give me much time to think about it! 
"There were quite a lot of players of a similar age to me when I joined, such as Robert Earnshaw and Chris Barker, who really helped me settle in once I'd moved to the Club.
"It was a very welcoming dressing room that I'd joined, despite there being some big names there at the time. I hit my stride quite soon after joining, despite the change in my surroundings.
"The size of the crowds and the quality of the opposition wasn't something that I was used to at the time, but I think that being thrown in the deep end was a bit of a blessing, really.
"It was only four or five calls after making my debut that I then had a call from Wales to go into their squad, which was another very big opportunity that presented itself to me, and one that I certainly wasn't expecting!
"As I said, I think that being thrown straight into it and not being given the time to think much about it made things easier for me to adapt as I played during those early days at the Club."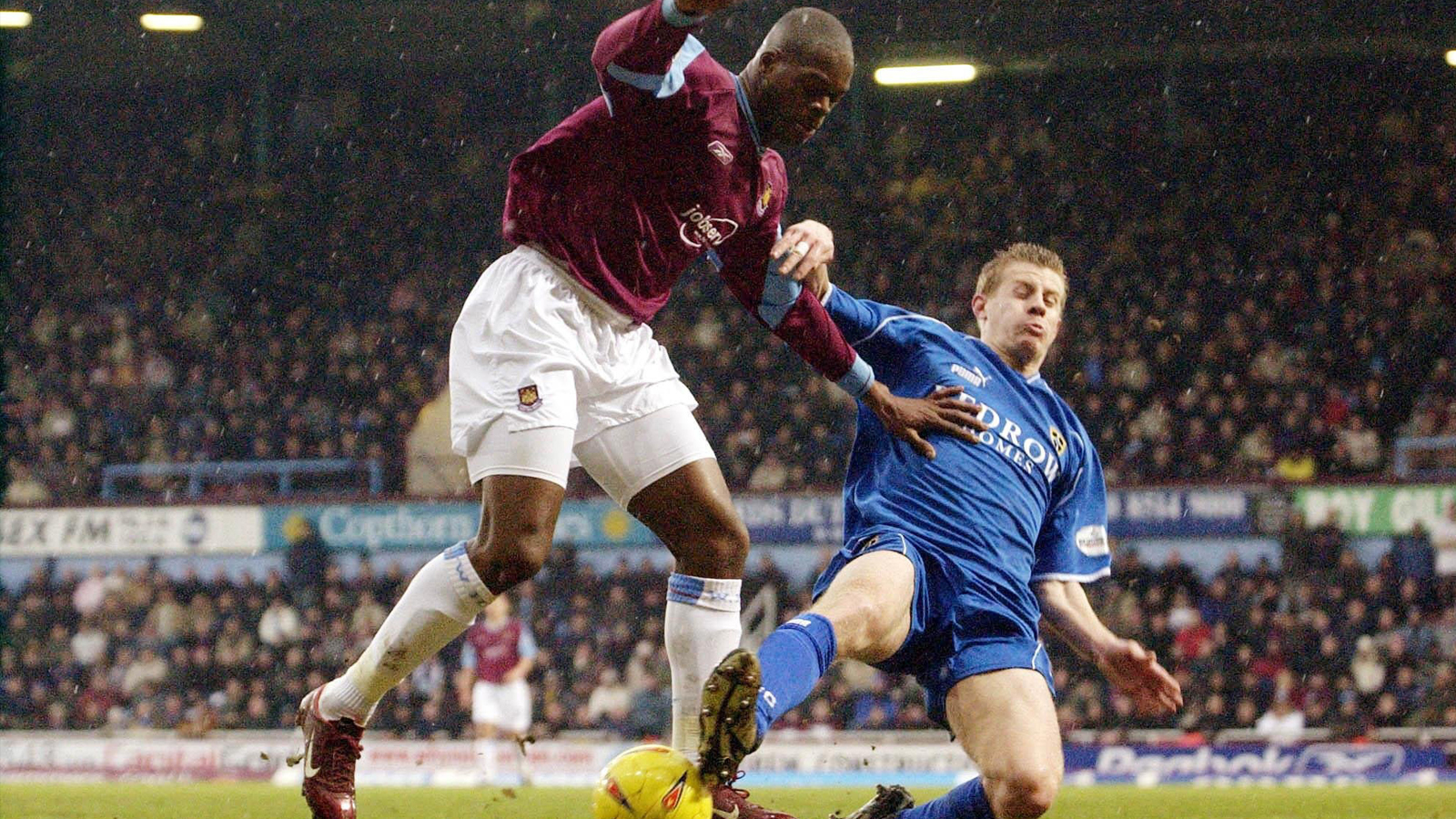 The Bluebirds' famous FA Cup run of the 2007-08 season was significant for Paul in more ways than one, as he returned to Edgar Street for a Fourth Round fixture against his former club.
"We were drawn to face Hereford in one of the earlier rounds of the competition. It was the club that had given me my start in my career, so it was great to go back there.
"I had a really warm reception as we went there, and Graham Turner was still there. It was a nice occasion along the way through that campaign, and I'd say that the 2007/08 season may well be the highlight of my career, really.
"There were some really big names in our squad at the time, and playing in the Final would've been anybody's boyhood dream.
"Making it to the Wembley was very special. It doesn't come around very often, especially for a Championship side, and personally to finish the season as joint-top scorer was a great way to round off a terrific season that I enjoyed during a 17-year career!
"It was one of those things that you could only dream of, and a massive occasion for us as a team and a Club. We were unfortunate not to get the result, but we did ourselves proud when you look at what we'd accomplished.
Leaving South Wales for Lancashire in 2009, Parry had made over 200 appearances for the Bluebirds in all competitions. Remembering his time spent with his boyhood club, the Welsh international spoke fondly of the experiences he had at Ninian Park.
"I remember that my first goal for Cardiff City was a bit of a fluke, but they all count, don't they? I had a lot of happy times at Ninian Park. We had the cup run, and played Arsenal the next year and were unlucky not to beat them at home.
"I scored a fair share of goals there, and it was brilliant to have the fans at your back there, it gave you a great buzz."
"I still keep an eye on the results for the clubs that I've played for," he concluded. "Football has always played such a huge part of my life and it still does to this day, even if I'm no longer playing."