Mick post-Millwall | A good reaction
Interviews
30th January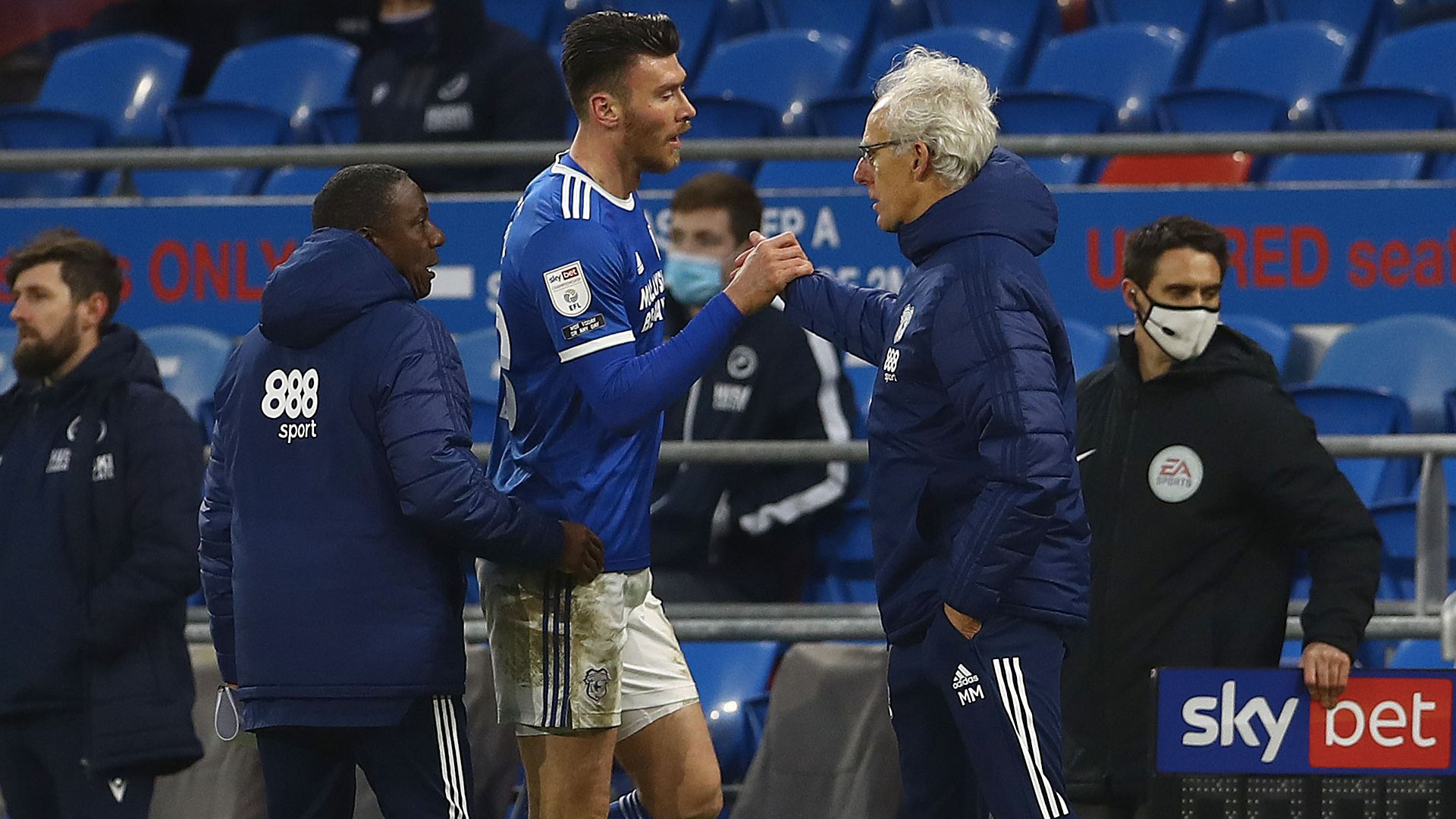 Kieffer Moore's 10th goal of the season helped the Bluebirds record a 1-1 draw with Millwall at Cardiff City Stadium.
After the match, Mick McCarthy spoke to the assembled press and media in the Welsh capital, offering his thoughts on the afternoon's display.
"We had to scrap it again, but I thought we played well today." Mick began. "I'm quite pleased with the way we started – it's just two or three times we made little mistakes, and it ends up in the back of our net. We've certainly got to cut them out, because we can't keep coming back from behind.
"We ended up giving a really sloppy goal away, and then we had to respond and react to it, and I thought we did. Apart from their chance, where we lost the ball in their box and Zohore gets his opportunity, we've had the best of the game. We certainly deserved the point."
The Bluebirds adopted a 5-3-2 formation against the Lions, and the boss went on to explain his thinking with regards to the tactical adjustment.
"I'd seen that Millwall have moved to have five men at the back. I think that when you play against wing-backs with a back four, as we did against Barnsley on Wednesday, you can be very narrow, and you can get done with the wing-backs; Millwall have been good at that.
"Plus, the fact of the size of their team. Free kicks and corners are really vitally important, to be able to defend and create chances to score goals, so that is something else that we have to contend with in this league.
"I thought it suited us. I thought the three centre-backs were good. Perry Ng, who has not really played wing-back before, is a real talent, and Joe Bennett, especially going forward, is terrific."
Mick concluded his press conference by commenting on young midfielder Rubin Colwill, who was named in the First Team squad for the first time on Saturday afternoon.
"I watched him train with the residual squad who didn't play on Wednesday, and wow, he stood out like a sore thumb. He's a really good presence, a big, powerful lad, but technically very good.
"He's only young but looks like a fully-grown bloke in the dressing room. He trained with us again on Friday morning because I wanted to see him, and again, he handled it no problem. I'm very pleased with him."