U18 Match Report | Cardiff City 2-5 Sheffield United
Academy
17th October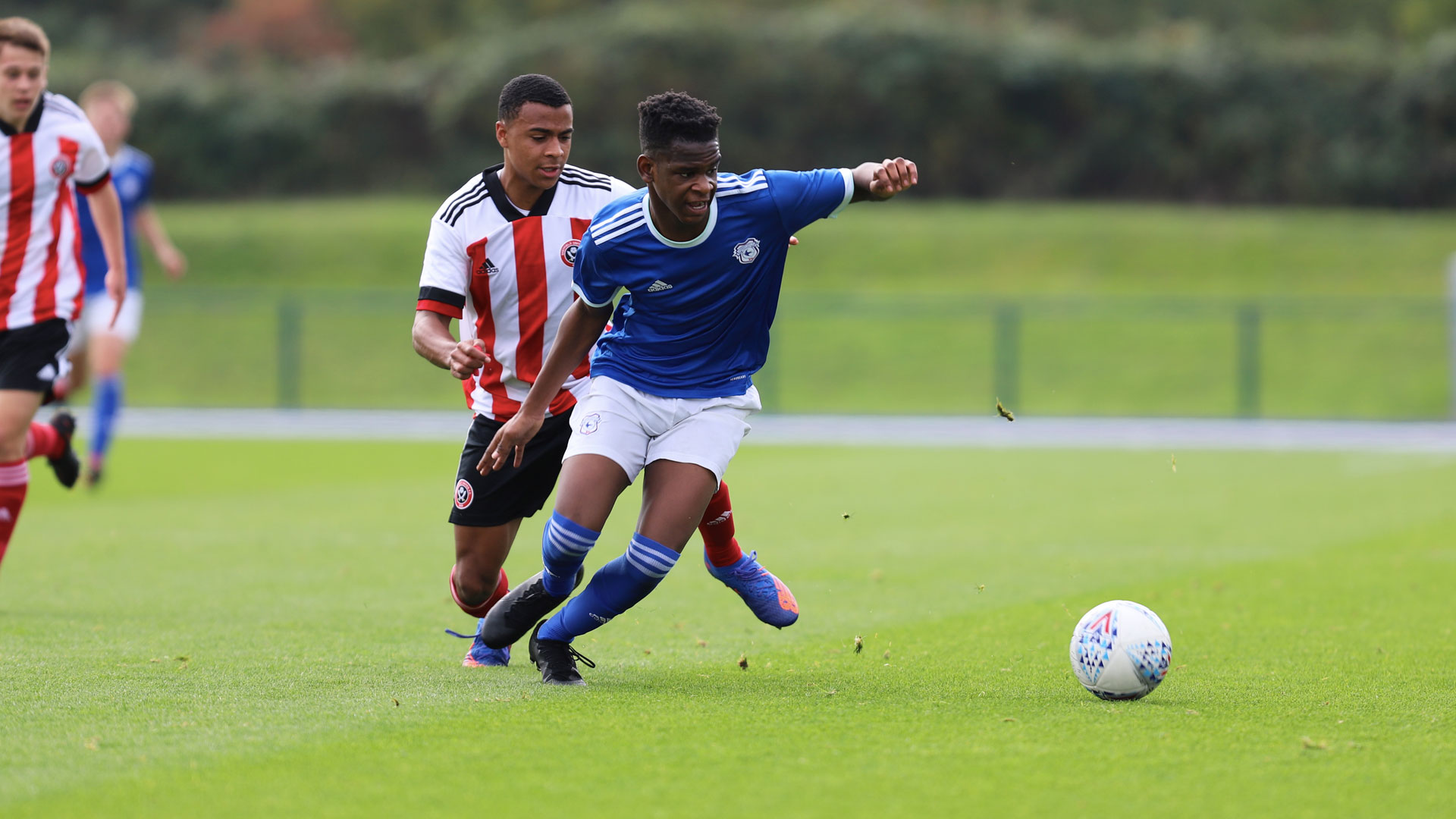 Cardiff City's U18 side lost to Sheffield United U18 in the Professional Development League at Cardiff City International Sports Stadium on Saturday afternoon.
James Crole's first-half opener and Cian Ashford's second-half strike were not enough for the Bluebirds.
Matthew Bloxham made three changes from last time out as Nativ Yanko, Frazer Thomas and Japhet Mpadi started.
The Blades had the opening opportunities of the game, forcing goalkeeper Yanko to make two brilliant saves. Ryan Viggars' low effort was kept out after 13 minutes, before Theo Williams' rising shot was stopped shortly after.
City took the lead from their first opportunity with 23 minutes played. Striker Crole got on the end of Caleb Hughes' incredible long ball, before hammering into the top corner.
The visiting side equalised with two minutes of the opening 45 remaining. Hassan Ayari powerfully finishing at close range.
After the interval, it took 12 minutes for the Bluebirds to craft another opportunity. Dangerous Ashford's effort from a tight angle was tipped towards the determined Crole, who was unlucky not to score.
With 61 minutes played, midfielder Ayari rifled an effort and added his second of the game. Two minutes later. Beau Anderson headed in his team's third to give the Blades a commanding lead.
Cardiff City fought back and reduced their deficit to one goal after 77 minutes. Forward Ashford hammered in from an acute angle on the inside left of the box.
Despite their intense pressure, City couldn't net an equaliser and Sheffield United went on to score two late goals to seal the win. Andre Brookes finished after 90 minutes, then Will Osula scored three minutes into added time.
U18 FINAL SCORE: CARDIFF CITY 2-5 SHEFFIELD UNITED
Cardiff City: Yanko, MacNamara, Davies, Clay, Rippon, Jones, Thomas (Schwank 76'), Hughes, Crole, Ashford, Mpadi. Subs not used: Coley, Coomber, Lewis.
Sheffield United: Chapman, Skerritt, Angell, Arblaster, Cullinan, Anderson, Williams (Smith 75'), Ayari, Viggars, Marsh (Osula 71'), Brookes. Subs not used: Hiddleston, Slater, Nesbitt.