Bluebirds Rewards | Bigger, exclusive rewards for September
Commercial
31st August
September features bigger, exclusive rewards on the Bluebirds Rewards portal!
Win a matchday tunnel tour and a pair of tickets behind the dugout for the highly anticipated South Wales derby.
Also available are Hospitality tickets for our clash with Watford at Cardiff City Stadium, a signed shirt from new recruit Manolis Siopis and new content across the marketplace, prize draws and auctions.
Congratulations to August's featured prize winners Carys, Mark and Richard who won priority access to the Aron Ramsey signing event! Redeem a reward this month to be in the chance of being featured on our official social media channels and emails.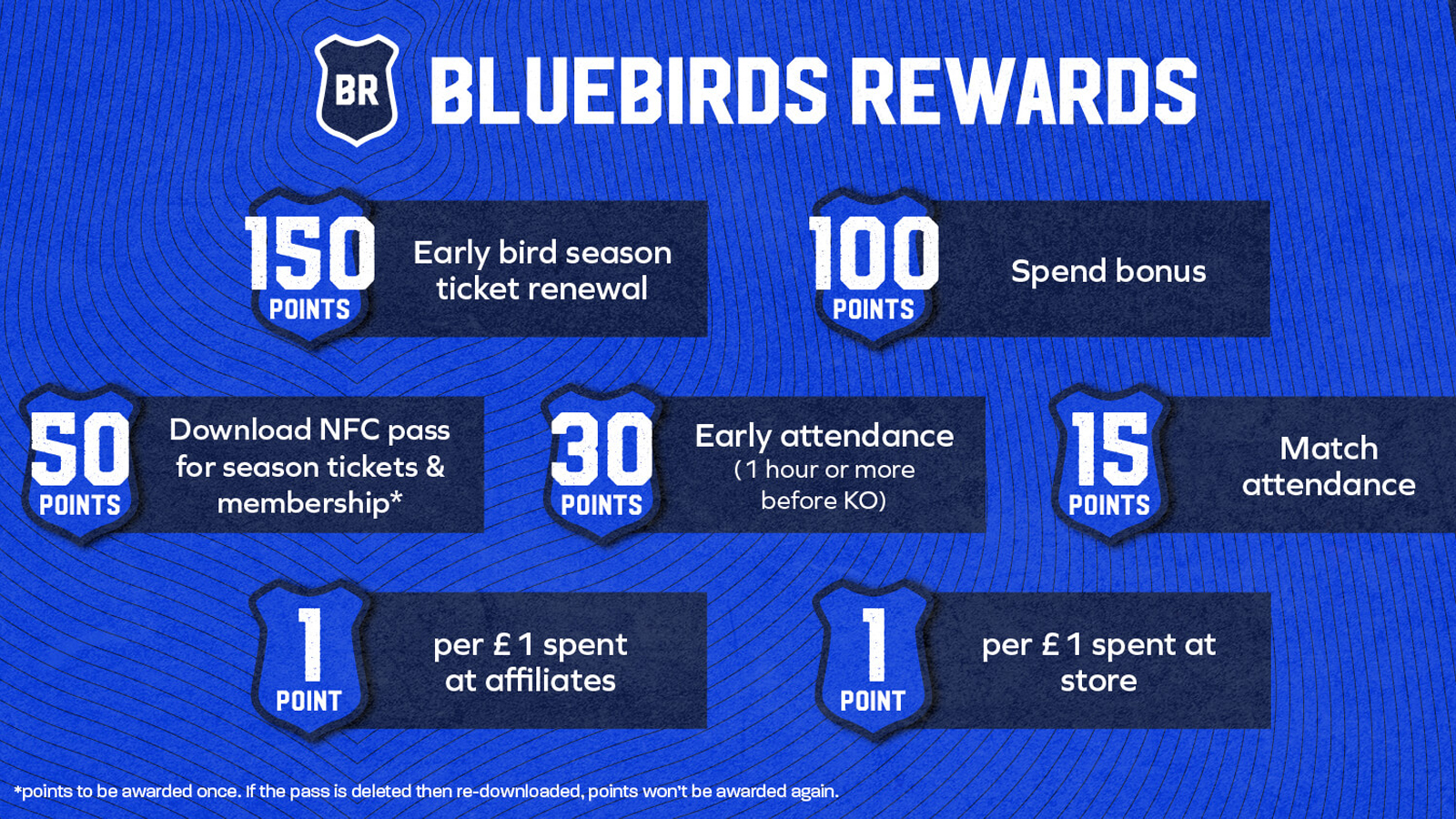 WHATS NEW
MARKETPLACE
Find new and exclusive official merchandise on the Bluebird Rewards portal! This month Bluebirds can redeem 10% off Hospitality tickets, a Bluebirds Rewards powerbank, and a Bluebirds Rewards drawstring bag.
PRIZE DRAWS
This month, Bluebirds can win exclusive tickets behind the dugout and a matchday tunnel tour experience for the South Wales derby, a pair of Hospitality tickets to our clash with Watford on Saturday 7th October, and a signed Manolis Siopis shirt!
Our prize draw winners will be contacted by Rewards@cardiffcityfc.co.uk via email to confirm their win. Good luck, Bluebirds!
AUCTION
Our new auction this month is for an exclusive bundle of Cardiff City Pins. Fans can bid on the auction as many times as their points allow.
The winner will have their points deducted at the end of the auction, whilst unsuccessful participants will have their points refunded.
NEW GAMES AND CHALLENGES
Check out our 'Games' section to find new content for our fans throughout the month, and take on our new challenges this month to win bonuses on the portal.
LINK CARD TO EARN BONUS POINTS
Link your credit/debit card and spend with an affiliate retailer to automatically earn 100 Bluebird Reward points. Simply log into the portal, click the payment tab, and then select link your card.
Link your card and spend with affiliate this month to automatically have your photo added to the Cardiff City club montage. (Spending does not include Cardiff City Stadium, Superstore or Ticketing.)
Bonus Code
Log in to Bluebirds Rewards and find "Voucher Code" on the homepage. Enter "SEPTEMBER" to win bonus points, and look out for bonus codes at home matches during half-time on the LED screens and communications.
For membership, access, or loyalty point queries, please contact us directly via rewards@cardiffcityfc.co.uk