Cardiff City FC 2021 Awards | The Results
Club News
8th May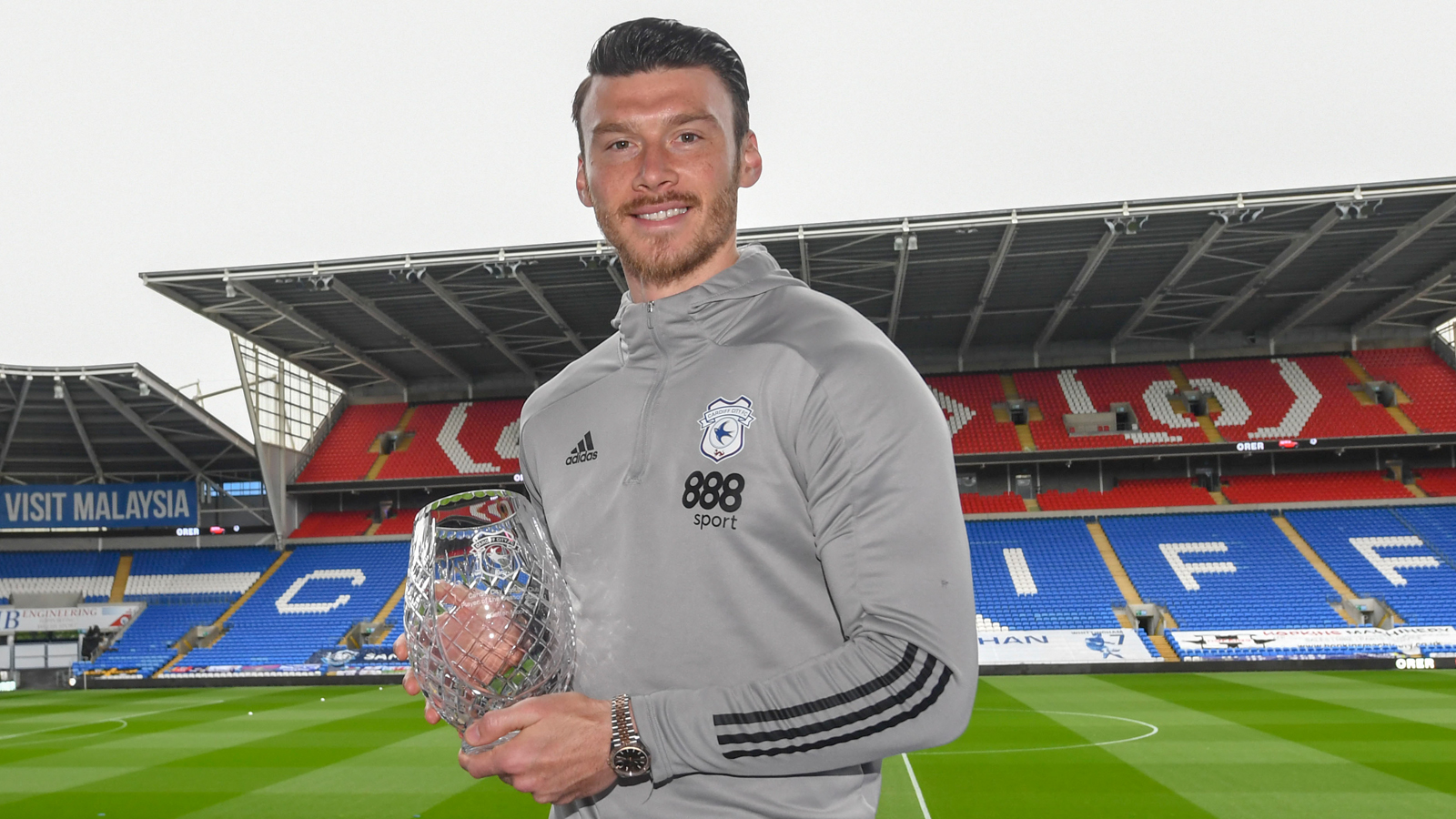 CARDIFF CITY TV | 2021 AWARDS
Celebrating the achievements of our Club throughout the season, here are the winners of the 2021 Cardiff City FC Awards.
Cardiff City FC Player of the Year: Kieffer Moore
As voted by Cardiff City supporters and in association with Cardiff City Supporters Club, the 2021 Player of the Year award goes to Kieffer Moore!
Having joined in August 2020 from Wigan Athletic, Kieffer has impressed throughout his first campaign with the Club, amassing a total of 20 goals scored in a City shirt from 42 league appearances.
Opening his tally as a Bluebird with a brace against Nottingham Forest in September, Kieffer's goals throughout the season have proved the winner against Watford, AFC Bournemouth and Wycombe Wanderers, his efforts also earning draws against Derby County, Millwall (twice!), Barnsley, Reading and Brentford.
Whilst helping his side to win plenty of points as the season progressed, he also broke a personal record for himself across the span of a single season, with his previous record of 17 League One goals for Barnsley being broken after just two years.
Upon receiving the award, the Wales international stated: "I'm buzzing, personal awards are always nice, and to hit some targets that I set myself at the start of this season is really good.
"I'd like to thank everybody who voted for me to win Player of the Season. I'm thrilled and the hard work just carries on from here.
"I'm loving my football here and that was one of the main reasons that I wanted to sign here. I knew a lot about the Club and I knew that I'd thrive here. 
"To get this personal accolade before heading off to the Euros is another confidence booster for me, so hopefully I can take every bit of that confidence to Europe and have a successful campaign there."

2020/21 Goal of the Season: Will Vaulks
For the second consecutive year, the winner of Cardiff City FC's Goal of the Season, as voted for by Cardiff City supporters, was Will Vaulks!
One of the five scored by the midfielder during this campaign, Will's strike from inside his own half against Brentford on Boxing Day really was a Christmas cracker.
Seeing 'keeper David Raya well off his line from afar, Vaulks struck home just before half-time at CCS, taking the lead dramatically ahead of the interval.
"I had seen that the goalie was off his line for a lot of the first half," said the midfielder upon receiving the award. "So I was desperate for the opportunity to get a shot in.
"I was watching it for a while and it was starting to fall away, but it just managed to sneak in! It's definitely the best goal of my career, I think."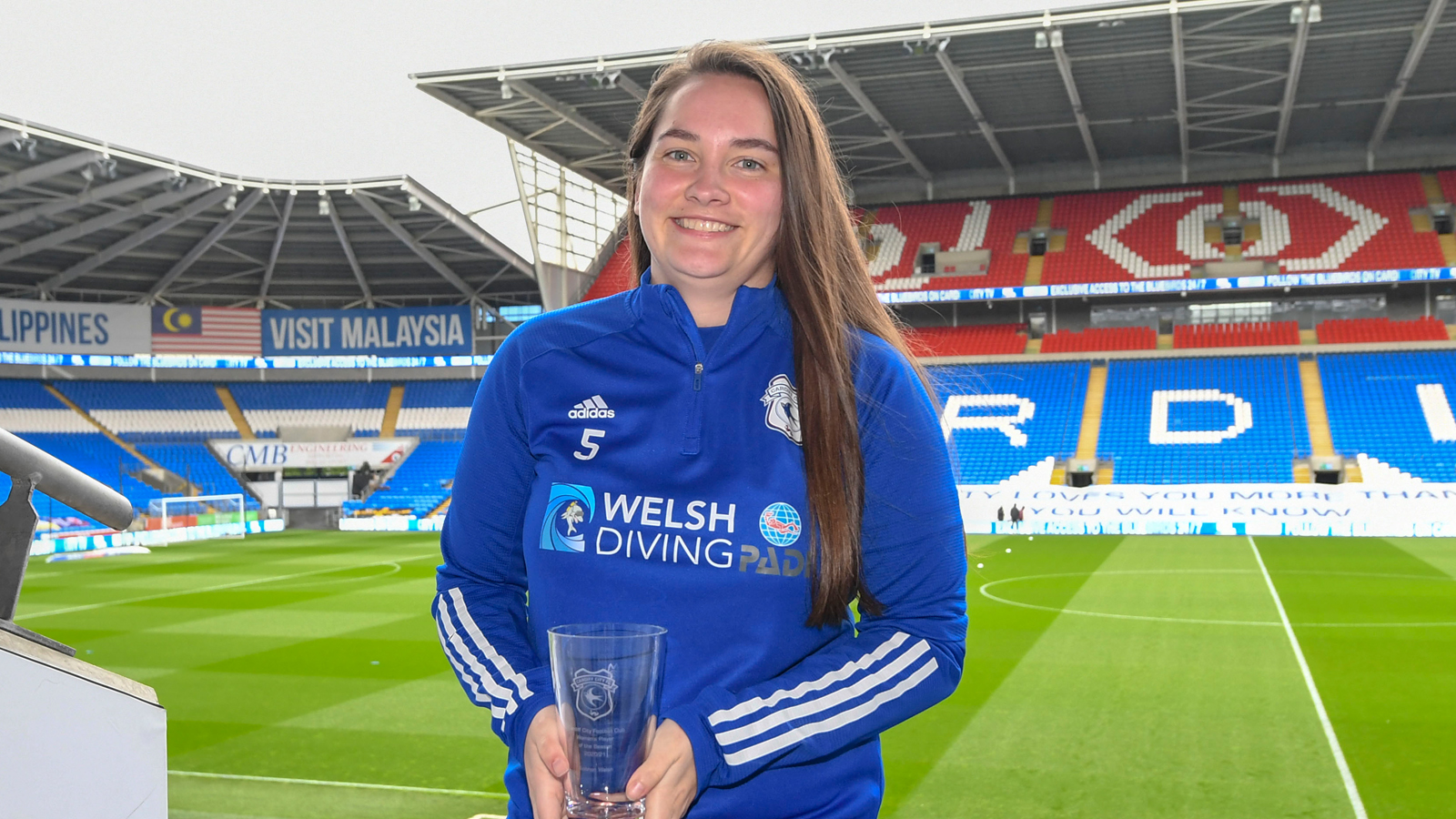 Cardiff City FC Women's Player of the Season: Siobhan Walsh
A dedicated captain who joined Cardiff City FC Women in 2011, Siobhan Walsh has continued to be an exemplary player throughout this season, despite the turbulence and challenges caused by the COVID-19 pandemic.
Selected as the Player of the Season for the Women's side by both her teammates and coaching staff, Siobhan's efforts have not gone unnoticed as she has continued to lead her side this year.
"I wasn't really expecting to receive this award," said Siobhan. "I think that there are plenty of other girls who could've won it this season, so I'm grateful to have been voted for by both my teammates and the coaching staff.
"It's been a strange season with its stop-start nature at the start, but thanks to the prolonged season we've managed to get the younger players involved too, which has been great. Now we just want to show what we can do as a team going forward."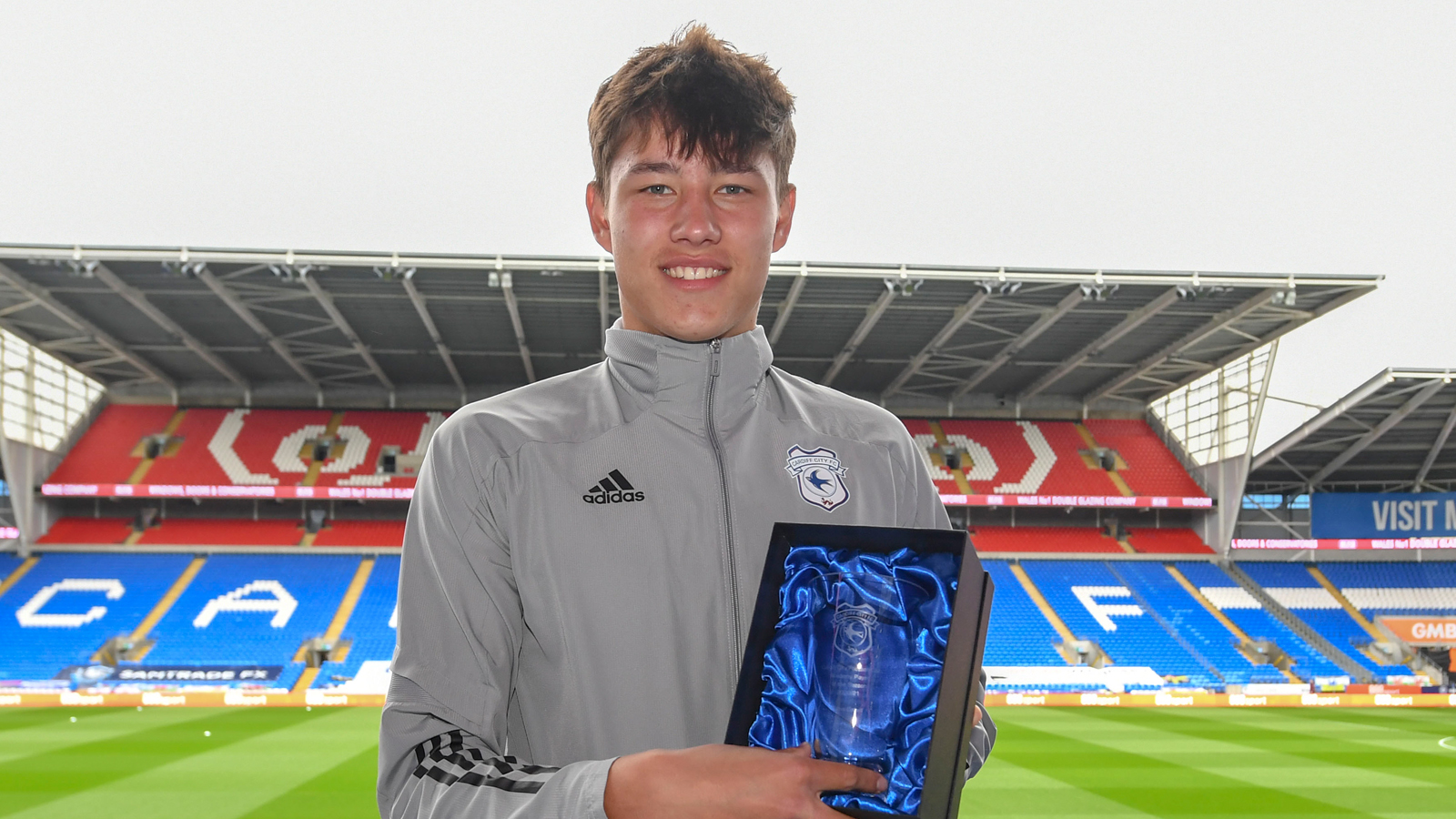 Cardiff City FC Academy Player of the Year: Rubin Colwill
Having been a member of Cardiff City's Academy since he was eight years old, Rubin Colwill's efforts this year have earned him the Club's Academy Player of the Year, as decided by the Academy's coaching staff.
Beginning his first year in the U23 side this season, the 19-year-old midfielder notably impressed manager Mick McCarthy upon his arrival at the Club earlier this year.
Alongside a slew of impressive performances for the U23 side, Rubin was called up to make his debut for his boyhood club in February, appearing as a substitute against Coventry City.
Having made his full debut with a start against Wycombe Wanderers on April 24th, Rubin's dedication has shone through as the youngster now looks to cement his place in the First Team squad:
"It's been a bit of a surreal season, really!" said Rubin. "I started the season out with the U23 side, and slowly worked my way into the First Team side, so I think I've developed well in the last six months.
"Mick McCarthy and Terry Connor have put a lot of faith in me since they came in, getting me involved in training with the First Team. They've given me the opportunity and I'd like to think that I've grasped it. I'd like to say thanks to them because I wouldn't be here now saying this if they hadn't gotten me involved early on.
"I've been with the Club and the Academy for about ten years now, and the amount of work that they put in is crazy. It's a credit to them that players such as myself are coming through now.
"I want to keep playing as much as I can, but firstly I'll need to work hard in the pre-season and work on improving myself so that I can come back next season a better player."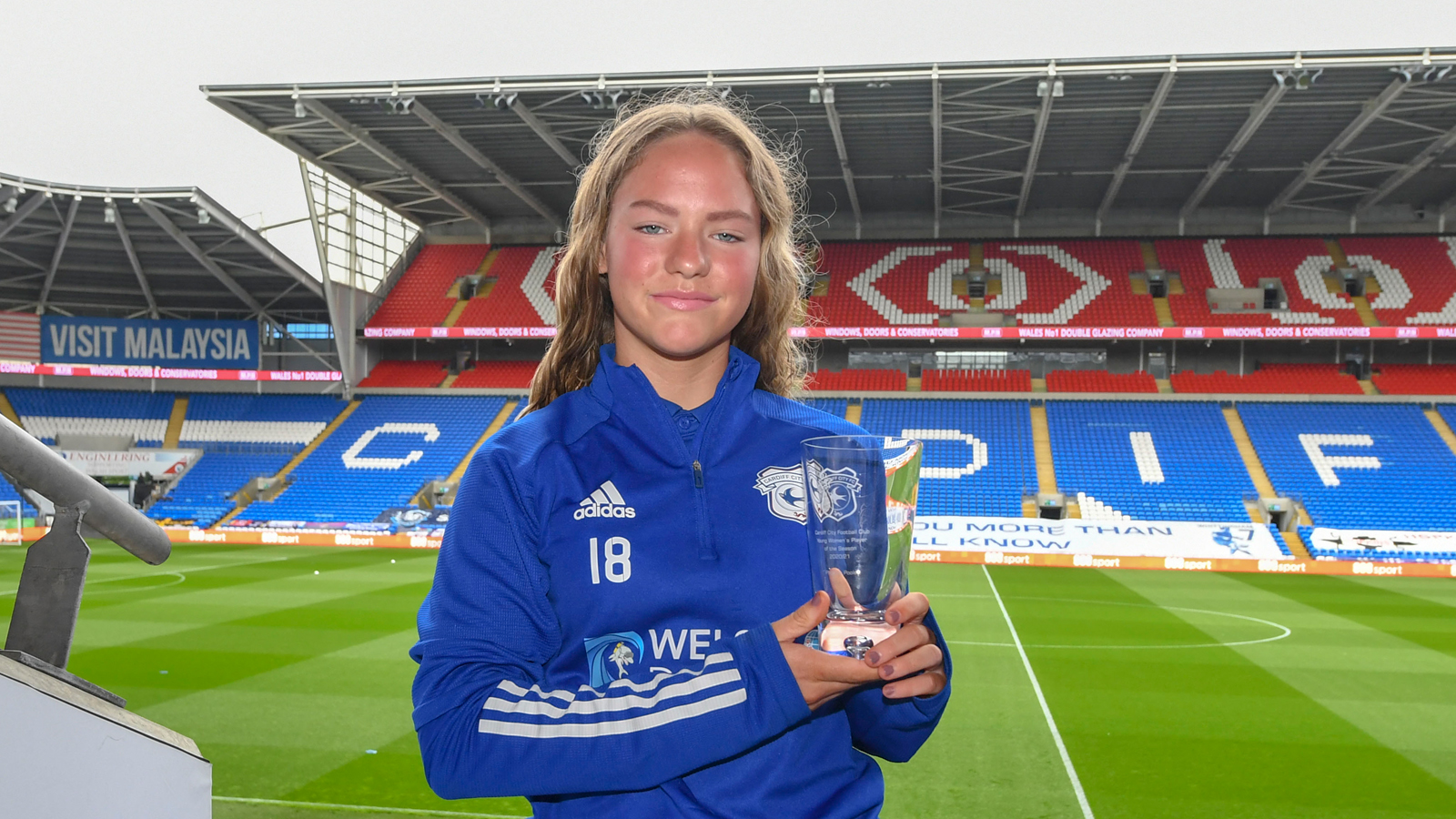 Cardiff City FC Women Young Player of the Year: Phoebie Poole
Joining ahead of the 2020/21 season from Barry Town United, it's safe to say that forward Phoebie Poole has hit the ground running for the Bluebirds.
With 15 goals from 15 games scored, as well as direct involvement in many others, Poole has spearheaded City's attack throughout much of the season, which is still yet to conclude.
Proud of her achievement within the group yet still eager to see out the rest of the campaign, there is certainly more to come from Phoebie in the times ahead.
"I'm over the moon." the Welsh youth international explained. "I never expected to be involved in the Women's first team, never mind winning this award. I'm very happy and this may be my highlight of the season so far.
"I've joined the best team I could have asked for when starting my journey into Women's football this season. I've learned so much from the girls and the coaching staff in every game and every training session.
"We're really excited to see out our season on a high, beginning with Sunday's match at CCS. It's a massive occasion for both teams, as well as Women's football as a whole."