Cardiff City TV | Redeem to stream the Bluebirds' games!
Club News
18th June
Season Ticket Holders have the option to watch all nine of the Bluebirds' remaining matches of the 2019/20 regular season, by choosing options 1 or 2 here.
Unique voucher codes for eligible Season Ticket Holders have now started to be distributed via email.
Please allow up to 48 hours from submitting your request to receive your code. Ensure that your Bluebirds Club Account information is fully up to date and your junk filter allows incoming @cardiffcityfc.co.uk emails. You will need to be logged in to redeem your code below.
Upon receipt of your email, please redeem your code as soon as possible to ensure that you're ready to stream on matchday.
The voucher code is unique to each individual Season Ticket Holder, can only be used once and is non-transferable.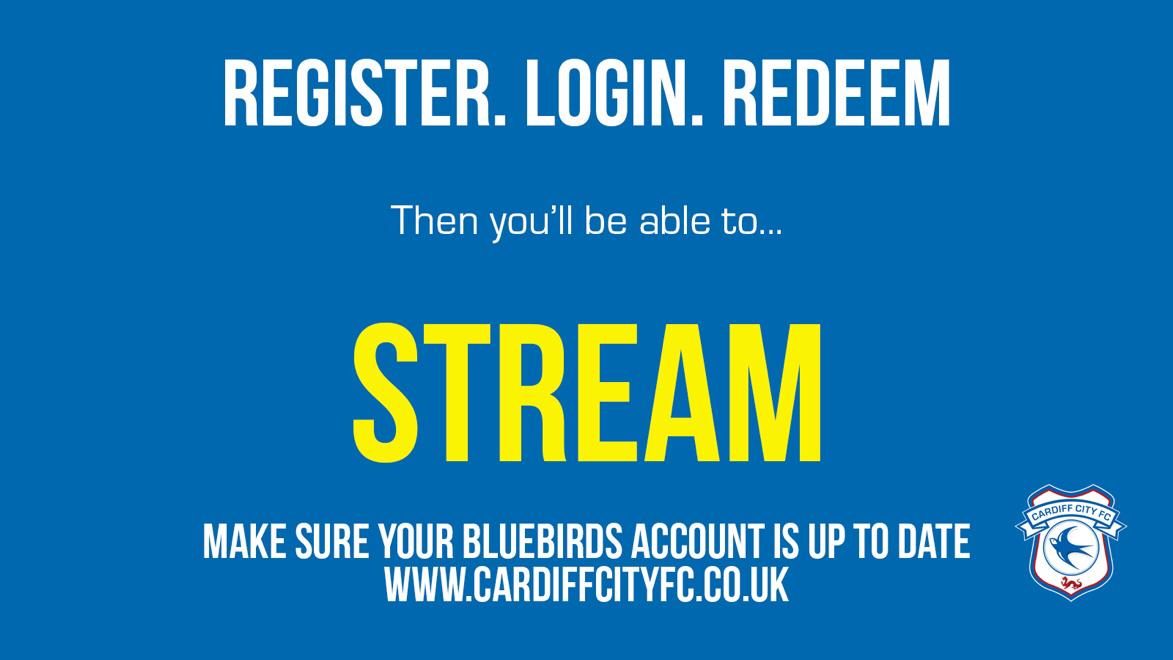 Match Passes
Individual match passes (outside of the above offer) will be available to purchase for £10 in the UK & Ireland and £5 internationally.
Please note, this will be limited to fixtures that have not been selected by the host broadcaster or international broadcasters.
Sky Bet Championship television picks have been released up to 9th July. 
The first match available to purchase individually on Cardiff City TV will be Cardiff City vs. Charlton at 6pm on Tuesday 30th June.
Meanwhile, all nine matches will be available for streaming here in the countries listed below.*
Streaming FAQs & support
Please note, Cardiff City TV's live video content is only available via the desktop website and through the official Cardiff City FC app.
Live video will not work through mobile browsers. Recommended desktop browsers for watching live video are Mozilla Firefox and Google Chrome.
Behind-closed-doors streaming FAQs can be found here.
For any technical issues regarding streaming, please email cardifftvsupport@streamamg.com. 
*Europe: Albania, Cyprus, Faroe Islands, Gibraltar, Hungary, Liechtenstein, Luxembourg, Malta, Moldova, Netherlands, San Marino, Ukraine.
Middle East and North Africa: South Sudan.
Asia: Afghanistan, Bangladesh, Bhutan, Brunei, Cambodia, East Timor, Hong Kong, Indonesia, Japan, Malaysia, Maldives, Mongolia, Myanmar, Nepal, North Korea, Pakistan, Philippines, South Korea, Sri Lanka, Taiwan, Thailand.
Caribbean: Belize, Bermuda, British Virgin Islands, Cuba, Puerto Rico, St Barthelemy, St Helena, Ascension & Tristan da Cunha, St Kitts & Nevis, St Martin, St Vincent & the Grenadines, US Virgin Islands.
South America: Falkland Islands.
Oceania: American Samoa, Christmas Island, Cocos Islands, Cook Islands, Federated States of Micronesia, Fiji, French Polynesia, Guam, Kiribati, Marshall Islands, Nauru, New Caledonia, Niue, Norfolk Islands, Northern Mariana, Palau, Papua, New Guinea, Pitcairn Islands, Samoa, Solomon Islands, Tokelau, Tonga, Tuvalu, Vanuatu, Wallis & Futuna.
Please note, countries are subject to change.