U18 | 2019 Pre-Season Review
Academy
6th August
Following the conclusion of City's pre-season campaign, U18 Coach Matthew Bloxham shared his thoughts on the young Bluebirds' progress over the summer.
Cardiff City faced RK Radomlje, Leicester City, Bournemouth, Westfields FC and Southampton in a testing pre-season – winning four matches and losing just once.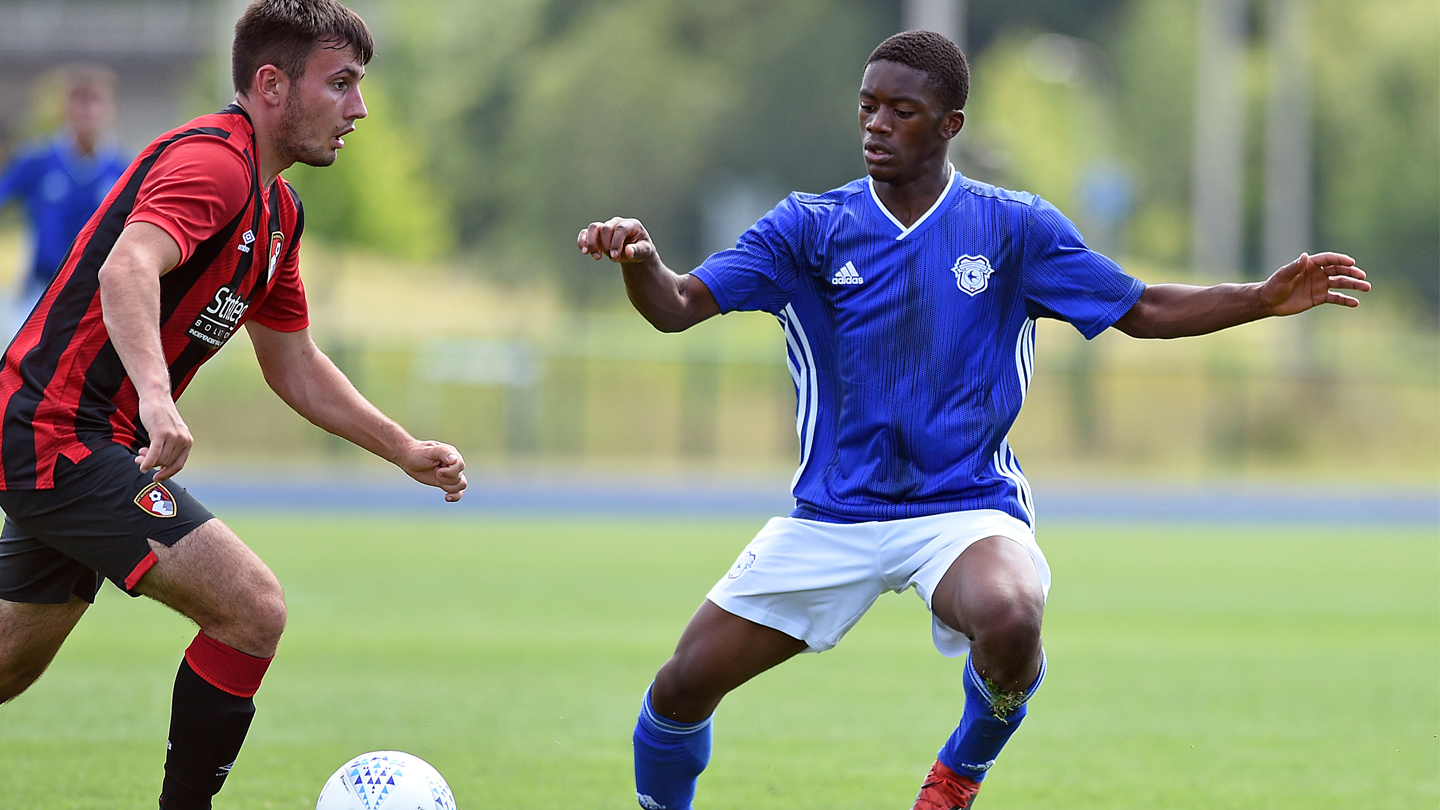 The Bluebirds kicked off their preparations with a training camp in Slovenia from July 7th to July 12th and, finishing their stay with a 3-1 win against NK Radomlje on Friday, July 12th.  
"It was a great experience for the boys," began Matthew. "We managed to get a lot of sessions in and work on a number of tactical aspects with the players, which was invaluable.
"The players got a lot of time off the pitch in order to integrate new additions into the squad. It was important that we got to know each other off the pitch, so get that opportunity in a foreign environment was great. It's a big transition [from U16 to U18], so when you go away early for a week – it helps in that transition as the players can find out the expectations set upon them in a unique environment.
"Our game against NK Radomlje was a great test. Playing foreign sides is always important as they provide a different test to what the side would normally expect. It helped to keep the players focused during the camp and allowed them to showcase all the work that they'd done in training."
Upon their return to Cardiff, a trip to Leicester City's Belvoir Drive Training Ground would await as City faced the Foxes' U18 side on Saturday, July 20th. Matthew Bloxham's side beat the hosts 6-4 after 120 minutes of football, with goals from Kieron Evans, Isaak Davies, Siyabonga Ligendza and Cian Ashford.
"It's always important to test ourselves against category one sides," Bloxham explained. "We knew that they were a technical side, but we went into the game with confidence, knowing that this year we're going to score a lot of goals.
"The game was a great opportunity to showcase our playing style and talent, whilst adjusting and preparing for a stern physical test. As a team, we knew we had to perform, but the match also allowed us to give each player sixty minutes which was vital ahead of the new season."
Just a few days later, Cardiff City fell to a disappointing 2-1 defeat against Alan Connell's Bournemouth at Cardiff International Sports Campus on Tuesday, July 23rd.
"Despite the result, Bournemouth was an excellent test for us. They were a well-drilled and organised side who provided a number of challenges for our young side. The game proved to the players that we always have to be mentally prepared for tough tests and adversity.
"We've got to be able to show up for every game – our biggest game is always our next. The result allowed us to reiterate the point that mentality is crucial and that we always have to go into matches with the right mindset."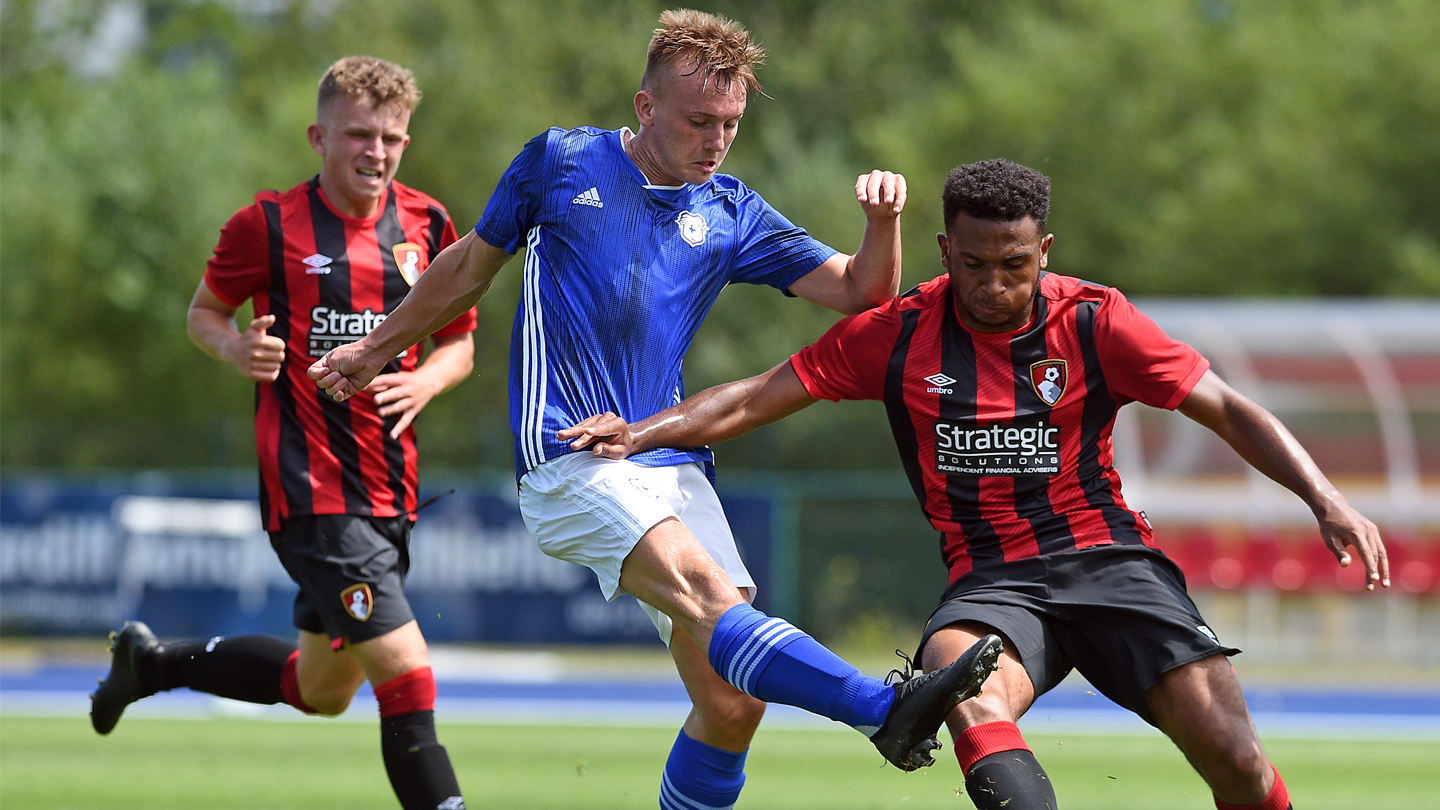 City travelled to Herefordshire on Saturday, July 27th as they looked to retain the HFA Senior Invitational Cup against Westfields FC. The game provided a stern test, and the two sides couldn't be separated after 90 minutes, but the Bluebirds eventually prevailed – winning 7-6 on penalties.
"Overall, Westfields was a great game for us. We knew that we would be physically bullied and realised that we'd have to compete throughout in order to stand a chance against a tough semi-professional side.
"I think that was the standout game of pre-season. It was a game where we were physically up against it, but I think we rose to the top of our game and certainly it gave the boys a great deal of confidence to take into the next game."
Bloxham's side concluded their pre-season preparations against Southampton at Staplewood Campus on Friday, August 2nd. City registered an emphatic 5-0 win against the Saints, as Ryan Kavanagh, Joel Bagan, Rubin Colwill and Isaak Davies all netted in the victory.
"Southampton have an excellent track-record of bringing players through, so we knew it'd be tough. Ahead of the game, we said that it was important to put a marker down for Hull.
"I think the players certainly did that, managing to control the game and play with a real attacking emphasis. For the first time in pre-season we kept a clean sheet, ensuring that we did everything possible to be good defensively.
"The players can't wait to get going (against Hull City on Saturday, August 10th). This is what they've been working towards for these past eight weeks and the competitive games are the reason they want to be footballers. What will be pleasing for me, when we come away from Hull is that we've showcased an energetic performance that we can be proud of. If we do that over the course of the season, then we'll be in for a good campaign," Matthew concluded.