Matchday Safety & Security
There are a range of safety and security measures in place at Cardiff City Stadium on matchdays to ensure we provide a safe, secure and welcoming environment.
Working in partnership with key stakeholders including South Wales Police, we constantly review our safety and security procedures to help ensure the safety of all supporters, visitors and staff. A visible police presence within the stadium and surrounding areas will continue to be reduced as far as the match risk assessment allows. However, please note a robust policing operation is always prevalent on the footprint to ensure public safety and reassurance.
In line with all Stadia in the City of Cardiff, we request that you arrive early and allow extra time to enter the stadium.
There are queuing lanes outside each gate entrance, with a dedicated female search lane available in line with our same sex searching policy. Please note that all supporters will be asked to open their jackets/coats at the search point.
We discourage supporters from bringing bags and luggage with them to Cardiff City Stadium. We will not permit large bags and luggage into the stadium, but you will be permitted to take small bags and handbag in with you. Please note that there is no left luggage facility available.
Prohibited Items
There are a number of items that supporters are not able to bring into Cardiff City Stadium. Please check the list of prohibited items below before your visit: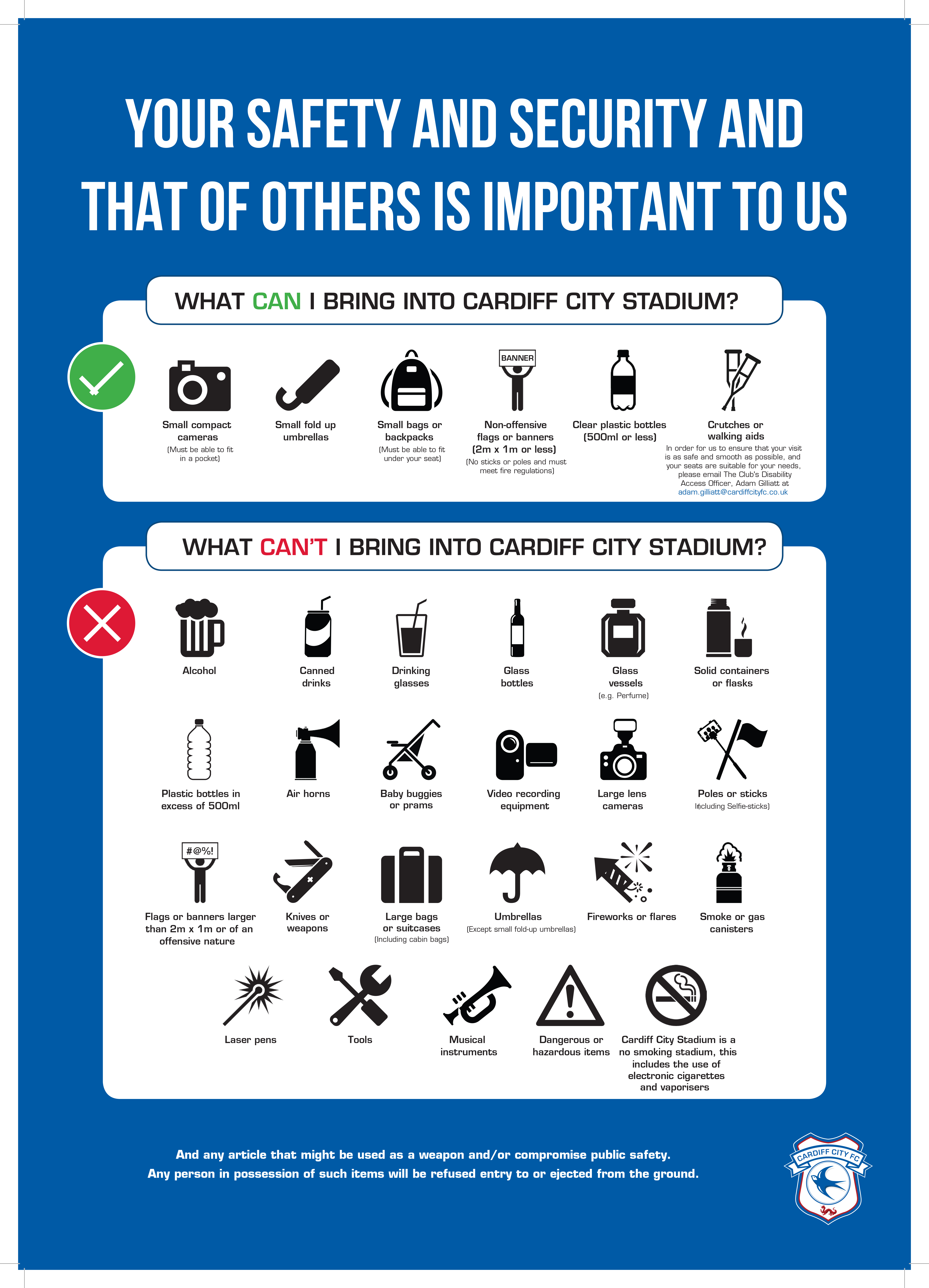 Ground Regulations
To view this season's Ground Regulations please click the link below:
Smoking Policy
As stated within the Ground Regulations, smoking is not permitted within the Stadium. This includes the use of electronic cigarettes and vaporisers.
We do allow supporters to exit at half time for a smoking break. They will meet a Customer Support Steward who will stamp their hand before leaving via the exit turnstile at their gate. Supporters will be able to re-enter after showing their stamp to the Customer Support Steward. Gates will close five minutes after the start of the second half. After this point, entry to the ground will not be permitted.
Flag & Banner Policy
Cardiff City Stadium welcomes fan support as demonstrated by homemade signs and banners. To ensure these articles do not upset or distract others we ask that Supporters adhere to the following guidelines.
Banners should not be more than 2m x 1m (other banners including crowd surfing banners allowed only by prior consent).

Banners should have an appropriate fire certificate.

Banners are not placed in the eyesight of other fans.

Banners do not obstruct any signage or advertising.

Banners should not be of a discriminatory, commercial, Political, contentious or obscene nature.

Banners that are likely to cause alarm or distress to other Groups of supporters and/or either participating Clubs, its directors and/or staff will not be allowed.
Please email stadium@cardiffcityfc.co.uk for prior permission if your flag falls outside of the above guidelines. Please include the dimensions and a photo in your email.
Matchday Reporting Service
If supporters experience any form of anti-social behaviour, abuse or discrimination inside the stadium please help us to eliminate it by texting 07554 158 224 or by reporting it via the free reporting app from Kick It Out.
Please provide as much detail of any offence as possible. This may include specific seat details if applicable, descriptions of persons involved, and exact words and phrases wherever possible.
Supporters are also encouraged to report any behaviour that they are not comfortable with to any of our stewards or other staff.
We will treat your message in the strictest confidence and take necessary action against offending parties.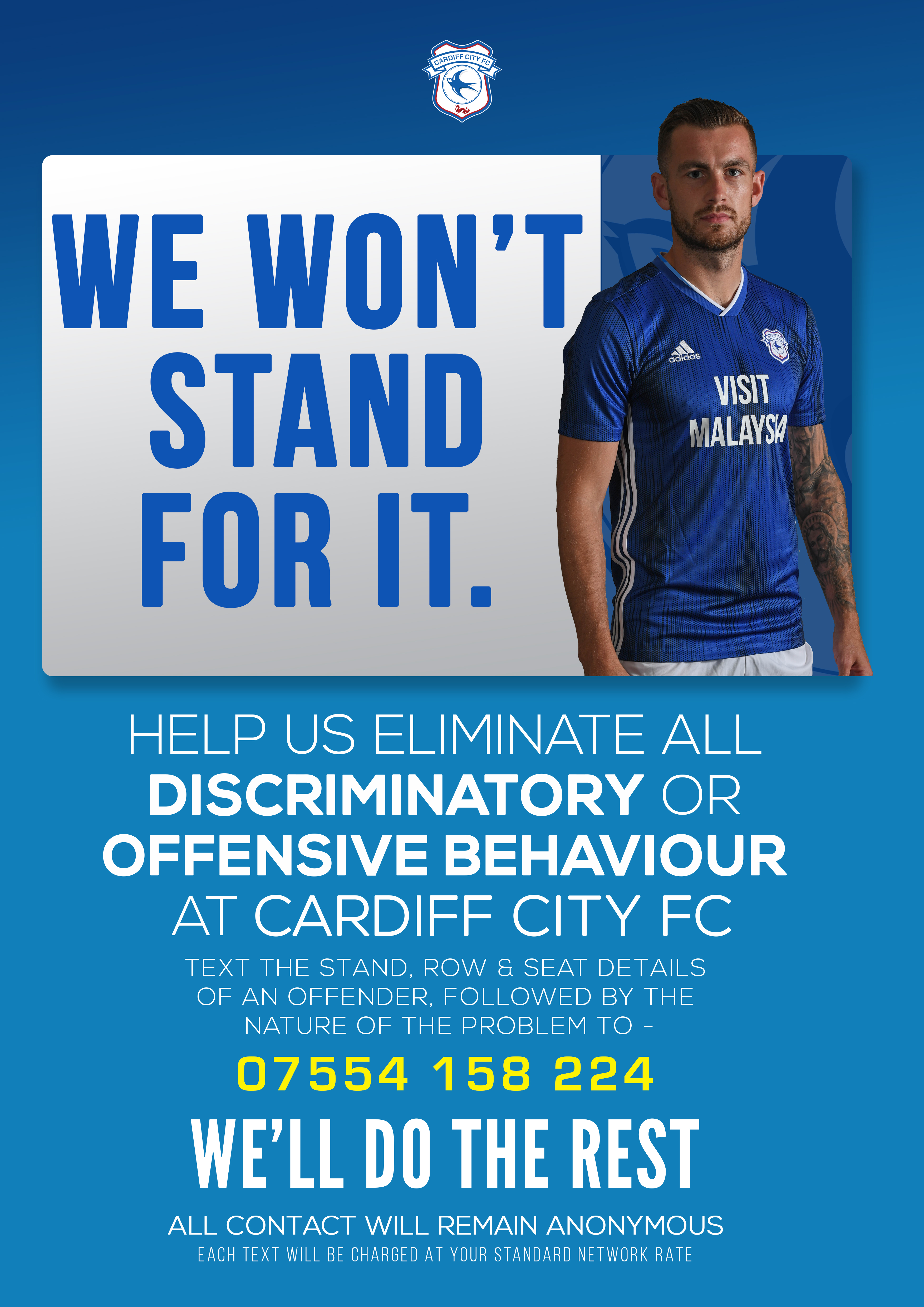 Lost Property
If you lose any personal items at Cardiff City Stadium on matchday please call stadium reception on 033 33 11 1927 (Mon-Fri, 8am-6pm) or email stadium@cardiffcityfc.co.uk