Safety, Security & Anti-Discrimination
Stay Safe, Come Early, Enjoy the Match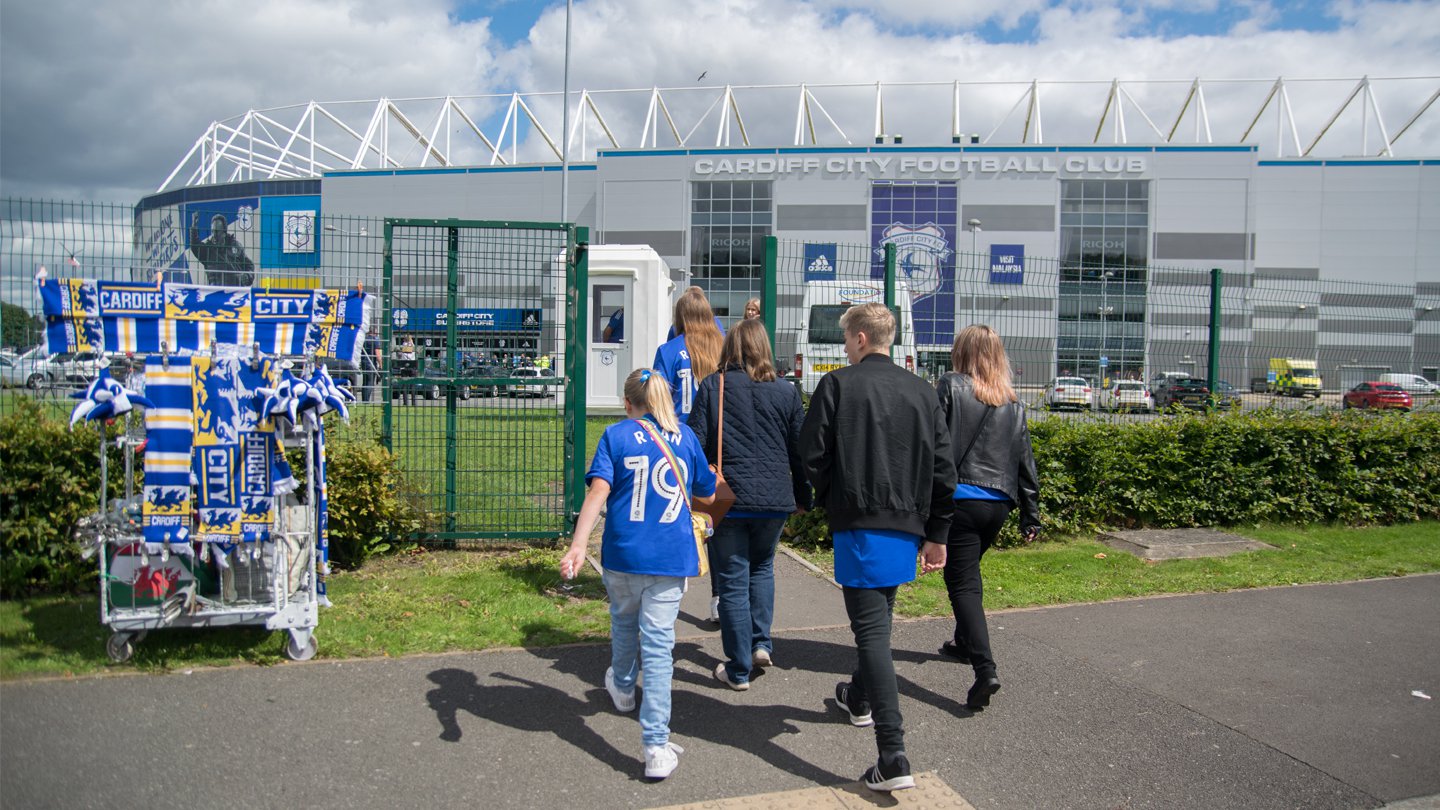 Cardiff City Stadium, in line with all stadia in the City of Cardiff, request that fans come early to venues and allow extra time to pass security controls prior to entry.
Bulky items and large bags should be avoided being brought to the Stadium and due to recent events in continental Europe the left luggage facility previously available at the Stadium has been withdrawn. 
Visible Police presence within the Stadium will continue to be reduced as far as the match risk assessment allows. However, please note a robust policing operation is always prevalent on the footprint to ensure public safety and reassurance.
We ask all supporters and guests to be alert but not alarmed. Everybody at Cardiff City Stadium wants to ensure that we provide a safe, secure and welcoming environment and your assistance by allowing some extra time, while leaving behind large bags and bulky items is very much appreciated.
Key Stakeholders comments:
James Clemence, Chair of the Cardiff Safety Advisory Group: "Working closely with each of the sporting venues in Cardiff, the Safety Advisory Group fully endorses any additional measures that aim to enhance public safety. We also encourage the public to lend its full support.''
Steve Borley, Cardiff City FC Director: "Supporters can help venues by turning up in good time. Ideally they should allow themselves enough time to travel to the venue and arrive no later than one hour before kick-off.''
Karen Eyre-White, Chief Executive Sports Grounds Safety Authority: ''The Sports Grounds Safety Authority is committed to ensuring the safety of spectators at sports grounds and we know we are part of wider community that shares these goals. Recent events remind us all of the importance of our work to keep spectators safe and we welcome the initiative taken in Cardiff by all those involved with spectator safety management in encouraging spectators to come early. We would reiterate that message and ask spectators to support and cooperate with measures taken by venue management to keep spectators safe. Whilst we can never eliminate the risk, we can work together to ensure our sports grounds remain as safe as is possible."
Inspector Andy Smith, South Wales Police: "While there is no specific threat to South Wales, it is important that we all remain vigilant. In Cardiff, we have a long tradition of partnership working and we hope the public will support these extra measures which are designed to keep Cardiff safe."
Please take note of the following measures Cardiff City FC take on and around matchdays:
Matchday Security & Searching
The physical search of Cardiff City Stadium, our staff and Supporters requires a phased flexible strategy that accounts for pre Matchday, pre and post-match operations.
Pre-Matchday
Pre-event checks are undertaken a minimum of 24 hours before any match or Stadium event. Physical checks of all areas within the stadium are undertaken by the full-time Stadium operations, maintenance and security team with any items of concern (be it security, maintenance or cleaning) then relayed to the Head of Operations who authorises and instructs the corrective action. In addition maintenance staff and service engineers undertake checks on all safety systems to include the PA, fire alarm mechanical and electrical engineering systems that include back-up generators, UPS & CCTV.
Matchday (pre-kick-off)
Matchday staff begin to arrive at the stadium long before the stadium opens to supporters and corporate guests.
All non-full time members of staff are required to enter the stadium via entrance 14, 15, or via the stewarding reception with all staff being subjected to random searches and bag checks. This procedure will be in line with the policy of searching related to supporters for the subsequent event. All agency staff will be issued with a wristband to clearly identify that they have passed through the entrance procedure before being given access to their respective areas.
Once stewards have been briefed and allocated their area of work they are tasked with physically searching their area of responsibility for anything that looks untoward or out of place. Any issues are reported via their supervisor chain to the control room so that further investigations can be undertaken if necessary. Likewise, third-party contractors such as caterers are tasked with undertaking the same process.
Quadrant managers within each stand report that their stand is ready for opening only when the areas has been searched and the stand is suitably manned. This verbal report must be made via the radio and recorded in the control room log for audit purposes.
Subject to a (South Wales Police) security assessment, from time to time specialist search dog teams are employed to support this searching operation. These teams are tasked with searching public and corporate areas, central VIP areas and changing rooms.
Matchday (turnstiles open)
At least three stewards are placed outside each entrance with the responsibility of searching any bags brought into the stadium. In addition to this, stewards are briefed to randomly search supporters and in particular tap down supporters with bulky jackets. 
Please note that all supporters will be asked to open their jackets/ coats.
Should anything suspicious be discovered during any search procedure the control room are to be advised immediately (if appropriate to do so) thereafter police officers will be dispatched to further investigate.
In corporate areas, stewards are currently briefed to only search guests' bags. Whilst no formal pat down of corporate guests is required they will be required to open their overcoats and or jackets to enable a speedy visual inspection.
Post-Match
Once supporters have left the stadium and public areas are clear, stewards conduct a thorough check of their areas to ensure that nothing out of the ordinary has been left unaccompanied.  Corporate areas are checked by a mixture of catering staff stewards and hostesses once corporate guests have vacated their boxes and lounges.
Ground Regulations
A copy of the 2019/20 Ground Regulations can be found here.
Zero Tolerance Policy
Cardiff City FC operates a zero tolerance policy on all forms of discriminatory or offensive behaviour at Cardiff City Stadium.
Simply text the stand, row and seat details of an offender, followed by the nature of the problem to 07554 158 224.
We'll do the rest.
All contact will remain anonymous. Click here for more information regarding discrimination reporting.
Each text will be charged at your standard network rate.