Bluebirds Rewards | Win an Ollie Tanner signed shirt!
Commercial
4th October
We're excited to announce that brand new rewards are lined up on the portal this month, 

including a signed Ollie Tanner shirt, a New Balance hospitality box and exclusive Severnside derby experiences.
Head over to the rewards portal to see new content across the marketplace, prize draws and auctions.
Junior members can complete Bartley's October challenge to be in the chance of winning a personalised video message reward, plus there are new worksheets live too!
There are many ways to earn more points for exclusive rewards this month. Play weekly portal games, interact with our exclusive affiliates, and more!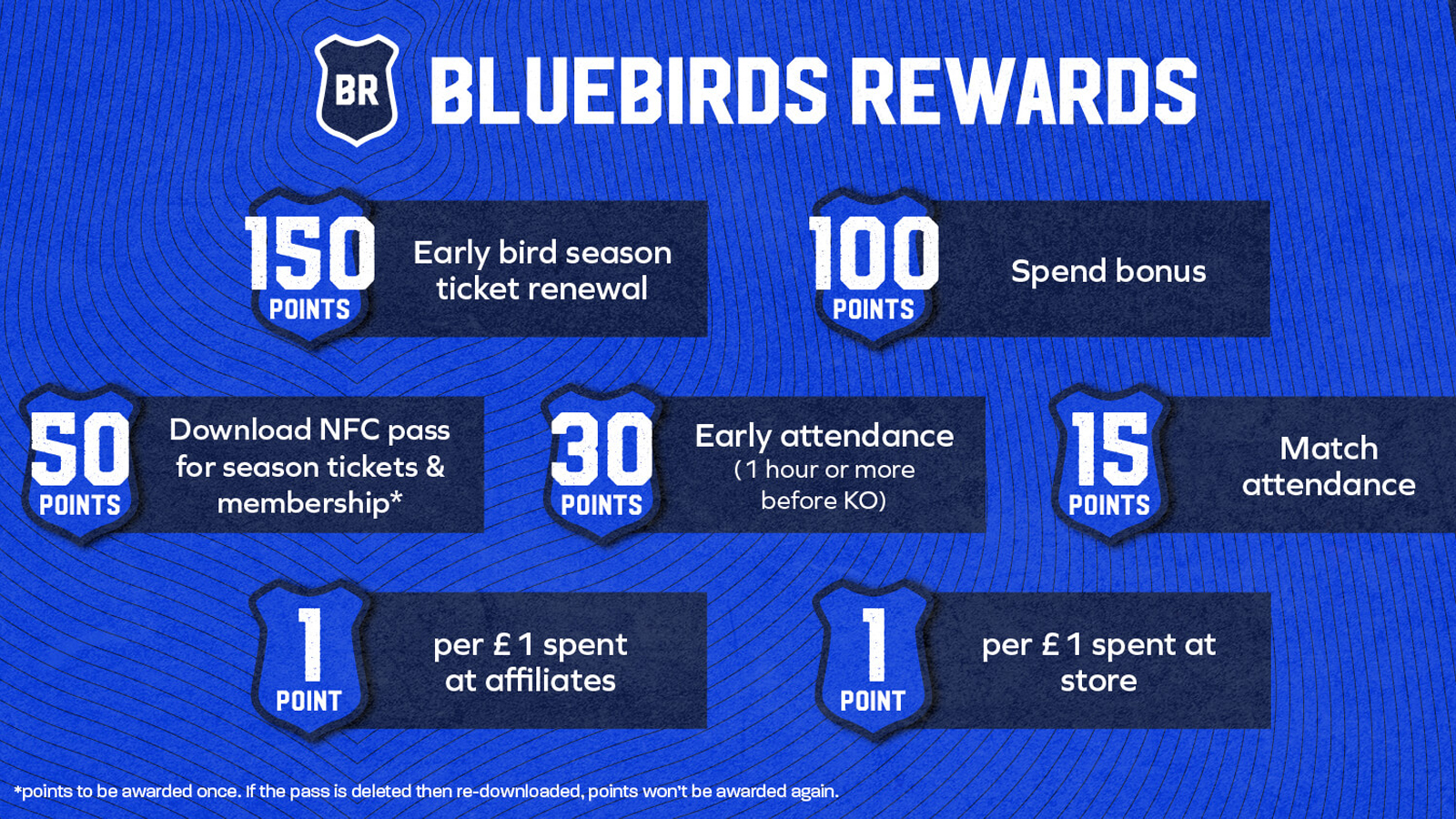 MARKETPLACE
Redeem a New Balance water bottle, signed matchday programme from our Man of the Match for the Rotherham United fixture and more! Check in every fortnight to find new and exclusive marketplace items. 
PRIZE DRAWS
Be in with a chance of winning an Ollie Tanner signed shirt, New Balance hospitality box, exclusive matchday experiences and more this month! Our prize draw winners will be contacted by rewards@cardiffcityfc.co.uk via email to confirm their win. Good luck, Bluebirds!
AUCTION
This month's new auction is a signed 2023/24 matchday programme. The winner will have their points deducted at the end of the auction, whilst unsuccessful participants will have their points refunded.
NEW GAMES AND CHALLENGES
Check out our 'Games' section, take on our variety of new challenges and answer correctly to earn points.  The top three winners of the Pick a Player leaderboard this month will receive personalised video or tunnel tour.
LINK CARD TO EARN BONUS POINTS
Link your credit/debit card and spend with an affiliate retailer for the first time to automatically earn 100 Bluebirds Rewards points. Simply log into the portal, click the payment tab, and then select link your card.
Link your card and spend with our exclusive affiliates to be in the chance of winning a 2022/23 squad signed shirt! (Affiliate spend excludes Cardiff City Stadium, SuperStore or Ticketing.)
BONUS CODE
Log in to Bluebirds Rewards and find "Voucher Code" on the homepage. Enter "OCTOBER" to win bonus points, and look out for bonus codes at home matches during half-time on the LED screens and communications.
For membership, access, or loyalty point queries, please contact us directly via rewards@cardiffcityfc.co.uk