Match Report | Hereford 0-2 Cardiff City U21
Academy
24th July
Darren Purse's side continued their 2022/23 season preparations with a 2-0 win over Hereford on Sunday, July 24th, 2022.
City had experience available for this fixture with Curtis Nelson, Mark McGuinness and Ollie Denham starting in the heart of defence. James Crole led the line in attack with three trialists also starting the match.
It was the dangerous centre-forward Crole that caused Hereford problems from the start, going close on two occasions in the opening twenty minutes.
City found a breakthrough after 30 minutes through their striker. Crole blocked Brad Wade's attempted clearance, rounded the Hereford goalkeeper and slotted into the empty net to give his side the advantage.
Nelson went close to adding a second goal two minutes after, but his fine header was tipped over.
The strong trio of Nelson, McGuinness and Denham at the centre of defence looked unlikely to be beaten throughout and that defensive base helped give City a firm control of possession.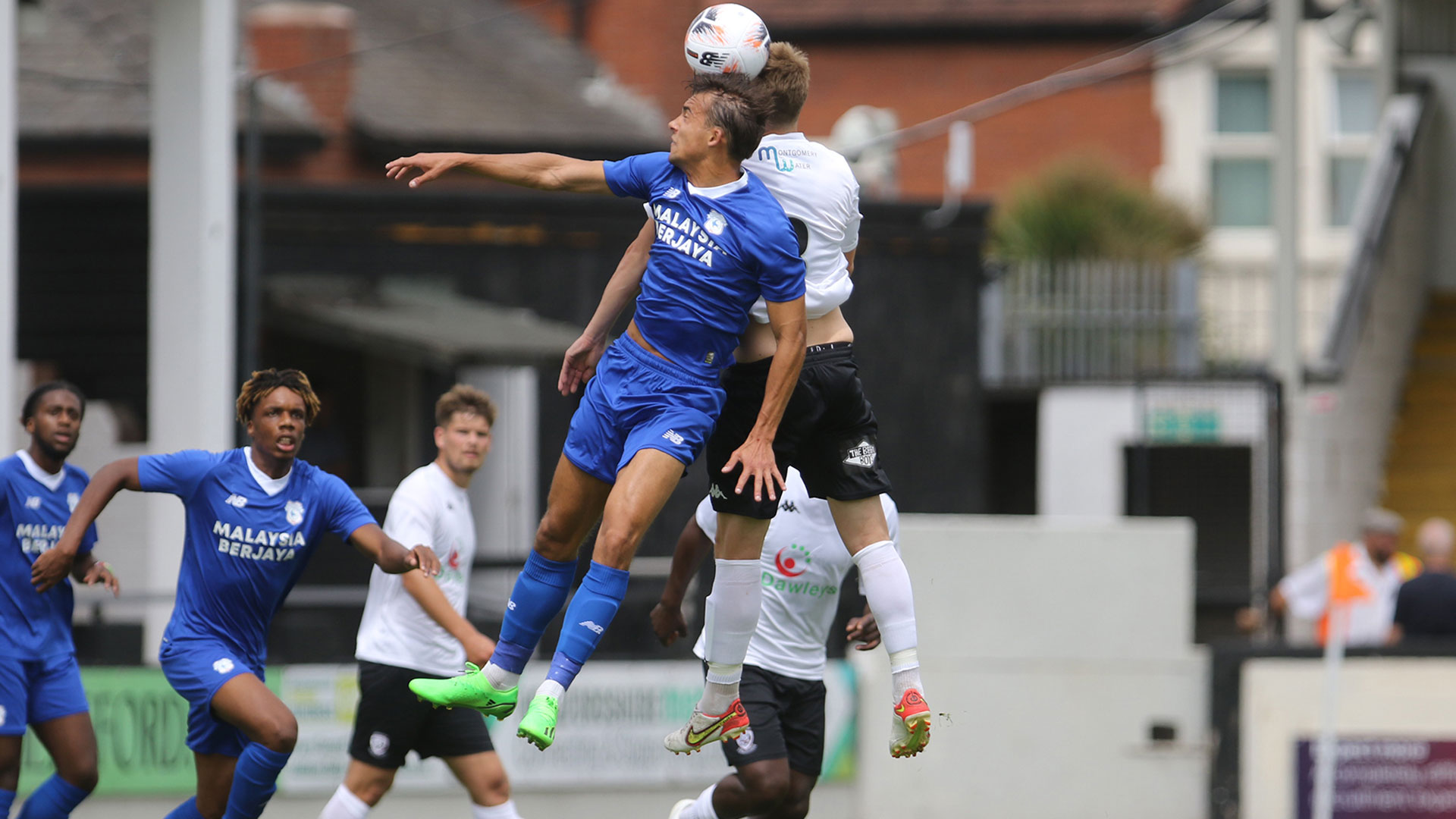 The chances for Purse's team continued to come into the second half. Substitute Cian Ashford was heavily involved in the action after coming on 53 minutes in. Ashford shot over just after the hour mark, before a remarkable Harrison Summers block stopped him from diverting goalwards after 69 minutes.
Jack Leahy was also introduced in the second period, fresh off some impressive performances for City's First Team during pre-season, and he sealed the win with ten minutes remaining. Leahy headed the ball home to give City a two-goal win at Edgar Street.
FINAL SCORE: HEREFORD 0-2 CARDIFF CITY U21
Hereford: Wade (Osmont 63'), Haines (Lilly 46'), Lloyd, Fairweather (Summers 63'), Storey (Campbell 63'), Hodgkiss (Derricott 63'), Durojaiye (Trialist 53'), Hale (Trialist 63'), McDermot (McLean 53'), Pendley, Barnett (Trialist 57').
Cardiff City: Luthra, Semenyo, McGuinness, Denham, Nelson, Davies (MacNamara 83'), Trialist, Trialist (Leahy 70'), Sang (Hughes 89'), Trialist (Ashford 53'), Crole. Subs Not Used: Turner, Jones, Benjamin, J.Colwill, Jefferies.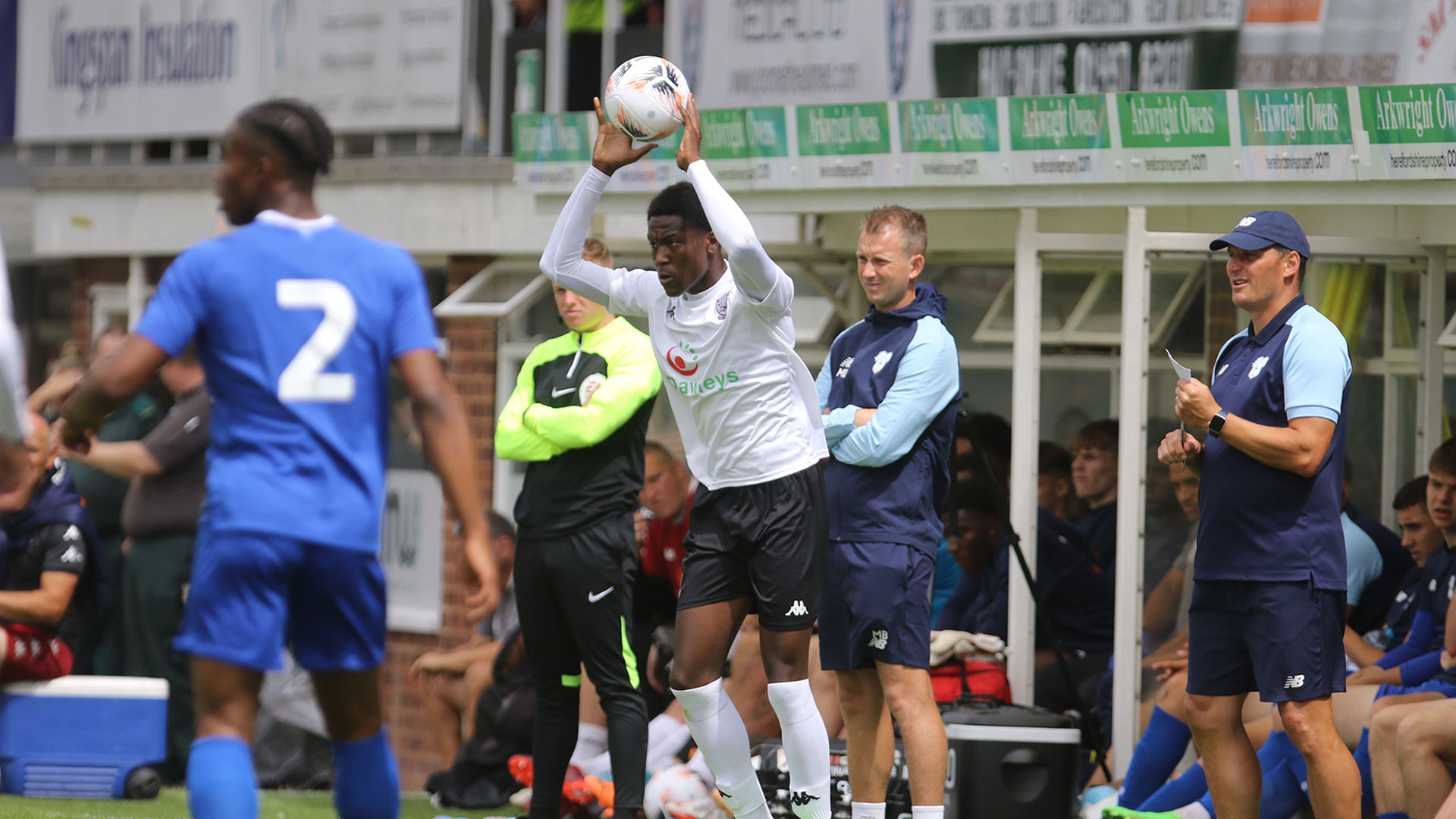 U21 Head Coach Darren Purse spoke to cardiffcityfc.co.uk after the match.
"The big thing for me was the clean sheet," Darren began. "Fair play to Ollie, Nels and Macca. They showed great professionalism. They all wanted to play and get 90 minutes into their legs and they've done that now.
"Maybe we could've broken the lines a little better and forced the play more but I thought it was a good performance."
Forward James Crole added: "I thought the game went really well. I thought as a team we played really well and I'm happy to get another goal. We executed the game plan and got the two goals. It could've been a few more but we're happy with the win.
"I've had a great pre-season but I'm not getting ahead of myself. I want to score goals and develop my game."
Image credit: Steve Niblett (Hereford FC)