U23 Match Report | Cardiff City 2-0 Colchester United
Academy
30th November
Cardiff City's U23 side won their tenth consecutive U23 PDL fixture on Tuesday afternoon, defeating Colchester United in Leckwith.
With the starting 11 featuring First Team players Ciaron Brown, Joel Bagan and Tom Sang, City got off to a strong start as Chanka Zimba netted once more for the Academy side, sliding home from Bagan's dangerous low cross.
Roles were reversed as Zimba turned provider for Bagan shortly afterwards. The striker's short through ball inside the area found Bagan, who chipped the 'keeper elegantly with his left foot to double the lead in the 23rd minute.
George Ratcliffe was challenged by Freddie Price's shot from the edge of the area shortly afterwards. The 'keeper did well to handle the effort, diving to deny the visitors a swift response to their two-goal deficit.
Zimba's shot from a tight angle nearly gave City a third on the half-hour mark, but Ted Collins met the strike well at the near post.
The second half of play saw several more half-chances arise for the hosts, without any being converted. The visitors put the Bluebirds under pressure for a spell towards the hour mark, but central defensive pair Oliver Denham and James Connolly commanded their area well, clearing and blocking whenever Colchester attempted to break into City's box.
Keenan Patten tested Collins well throughout the second half, taking ranged shots each time the visitors allowed him half a yard of space at the edge of the area.
Sang's strike nearly found the back of the net late on, as Collins' fumble on the initial save was then cleared away.
With the final whistle blown, City had ensured their tenth consecutive win of the U23 PDL campaign, as well as another clean sheet to add to the tally.
U23 FINAL SCORE: CARDIFF CITY 2-0 COLCHESTER UNITED
Cardiff City U23: Ratcliffe, Semenyo, Bagan, Denham, Brown, Connolly, Patten, Kavanagh, Zimba (Crole 82'), Sang, Evans. Subs not used: Leahy, Turner, Bakare, D'Almeida.
Colchester United: Collins, Martins, Kazeem, Cornish, Chakawa, Terry, Price, Stagg, Hutchinson, Thomas, Sayer.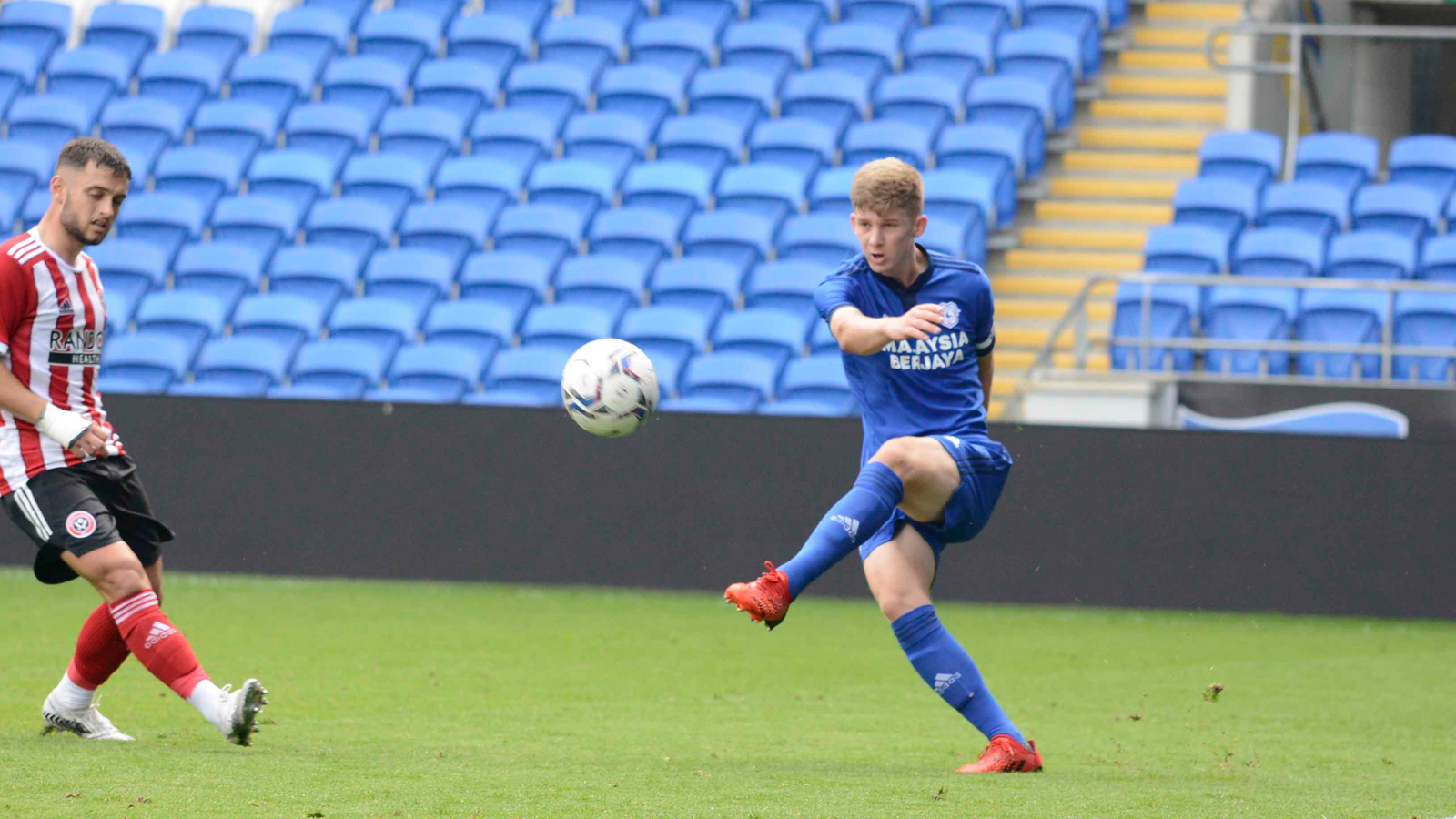 Following the final whistle, Matthew Bloxham spoke to cardiffcityfc.co.uk to discuss the result: "They've started the season really well, and have built a foundation that will hopefully serve them going into the second half of the campaign.
"To win ten in a row at any level is an achievement that they should be proud of. One of the biggest strengths that we can look at is that we've conceded the least amount of goals in the league, as well. It's not just the top end of the pitch, it's everyone who's going about their business and are doing so effectively.
"With that, there was a sense of frustration to have not scored more today. We created a number of opportunities and could have been more ruthless in those areas.
"We've done enough with this performance, but we still have aspects of our game to work on, and it's something that we'll be working on with our return next week in mind."
The U23 side's captain, James Connolly, also discussed the performance: "We're buzzing to have kept a clean sheet and make it ten wins from ten, which is a good record. We're disappointed to have not scored more goals. We were the better team and on another day could have taken more of those chances.
"It shows our attitude. We don't want to settle for 2-0 wins where we feel like we could've got more from the game, and I think it's contributed to why we've now gone on this winning run.
"The lads are always striving to be better, and to get better results from our performances."